Role of spinal cord glutamate transporter during normal sensory transmission and pathological pain states
Received: 22 August 2005
Accepted: 21 October 2005
Published: 21 October 2005
In addition to its essential metabolic role, glutamate is a major mediator of excitatory signals in the central nervous system and is involved in many physiologic and pathologic processes, such as excitatory synaptic transmission, synaptic plasticity, cell death, stroke, and chronic pain [
1
,
2
]. Glutamate exerts its signaling role by acting on glutamate receptors, including
N
-methyl-D-aspartate (NMDA), α-amino-3-hydroxy-5-methyl-4-isoxazolepropionic acid (AMPA)/kainate, and metabotropic glutamate receptors. These receptors are located on the pre- and post-synaptic membranes, as well as, at extra-synaptic sites. Glutamate concentration in the synaptic cleft determines the extents of receptor stimulation and excitatory synaptic transmission. It is of critical importance that the extracellular glutamate concentration be kept at physiological levels, as excessive activation of glutamate receptors can lead to excitotoxicity and neuronal death [
3
]. The clearance of glutamate from the synaptic cleft is principally dependent on Na
+
-dependent, high-affinity, neuronal glutamate transporters present presynaptically, postsynaptically, and perisynaptically, and on glial glutamate transporters (Fig.
1
). Currently, five isoforms of glutamate transporters have been identified [
3
]: namely, GLAST (glutamate/aspartate transporter), GLT-1 (glutamate transporter-1), EAAC (excitatory amino acid carrier) 1, EAAT (excitatory amino-acid transporter) 4, and EAAT5. The human homologues of the three more ubiquitous subtypes (GLAST, GLT-1, and EAAC1) are named EAAT1, EAAT2, and EAAT3, respectively. The five isoforms belong to the same gene-family and share 50–60% amino acid sequence identity [
3
]. However, they have discrete cellular and regional localizations. GLAST is present in glial cells throughout the central nervous system, with strong labeling in cerebellar Bergmann glia and more diffuse labeling in the forebrain [
3
]. It is also transiently expressed in a small number of neurons [
4
]. GLT-1 is almost exclusively expressed on glia and is widespread and abundant throughout the forebrain, cerebellum, and spinal cord [
4
]. In contrast, EAAC1 is found predominantly in neurons of the spinal cord and brain [
4
,
5
]. EAAT4 has properties of a ligand-gated Cl-channel and is localized mainly in cerebellar Purkinje cells [
6
]. EAAT5 is retina-specific [
7
].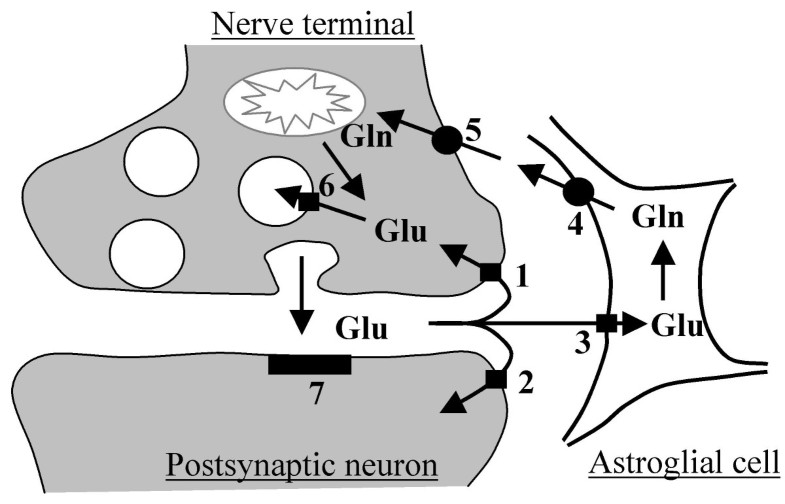 Given the well-documented evidence that glutamate acts as a major excitatory neurotransmitter in primary afferent terminals [2], it is expected that glutamate transporter might be involved in excitatory sensory transmission and pathological pain. Indeed, recent studies have revealed that inhibition of spinal glutamate transporter produced pro-nociceptive effects under normal conditions [8] and have unexpected antinociceptive effects under pathological pain conditions [9–11]. It is not completely understood why the effects of spinal glutamate transporter inhibition under pathological pain conditions are opposite to its effects under normal conditions. In this review, we will illustrate the expression and distribution of the glutamate transporter in two major pain-related regions: spinal cord and dorsal root ganglion (DRG). We will also review the evidence for the role of the glutamate transporter during normal sensory transmission and pathological pain conditions and discuss potential mechanisms by which glutamate transporter is involved in pathological pain.
(1)
Department of Anesthesiology and Critical Care Medicine, Johns Hopkins University School of Medicine, 355 Ross, 720 Rutland Ave, Baltimore, Maryland 21205, USA
(2)
Department of Oral and Maxillofacial Surgery, Mcknight Brain Institute and College of Dentistry, University of Florida, Gainesville, Florida 32610, USA
(3)
Department of Physiology and Cell Biology, The Ohio State University College of Medicine, Columbus, Ohio 43210, USA
© Tao et al; licensee BioMed Central Ltd. 2005
This article is published under license to BioMed Central Ltd. This is an Open Access article distributed under the terms of the Creative Commons Attribution License (http://creativecommons.org/licenses/by/2.0), which permits unrestricted use, distribution, and reproduction in any medium, provided the original work is properly cited.