FMRI connectivity analysis of acupuncture effects on an amygdala-associated brain network
Received: 12 October 2008
Accepted: 13 November 2008
Published: 13 November 2008
Abstract
Background
Recently, increasing evidence has indicated that the primary acupuncture effects are mediated by the central nervous system. However, specific brain networks underpinning these effects remain unclear.
Results
In the present study using fMRI, we employed a within-condition interregional covariance analysis method to investigate functional connectivity of brain networks involved in acupuncture. The fMRI experiment was performed before, during and after acupuncture manipulations on healthy volunteers at an acupuncture point, which was previously implicated in a neural pathway for pain modulation. We first identified significant fMRI signal changes during acupuncture stimulation in the left amygdala, which was subsequently selected as a functional reference for connectivity analyses. Our results have demonstrated that there is a brain network associated with the amygdala during a resting condition. This network encompasses the brain structures that are implicated in both pain sensation and pain modulation. We also found that such a pain-related network could be modulated by both verum acupuncture and sham acupuncture. Furthermore, compared with a sham acupuncture, the verum acupuncture induced a higher level of correlations among the amygdala-associated network.
Conclusion
Our findings indicate that acupuncture may change this amygdala-specific brain network into a functional state that underlies pain perception and pain modulation.
Keywords
Functional ConnectivityAnterior Cingulate CortexBrain NetworkConnectivity AnalysisPosterior Cingulate Cortex
Background
Acupuncture is one of the most important therapeutic modalities in traditional Chinese medicine (TCM). It utilizes fine needles that may pierce through specific anatomical points (named 'acupoints') so that certain healing effects are produced. In clinical practice, sensation induced by needling at acupuncture points is asserted as 'deqi', and the resulting effects of acupuncture stimulation have been ascribed to treatment of various diseases [1]. While acupuncture has gained much popularity in the Western medical community, the underlying mechanisms remain mostly unknown.
Previous human neuroimaging studies have shown that acupuncture stimulation activates extensive brain regions, including the primary somatosensory cortex (SI), secondary somatosensory cortex (SII), anterior cingulate cortex (ACC), insular cortex, prefrontal cortex (PFC), amygdala, hippocampus, periaquaductal gray (PAG) and hypothalamus [2–7]. These distributed brain regions are associated closely with a wider pain matrix for modulating sensations and affective pain perception. Some of these brain regions are also implicated in endogenous anti-nociceptive signaling. Using functional magnetic resonance imaging (fMRI), Wager et al [8] demonstrated that expectancy might modulate the pain matrix, along with a considerable overlap among the brain areas in response to placebo and expectation. A recent PET study by Pariente et al [9] has identified different areas of activations induced by both the expectation of acupuncture and actual acupuncture. These findings suggest that actual acupuncture may not only activate a brain network associated with expectation and placebo response but also the brain regions implicated in the actual effect of acupuncture analgesia.
Acupuncture, however, is a complex intervention that is intimately intertwined with placebo, patients, and practitioners. We thereby hypothesized that acupuncture may affect this pain matrix in both specific and non-specific manners which contribute to its specific therapeutic effects, as well as the effects of expectation for pain relief. We further questioned whether there are interactions among these brain regions activated during acupuncture intervention. We speculate that these brain regions involved in the pain matrix may constitute various networks to mediate both specific and non-specific effects of acupuncture, which can be assessed using fMRI connectivity analysis methods.
Recently, new but promising fMRI connectivity analysis methods have provided insight into the brain networks mediating acupuncture effects. The term fMRI connectivity describes brain regions that are functionally related and interdependently connected [10, 11] by detecting the coherence in fMRI signals among these regions during either a behavioral task or a resting state engaging no task. The between-region correlation during a resting state may represent synchronous fluctuations with a high temporal coherence and reflect intrinsic neuronal connections that coordinate activities in the brain, even for those regions in remote locations [12–14]. Most resting state connectivity studies have employed a 'seeding' approach, in which a seed voxel or several voxels are selected as a functional reference, and then the averaged time course of the fMRI signal from the seeding area is cross-correlated with the time course of each voxel over the entire brain to generate connectivity maps (for details see Methods). Such a functional reference is often determined by a region of interest (ROI) in a brain activation study using specific behavioral tasks or external stimuli [14]. The choice of such ROI is therefore vital and should be carefully defined in functional connectivity analysis.
Acupuncture may recruit distributed cortical and subcortical brain networks that are also implicated in both inhibitory and facilitating effects in the pain-modulation system for both sensation and affective pain perception. Accumulating evidence suggests that the amygdala is an important neural substrate of such reciprocal interaction, and one that also appears to play a key role in the modulation of pain behavior and nociceptive processing at different levels of the pain matrix [15–17]. Furthermore, increasing attention has been paid to the acupuncture-induced deactivation of the amygdala in humans using ST36 or LI4 when contrasting acupuncture needle stimulation with non-stimulation baseline [2, 3], to further demonstrate this in relation to the analgesic effect of acupuncture. Results of animal studies have demonstrated that the amygdala formation has abundant opiates receptors and participates in both opioid analgesia and acupuncture analgesia [18]. These findings are noteworthy because the amygdala modulation may demonstrate an acupuncture specificity [19]. In the aforementioned analysis, therefore, we selected the amygdala as the seeding ROI to conduct our functional connectivity analysis. Targeting the brain circuits involving the amygdala using fMRI may improve our understanding of neural mechanisms underlying both acupuncture specific and non-specific effects.
Previous fMRI activation studies have been mostly based on a block paradigm design that detects acupuncture effects according to a presumable temporal pattern of brain activation induced by acupuncture administration [2, 3, 20]. A block design, or model-dependent approach in general, may not be optimal to the study of acupuncture effects. For example, in a model-dependent block design for specific visual or motor tasks, the corresponding visual or motor cortical areas are assumed to be activated almost simultaneously. This approach, however, is not valid in cases when limited or no prior temporal information is available, such as testing the acute effects of a new drug or food intake on the brain [21]. According to the theory of TCM, acupuncture may induce long lasting post-administration effects [22]. Thus, the actual temporal information for acupuncture-induced changes in brain activity remains lacking. In addition, because of a sustained effect, the 'off-state' in the block design may still retain some acupuncture effect, which has not ideally returned to a baseline. Therefore, using several stimulation blocks in a short period of time, investigators may not be able to dissociate the long lasting effects from other confounding changes, such as the effect of needle manipulation during the experiment. In the current study, a new experimental paradigm, namely the non-repeated event-related fMRI (NRER-fMRI) design, was employed for investigating sustained effects after acupuncture administration by using functional connectivity analysis.
Results
In the BLOCK experiment, acupuncture stimulation induced fMRI-BOLD signal changes over extensive brain areas such as the hippocampus, hypothalamus, ACC, posterior cingulate cortex (PCC), anterior insula, thalamus, and SII. These results are consistent with previous fMRI studies, especially well-defined deactivation in the left amygdala (Fig.
3
) [
2
]. Based on the activation study, three brain networks were defined in the ensuing connectivity analyses using the activated left amygdala as a reference (Table
2
and Fig.
4
). We found an amygdala-associated brain network, consisting of extensive areas in the frontal gyrus, temporal gyrus, ACC, PCC, thalamus and basal ganglia (Table
2
). Besides showing the overlapped regions with the above network, the post-acupuncture condition engaged other brain regions including the medial prefrontal cortex (MPC), postcentral gyrus (PCG), insula, and PAG. In addition, the post-sham network covers more areas (reflected in the number of voxels) in the cingulate and basal ganglia, and has stronger between-region correlations (reflected in the t values). While the post-acupuncture condition overlapped extensive regions with the post-sham network, there were changes in the connectivity pattern with respect to both the size and strength of the localized correlations in the inferior temporal gyrus (ITC), PCG, cingulate, insula and PAG (Table
2
and Fig.
4
).

Table 2
Functional localization of the brain regions showing significant correlations with the ROI in the left amygdala (df = 16, P < 0.01, FDR corrected).
ACUP

SHAM

REST

Anatomical regions

Talairach

Talairach

Talairach

Hem

BA

x

y

z

t

Vol

BA

x

y

z

t

Vol

BA

x

y

z

t

Vol

Medial Prefrontal

L

10

-6

51

6

5.56

270

11

-11

49

-16

9.51

189

Cortex (MFC)

R

6

6

0

51

5.05

81

Postcentral Gyrus

L

3/40

-30

-36

57

5.59

378

1/3

-42

-21

60

5.72

810

Temporal Gyrus

L

20/37

-51

-39

-21

6.28

1242

20

-54

-48

-18

7.20

1377

22

-51

-60

12

4.50

1593

R

20/37

51

-39

-21

6.24

1620

20

39

-12

-33

5.71

189

20

51

-54

-18

4.89

621

Anterior Cingulate

L

25

-6

-23

-10

4.01

81

Cortex (ACC)

R

32

9

36

-9

6.01

162

32/33

6

21

24

5.42

135

32

10

41

-3

4.21

81

Posterior Cingulate

L

29

-9

-45

3

5.12

54

30/31

-12

-63

9

5.66

216

30

-12

-63

9

4.64

54

Cortex (PCC)

R

30/31

15

-54

3

5.38

54

30

15

-54

3

4.68

81

Thalamus (THA)

L

-3

-18

0

6.58

1647

-3

-12

2

5.60

1674

-9

-21

0

4.51

162

R

6

-18

0

6.30

2133

6

-9

9

6.76

3483

Insula (INS)

R

13

39

3

9

5.23

135

13

39

9

-6

4.9

54

Putamen

L

-27

3

0

6.87

3348

-27

-6

-6

6.69

2918

-21

0

-6

5.48

891

R

21

3

-3

6.03

1620

27

-3

-6

6.05

2170

-24

0

-6

5.32

837

Caudate

L

-9

15

3

5.92

1836

-15

6

18

6.01

1890

-12

18

-6

4.75

243

R

6

12

-6

5.81

162

Periaqueductal Gray

L

-4

-29

-12

6.18

2268

(PAG)

R

2

-22

-9

5.46

567

+4

-25

-8

4.11

54
For a quantitative presentation of the connectivity changes over different conditions, eight ROIs including the amygdala, were defined in Figure 4 to construct a basic connectivity module [14]. We selected these eight regions by considering that (1) they were activated in our BLOCK experiment during acupuncture stimulation and (2) they have been implicated in both sensation and affective pain perception, as well in the pain-modulation system [2, 32, 33]. While the regions in this brain module were active during or even following acupuncture stimulation, the connections among these regions may or may not be expressed (as shown by the statistical significance level of the correlations in Fig. 4). Furthermore, the between-region correlations changed over different conditions. For instance, while the connections between the amygdala and cingulate remained almost the same, all the other selected connections were significantly increased during SHAM relative to REST, suggesting modulation of the resting network by sham stimulation. Most importantly, the increases in connectivity with the amygdala during ACUP (relative to SHAM) were found specifically in the PAG and INS. While functional connections to the ACC and thalamus remained the same between SHAM and ACUP, the connections to the MFC, PCG (the SII) and PCC were decreased. Note that the connectivity maps covered the contralateral amygdala and it also showed a different degree of correlation with the reference under each condition. For simplicity, the results in the cerebellum were not shown in the above analysis.
Figure
5
and Table
3
showed the contrast of connectivity maps between the two conditions by voxel-wise t-tests, further indicating the brain regions in which the REST connectivity was modulated by the ACUP or SHAM condition. Both verum and sham induced significant changes in the resting-state functional connectivity. Moreover, while the locations of these connectivity changes had extensive overlap between verum and sham there were apparent differences between post-acupuncture modulation and post-sham modulation (Fig.
5
and Table
3
).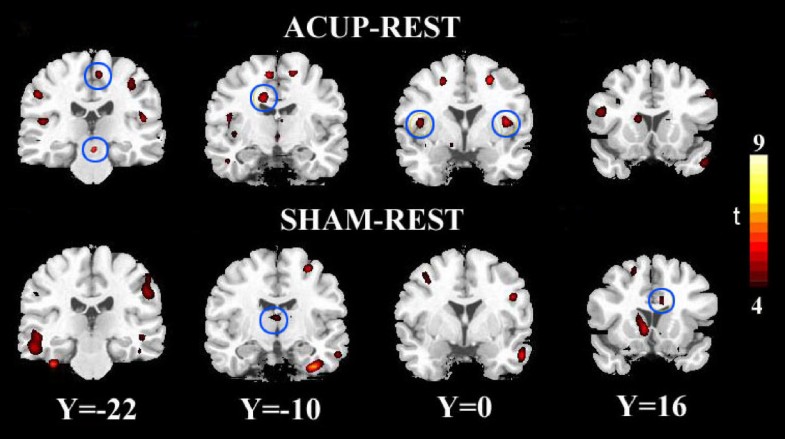 Table 3
Localization of connectivity maps by comparing between the ACUP vs. Rest, and SHAM vs. Rest using paired t-tests (df = 16, P < 0.01, FDR corrected).
Acu-Rest

SHAM-Rest

Anatomy regions

Talaiarch

Talaiarch

Hem

BA

x

y

z

t

Vol

BA

x

y

z

t

Vol

MFC

L

11

-4

24

-12

4.98

108

11

-10

43

-11

5.67

274

R

11

9

48

-12

5.32

263

ACC

L

24/32

-9

41

6

4.88

98

24

-3

3

29

4.08

28

R

24/32

8

40

2

4.93

126

PCC

L

26/23

-4

-38

21

4.64

116

R

26/23

10

-47

25

4.30

98

Insula

L

13

-36

2

8

5.72

243

13

-39

-11

12

4.98

118

R

13

44

2

12

5.49

261

13

32

16

5

4.61

92

ITC

L

20

-50

-10

-24

5.01

232

20

-40

-10

-26

6.39

318

R

20

43

-10

-30

5.12

118

20

45

-10

-36

6.21

432

MTC

L

21

-62

-20

12

5.21

124

21

62

-18

-12

6.92

833

R

21

59

-50

-12

6.38

612

21

-61

20

11

5.12

204

Caudate

L

-12

16

12

5.83

1182

-7

16

-8

6.32

1614

R

16

14

11

5.71

136

8

17

11

6.12

324

Thalamus

L

-6

-11

4

5.97

646

-4

-10

10

6.02

812

R

8

-16

2

5.88

312

6

-10

5

5.92

489

Precentral

L

4

-7

-22

52

5.62

204

4/6

-35

-21

63

5.56

215

R

4/6

29

-22

65

5.41

183

Postcentral

L

3/4

-37

-22

54

6.31

513

3/4

-47

-24

51

6.73

1008

R

3/4

39

-22

50

6.19

465

3/4

50

-22

40

6.24

842

PAG

5

-28

-11

4.91

102
To further demonstrate acupuncture-specific effects on the modulation of resting-state connectivity, we directly compared the SHAM and ACUP connectivity maps using voxel-by-voxel paired t-tests (Fig.
6
and Table
4
). Our results showed that the SI, SII, ITC and cerebellum were more associated with the amygdala during sham relative to verum acupuncture; these regions constructed a post-sham network. In contrast, the ACUP-induced increases in the amygdala connectivity were primarily found in the PAG and insula, which constructed a post-acupuncture network.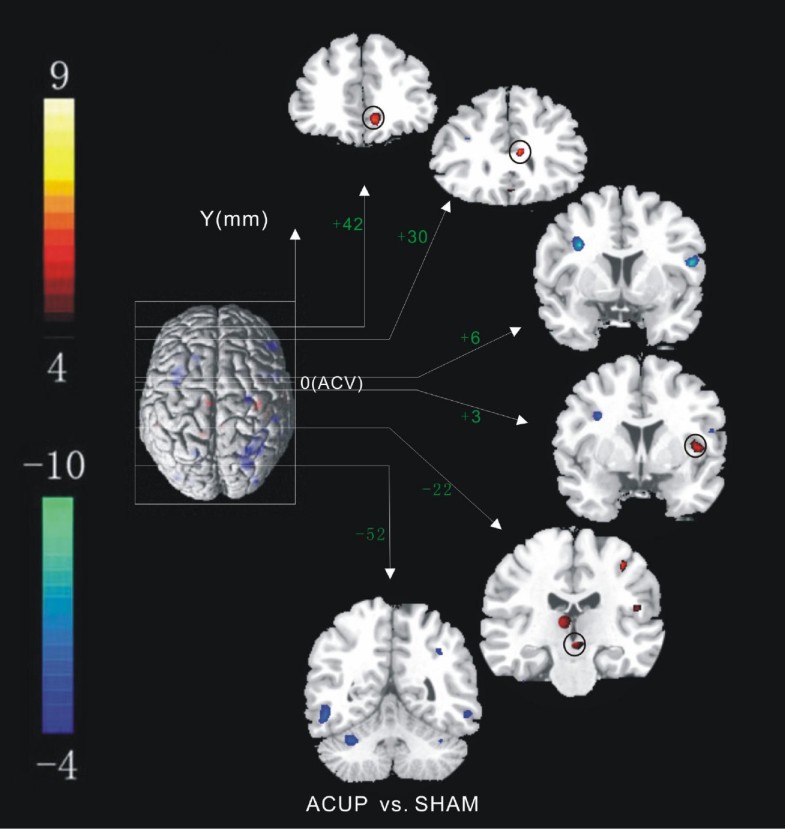 Table 4
Localization of acupuncture specific effects by comparing between the ACUP and SHAM connectivity maps using paired t-tests (t = 4.0, df = 16, P < 0.01, FDR corrected).
ACUP – SHAM

Talairach

Anatomy regions

Hem

BA

x

y

z

t

Vol

Medial Frontal Gyrus (MFG)

9

39

-9

Precentral Gyrus

L

6

-33

3

27

-6.28

270

R

4

36

-21

54

5.93

54

Inferior Frontal Gyrus (IFG)

R

44

54

9

15

-5.75

216

Postcentral Gyrus (SII)

R

2

54

-30

57

-5.68

54

Superior Parietal Gyrus

R

7

27

-57

48

-5.43

81

Inferior Temporal Gyrus (ITG)

L

20

-42

-21

-33

-6.50

216

R

21

39

-6

-36

-5.84

27

Insula (INS)

L

13

-33

-3

18

4.88

108

R

13

45

-27

18

5.33

216

Anterior Cingulate Cortex (ACC)

L

24/32

-6

30

12

5.11

81

R

24/32

9

36

-9

5.46

270

Uncus

R

20

36

-12

-36

-5.77

81

Caudate

R

12

15

12

-6.27

108

Putamen

R

24

12

9

-5.11

54

Periaqueductal Gray (PAG)

0

-22

-8

5.28

182

Cerebellar Culmen

L

-36

-54

-27

-6.73

216

R

39

-54

-27

-5.75

189

Cerebellar Tonsil

L

-27

-57

-48

-6.83

216

Cerebellar Declive

L

-39

-60

-21

-6.02

513

R

36

-57

-27

-6.63

108

Cerebellar Pyramis

L

-18

-72

-36

-5.55

108

Cerebellar Tuber

L

-54

-60

-33

-5.7

54
Based on the selected ROIs that were implicated in both verum and sham networks, we performed a regression analysis to characterize how the dynamic changes in these specific brain regions interacted with the amygdala activities (Fig.
7
). The slopes in the PAG and insula were apparently steeper during verum than those during sham acupuncture (the upper two panels in Fig.
7
), which are consistent with the above results that the PAG and insula are more strongly involved in specific acupuncture effects. On the other hand, the slopes in the SII and cerebellum are steeper during SHAM than those during verum acupuncture (the lower two panels in Fig.
7
), indicating that these two structures are more strongly involved more in the sham response.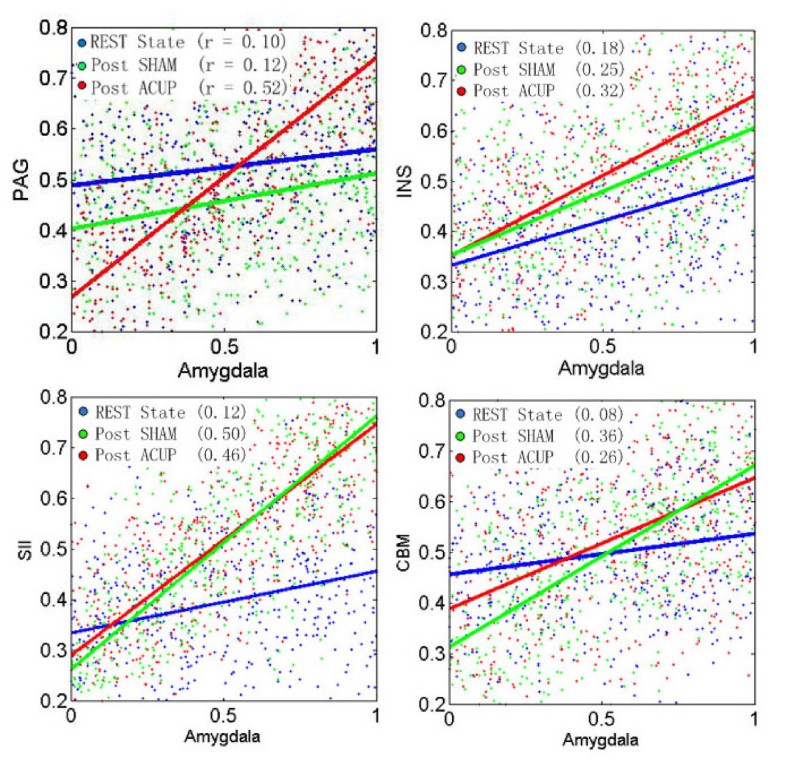 Discussion
In this paper, we employed functional connectivity analysis methods with a new NRER-fMRI design to investigate the sustained effects of acupuncture. In most previous fMRI studies, the model-dependent analysis methods using a block design require prior knowledge of event timing from which an anticipated hemodynamic response can be modeled. However, this type of analysis methods cannot be used without a predictable hemodynamic response reflecting the actual BOLD signal changes induced by acupuncture. In the current study, we used a model-independent approach, i.e. the new NRER-fMRI design, to explore systematic changes of the BOLD signal without a decrease in the statistical power and the bias on the results.
Our work presents the first fMRI connectivity study of acupuncture using a modular approach in connectivity analysis [14], followed by a more recent connectivity study on the defaut mode network [33]. We have defined a resting-state brain network that is associated with an amygdalar region activated during acupuncture stimulation (Fig. 4). Our results further showed that the amygdalar-specific network consisting of brain regions overlapped with the pain-matrix to some extent. These regions include extensive areas in the SI and SII, insula, ACC and PFC as well as the hypothalamus and PAG (Table 1). While these brain regions were activated by sham or acupuncture stimulation, the corresponding network associated with sham could be dissociated from acupuncture modulation effects by differentiating functional connectivity patterns among these regions (Fig. 4).
As the amygdala plays a dual role of facilitating as well inhibiting in the modulation of pain behavior and nociceptive processing at different levels of the pain matrix, the amygdala-associated network during the resting state may be crucial in both pain and analgesia systems implicated in the effects of acupuncture stimulation [2, 20, 34]. Many previous studies have found a basic network derived from the important concept of "default mode" in the resting brain [10, 35]. Within this default mode, the temporal correlation of the fMRI signal during a resting-state provides complementary information about the intrinsic interaction between different brain regions. With such a baseline, the verum acupuncture- or sham-induced changes in the temporal correlation may represent the modulation of region-to-region interactions. It should be noted that the low-frequency temporal correlations in the resting state are also related to uncontrolled brain activities [36]. Continuous stimulation during ACUP or SHAM may result in a higher degree of low frequency correlation than the "resting" uncontrolled stimulus state in these regions, which may provide an explanation for the increase in connectivity in both sham and acupuncture conditions (Figs. 4, 5).
The change in the region-to-region connectivity is an indication of functional changes of the network, and may provide complementary information for exploring modulating effects of acupuncture or sham on the network of interest (Figs. 4, 5). Based on the pain-related network in the resting brain, we can expect that either verum or sham acupuncture (using pain-related stimulation) may modulate the functional connectivity in some specific brain regions implicated in this network. The connectivity network during the post-acupuncture condition was similar to the sham except for more extensive and stronger connectivity in the limbic system. Furthermore, since the procedure during SHAM intervention, as a whole, is the similar to that of ACUP and all of subjects are naïve to acupuncture, we expect that SHAM is believed to be the same procedure as verum acupuncture to our subjects in terms of potential placebo effects of pain relief. Therefore, the observed differences between these two conditions may constitute a specific physiological effect. Comparing ACUP and SHAM, we found connectivity increases specifically in the PAG and INS (Fig. 4). The PAG has abundant opiate receptors and participates in both opioid analgesia and acupuncture analgesia [5, 8]. In addition, a recent PET study involving patients in pain, has clearly identified a hyperactivation of the ipsilateral insula, suggesting a specific neural structure underpinning the effect of acupuncture for the treatment of chronic musculoskeletal pain. The insula is a key modulator of the visceromotor system. The increases in the connectivity of the amygdala with both the insula as well PAG indicate that the uncrossed visceroceptive autonomic pathways may be engaged, which seems to be crucial for acupuncture analgesia effects reflecting its specific action on the central nervous system.
It is now believed that sham does have a physiological effect, as well as many of the central neural substrates may be involved in the sham-related pain sensation. Compared to the ACUP, an increased connectivity was shown among the MFC, PCG (and the SII) and PCC during the SHAM. The MFC has been shown to be involved in the modulation of pain by regulating attention and affective emotion [8, 9]. The MFC and PCC may also transform the memory or sensory information to assign meaning to pain, and subserve planning and execution of coping strategies. Previous imaging studies have shown that the SII and PCC have connections to memory-related temporal-lobe structures and the motor system, suggesting that these cortices may contribute to learning and memory of pain, as well as to pain-motor integration [37–40]. In addition, the PCC near the 'unpleasantness region' is associated with response selection, conflict monitoring and attention, which is considered to be more reliably activated by pain [37–39]. Therefore, the increased connections with the amygdala shown in the SII and PCC during SHAM may be due to more intense sensations commonly induced by sham stimulation. As a result, we speculate that the action of sham may involve non-specific effects supporting both sensory and affective pain perception. Although no significant statistical differences between acupuncture and sham scores on subjects' perceptions of sensations (P < 0.05), the sharp pain levels showed an elevated tendency during the sham stimulation (paired t-test, P < 0.07), primarily due to the low scores (typically less than 1) measured during the acupuncture stimulation.
The involvement of the ACC in both sham and acupuncture is an interesting finding in our study. The functional connectivity results are consistent with the previous neuroanatomical and electrophysiological findings that the efferents of the amygdala have bidirectional relations with the ACC [41–43]. Although a considerable volume of literature documented the role of the ACC in autonomic regulation and emotion [44], some studies pointed out that a pain response as shown in the ACC might be associated with the "suffering" component of pain [45] or with the opioid pathway [46, 47]. Placebo effects following conditioning with surreptitious variation of heat pain can induce decreased activity within the ACC. We hypothesized that placebo analgesia may arise from changes in the expectation of pain within higher cognitive centers such as the ACC. The ACC contains a high concentration of opioid receptors [48], and has been regarded as a functional region in opioid analgesia and in other forms of pain modulation [49, 50], which may suggest a similar involvement of higher order control of opioid-dependent placebo analgesia. We therefore suggest that the ACC activation found in both ACUP and SHAM is linked to the expectation of therapeutic benefit and exerts a top-down effect on the midbrain which is at the same site of the PAG activation reported by Petrovic et al [51]. Previous studies also showed that acupuncture might stimulate both pain modulation and analgesia systems by releasing endogenous opioids [52]. However, there was no significant difference in the amygdala-ACC connectivity between SHAM and ACUP (Fig. 4.), suggesting that the ACC may not mediate the effects specific to the sustained effects of acupuncture, but participate in non-specific components such as expectation and pain-related affective processes.
The activation of the insula has been reported in previous acupuncture studies [9, 53, 54]. The increased connectivity of the insula in our study is consistent with electrophysiological studies and clinical investigations [55], which showed the insula's involvement in emotional processing (fear, uneasiness, etc) and ascending visceral symptoms [56]. The involvement of the insula in the post-acupuncture functional network is also consistent with TCM's viewpoint that the known healing effects of Zusanli (ST36) acupuncture on gastroenteric disorders such as gastroenteritis and gastroenteric spasm may be mediated through the insular visceral feedback pathway. Furthermore, the unaltered connectivity of the ACC may therefore suggest that the expectation during the treatment may have a physiological effect on the brain, which mediates a potentially powerful non-specific response to acupuncture. On the other hand, our results showed that the SII and cerebellum were more associated with SHAM, suggesting that the post-sham effects may mostly be represented in modulating responses in sensory processes [2]. More compelling evidence supporting central effects specific to acupuncture was from direct comparisons between the ACUP and SHAM connectivity maps (Fig. 6 and Table 4). Our ROI-based temporal analyses in Figure 7 indicated a dynamic relationship between the amygdala and the other four regions implicated in the pain-related network. When the region-to-region connectivity patterns were further explored, our results showed differential modulatory effects of acupuncture and sham stimulations on the corresponding networks, in which the modulatory effects were mediated in a time-dependent way. Therefore, these findings suggest that the difference in functional connectivity is region-specific, which provides indirect evidence in support of the discrepancy between verum and sham acupuncture.
It has been recently suggested that acupuncture may be effective in pain relief regardless of acupoint locations, although there are differences in their efficacies [57]. However, as shown in our results using a new fMRI approach, the verum acupuncture and sham stimulation (at a non-acupoint) induced the activations of differential brain networks. The specific pattern of correlation during the post-acupuncture condition provides a reasonable explanation for the actual analgesia effect of acupuncture as well as direct evidence supporting that an acupuncture point may have its own functional specificity.
Conclusion
Using connectivity analysis with the new NRER-fMRI design, we demonstrated that there is an amygdala-associated resting brain network, which can be further modulated by sham and acupuncture stimulations, and that the specific effects of acupuncture may result from the cooperation of brain regions engaged in the resting functional network. In addition, this network encompasses the brain structures that are implicated in both pain sensation and pain modulation.
Declarations
Acknowledgements
This paper is supported by the Project for the National Key Basic Research and Development Program (973) under Grant No.2006CB705700, Changjiang Scholars and Innovative Research Team in University (PCSIRT) under Grant No.IRT0645, CAS Hundred Talents Program, CAS scientific research equipment develop program (YZ0642,YZ200766), 863 program under Grant No. 2006AA04Z216, 2008AA01Z411, the Joint Research Fund for Overseas Chinese Young Scholars under Grant No.30528027, the National Natural Science Foundation of China under Grant No. 30672690, 30600151, 30500131, 30873462, 30870685, 60532050, 60621001, 90209008, Beijing Natural Science Fund under Grant No. 4071003 .
Authors' Affiliations
(1)
Medical Image Processing Group, Institute of Automation, Chinese Academy of Sciences, Beijing, PR China
(2)
Life Science Research Center, School of Electronic Engineering, Xidian University, Xi'an, PR China
(3)
Department of Radiology, Beijing Tiantan Hospital, Capital University of Medical Sciences, Beijing, PR China
(4)
Department of Anatomy and Embryology, Capital Medical University, Beijing, PR China
(5)
Beijing University of Chinese Medicine, Beijing, PR China
(6)
Department of Psychology, School of Education Science, East China Normal University, Shanghai, PR China
(7)
Huaxi MR Research Center, Department of Radiology, Medical Imaging Center, West China Hospital of Sichuan University, Chengdu, PR China
(8)
The Fourth Military Medical University, Xi'an, PR China
(9)
Departments of Psychiatry and Neuroscience, McKnight Brain Institute, University of Florida, Gainesville, USA
Copyright
© Qin et al; licensee BioMed Central Ltd. 2008
This article is published under license to BioMed Central Ltd. This is an Open Access article distributed under the terms of the Creative Commons Attribution License (http://creativecommons.org/licenses/by/2.0), which permits unrestricted use, distribution, and reproduction in any medium, provided the original work is properly cited.