Aquaporin 1, a potential therapeutic target for migraine with aura
Received: 27 August 2010
Accepted: 25 October 2010
Published: 25 October 2010
Abstract
The pathophysiology of migraine remains largely unknown. However, evidence regarding the molecules participating in the pathophysiology of migraine has been accumulating. Water channel proteins, known as aquaporins (AQPs), notably AQP-1 and AQP-4, appears to be involved in the pathophysiology of several neurological diseases. This review outlines newly emerging evidence indicating that AQP-1 plays an important role in pain signal transduction and migraine and could therefore serve as a potential therapeutic target for these diseases.
Keywords
MigraineDorsal Root GanglionCapsaicinTrigeminal GanglionMigraine With Aura
Introduction
Migraine is a chronic, paroxysmal, neurovascular disorder that can start at any age, and affects up to 6% of males and 18% of females in the general population [1]. Two major forms of migraine exist: migraine without aura and migraine with aura. An often debilitating, unilateral, throbbing headache typically characterizes attacks of migraine without aura. This type of headache which may last 4 to 72 hours is aggravated by physical activity, and is accompanied by autonomic symptoms such as vomiting, nausea, photophobia, and phonophobia [2]. However, the attack may also be preceded by premonitory symptoms (prodrome) in some patients. In one third of migraineurs, the headache phase is preceded or accompanied by transient focal symptoms of neurologic aura (migraine with aura). These are usually visual but may also involve sensory disturbances, speech difficulties, and motor symptoms [1].
Much progress has now been made in elucidating the mechanisms underlying the aura and headache phases of migraine attacks [
3
]. The migraine aura is thought to be caused by "cortical spreading depression" (CSD), a wave of intense neuronal activity that slowly progresses over the cortex and is followed by a period of neuronal inactivity. Elevated extracellular levels of potassium and glutamate might be crucial for the initiation and propagation of CSD. During the headache phase, activation of the trigeminovascular system (TGVS) plays a crucial role. The TGVS consists of the meningeal and superficial cortical blood vessels that are innervated by the trigeminal nerve, which projects into the trigeminal nucleus caudalis in the brainstem, which in turn, projects to higher-order pain centers (Figure
1
). Evidence from animal experiments suggests that CSD might activate the TGVS, potentially linking the mechanisms for aura and headache [
3
]. Although the mechanisms of the aura and headache are relative well understood, hardly is anything known about how migraine attacks are initiated. Such knowledge is important to design effective, well-tolerated and prophylactic treatments. Genetic factors may have the possibility to play an important role in migraine by lowering the trigger threshold for migraine attacks. Genetic research in the field of migraines has mainly focused on the identification of genes involved in familial hemiplegic migraine (FHM), a rare monogenic subtype of migraine with aura. The main clinical reason for this validity is that the symptoms of aura and headache are similar, apart from the hemiparesis associated with FHM, and that most patients with FHM also have attacks of common migraine [
2
]. Three genes for FHM have been identified: CACNA1A (FHM1), encoding the pore-forming α1-subunit of voltage-gated neuronal Cav2.1 (P/Q-type) calcium channels, ATP1A2 (FHM2), encoding the α2-subunit of glial cell sodium-potassium (Na
+
-K
+
) pumps, and SCN1A (FHM3), encoding the pore-forming α1-subunit of voltage-gated neuronal Nav1.1 sodium channels [
3
–
5
]. With the identification of these genes, it seems that the FHM- and likely other common types of migraine- are disorders of disturbed ion transport, or ionopathies, has gained increasing acceptance. However, direct convincing evidence that the CACNA1A, ATP1A2, or SCN1A gene is involved in common forms of migraine is largely lacking. Moreover, the precise mechanism by which these mutations cause FHM is unknown currently. It is also not clear whether the mutations represent a gain or loss of function. It is, therefore, to identify new potential therapeutic targets to gain insight into the triggering mechanisms of migraine attacks.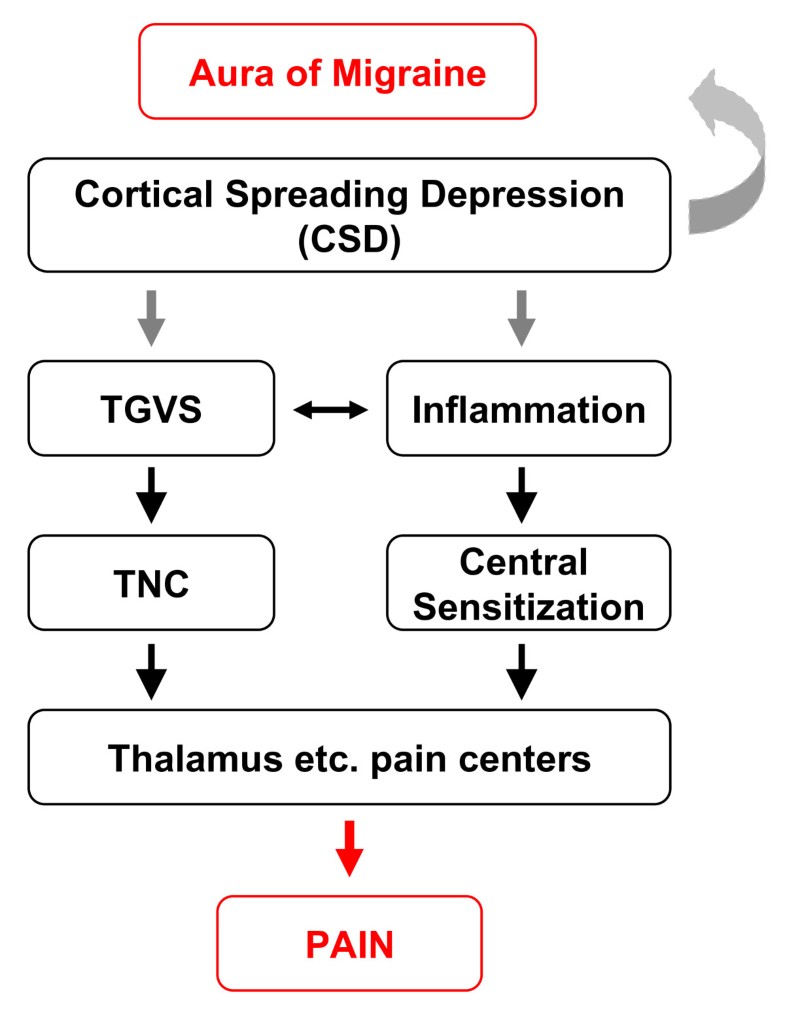 Aquaporins (AQPs), a family of water channel proteins, became a very hot area of research in biochemistry and molecular cell biology, with increasing physiological, medical, and biotechnological implications. The characteristics, tissue distribution, functions and some pathophysiological implications of individual AQPs are briefly presented below and references of detailed reviews on each topic are given. The recent advances on relating AQPs and the pathophysiology of migraine are the focus of this review.
Conclusions
Migraine is among the more debilitating diseases, and current treatment modalities are unsatisfactory in more than half of the patients [3]. More specific, well-tolerated, and effective methods of prophylaxis are desired. AQPs represent just one of many exciting potential therapeutic targets. Other possible candidates include NOTCH3, the causative gene for CADASIL (cerebral autosomal dominant arteriopathy with subcortical infarcts and leukoencephalopathy), and SLC1A3, encoding the EAAT1 (excitatory amino acid transporter and glutamate transporter [3]. The development of genetically sensitized mouse models has more or less opened up a completely new field for migraine research. Whereas previous research concentrated on elucidating the mechanisms of CSD and intracranial nociception, newer candidates will facilitate research into increased sensitivity to migraine triggers and metabolic homeostasis. In addition to treatment of acute attacks, a better understanding of the mechanism of migraine attack triggers will help in the development of specific preventive therapies.
Declarations
Acknowledgements
We thank Dr. Benedict Alter and Dr. Dongsheng Jiang for their helpful comments. This work was supported by National Natural Science Foundation of China (No. 30900437 and No. 81070884), Natural Science Funding for Colleges and Universities in Jiangsu Province (No. 09KJB180008), Natural Science Funding of Jiangsu Province (BK2009118), Dong-Wu Scholar Funding of Soochow University (to Jin Tao), and Doctoral Funding of Ministry of Education of China (No. 20093201110018). This study was supported in part by NIH005158 (GYX).
Authors' Affiliations
(1)
Key Laboratory of Pain Research & Therapy, Department of Neurobiology and Institute of Neuroscience, Soochow University, Suzhou, China
(2)
Department of Internal Medicine, University of Texas Medical Branch, USA
Copyright
© Xu et al; licensee BioMed Central Ltd. 2010
This article is published under license to BioMed Central Ltd. This is an Open Access article distributed under the terms of the Creative Commons Attribution License (http://creativecommons.org/licenses/by/2.0), which permits unrestricted use, distribution, and reproduction in any medium, provided the original work is properly cited.