Migraine attacks the Basal Ganglia
Received: 7 July 2011
Accepted: 21 September 2011
Published: 21 September 2011
Abstract
Background
With time, episodes of migraine headache afflict patients with increased frequency, longer duration and more intense pain. While episodic migraine may be defined as 1-14 attacks per month, there are no clear-cut phases defined, and those patients with low frequency may progress to high frequency episodic migraine and the latter may progress into chronic daily headache (> 15 attacks per month). The pathophysiology of this progression is completely unknown. Attempting to unravel this phenomenon, we used high field (human) brain imaging to compare functional responses, functional connectivity and brain morphology in patients whose migraine episodes did not progress (LF) to a matched (gender, age, age of onset and type of medication) group of patients whose migraine episodes progressed (HF).
Results
In comparison to LF patients, responses to pain in HF patients were significantly lower in the caudate, putamen and pallidum. Paradoxically, associated with these lower responses in HF patients, gray matter volume of the right and left caudate nuclei were significantly larger than in the LF patients. Functional connectivity analysis revealed additional differences between the two groups in regard to response to pain.
Conclusions
Supported by current understanding of basal ganglia role in pain processing, the findings suggest a significant role of the basal ganglia in the pathophysiology of the episodic migraine.
Keywords
Headache
Pain
Migraine
fMRI
Functional Connectivity
Morphometry
Gray Matter Volume
Basal Ganglia
1. Background
Migraine is a common neurological disorder, frequently starting in childhood and extending into adulthood. It is defined by recurrent headaches that last 4-72 hours and affect patients one to fourteen times each month in the episodic form and more than fourteen attacks per month in the chronic form. Most patients seeking medical help are not responsive to current preventive therapies [1] that could mitigate such progression. To identify neurological reasons for migraine disease, we attempted to compare brain functions and morphology in patients at the two ends of episodic migraine spectrum: those with very low frequency of migraine attacks vs. those with very high frequency of migraine attacks.
Numerous imaging studies of migraine patients have described multiple changes in brain functions as a result of migraine attacks: these included enhanced cortical excitability [2], increased gray matter volume in some regions and decreased in others, [3, 4]; enhanced brain blood flow [5–7]; and altered pain modulatory systems [8–10].
The Basal Ganglia (BG) are a major site for adaptive plasticity in the brain, affecting in the normal state a broad range of behaviors [11] and neurological and psychiatric conditions [12] including pain [13, 14]. The BG seem to be involved in the integration of information between cortical and thalamic regions and in particular the three domains of pain processing - sensory, emotional/cognitive and endogenous/modulatory. More recent evidence points to BG being involved through direct connections from sensory inputs (including pain (see Borsook et al., 2010) and not involving cortical loops [15]. The BG may have a role in that they may be involved in habit and stimulus-response learning [16]. Such learning may be derived from pain related regions involved in sensory (e.g., S1), affective (e.g., cingulate or anterior insula) or cognitive regions (e.g., medial and lateral prefrontal cortices).
Brain imaging studies of migraineurs have shown decreased activation in the BG of migraineurs vs. controls [17], increased activation (blood flow) in the BG during the ictal state and lesions in the BG of migraineurs [18, 19]. This is the first study in which attempt is made to compare brain functions of non-progressing patients with those of progressing patients. In comparing the two groups of patients such alterations may provide opportunities to predict which patients progress.
2. Results
2.1. Demographics
Demographic characteristics for each cohort are noted in Table
1
. Low and high frequency migraine patients (N = 10 each, 3 male and 7 female) were matched for gender, and age and there were no significant differences between the age (HF: 43.2 ± 3.4 (mean ± SD), LF: 40.2 ± 3.6 (mean ± SD), (p = 0.46)) or age of onset (HF: 24.2 ± 4.4 (mean ± SD), LF: 21.6 ± 3.2 (mean ± SD), p = 0.59)) between the two cohorts. One patient in each cohort had migraine with aura and another patient in the LF cohort experienced auras occasionally with the migraine attacks. The HF cohort on average had used at least 5.6 greater triptan use during the course of their migraine disease. There was a significant difference between the average numbers of migraine attacks experienced in LF (1.7 ± 0.5 (mean ± SD) attacks per month) vs. HF (9.3 ± 2.6 (mean ± SD) attacks per month) migraqineurs (p < 0.0001).
Table 1
Demographic Data of the Studied Subjects
| Group | Age | Age of Onset | BDI Score | Abortive Rx | Analgesic Rx | Preventive Rx |
| --- | --- | --- | --- | --- | --- | --- |
| High | 43.9 ± 3.37 | 24.2 ± 4.4 | 1.9 ± 2.4 | 80% | 80% | 20% |
| Low | 40.2 ± 3.60 | 21.6 ± 3.2 | 2.1 ± 2.5 | 80% | 50% | 10% |
2.2. Psychophysical/Biometric Data
There were no significant differences in migraine headache intensity (LF: 7.7 ± 2.4 (mean ± SD), HF: 7.2 ± 1.8 (mean ± SD), (p = 0.61)). The migraine headache unpleasantness rating however was significantly different between the two groups (LF: 8.5 ± 1.8 (mean ± SD), HF: 6.7 ± 1.4 (mean ± SD), (p < 0.028)), Figure
1
. The average QST pain thresholds were not significantly different (LF: 46.06 ± 4.26°C (mean ± SD), HF: 45.89 ± 2.77°C (mean ± SD), (p = 0.83)). The average VAS scores for individually tailored threshold + 1°C temperatures applied to the dorsum of the hand were not significantly different for pain intensity (LF: 8.1 ± 2.25 (mean ± SD), HF: 6.17 ± 3.4 (mean ± SD), (p = 0.27)) or for pain unpleasantness (LF: 6.32 ± 2.58 (mean ± SD), HF: 5.47 ± 3.2 (mean ± SD), (p = 0.64)), although there was a trend.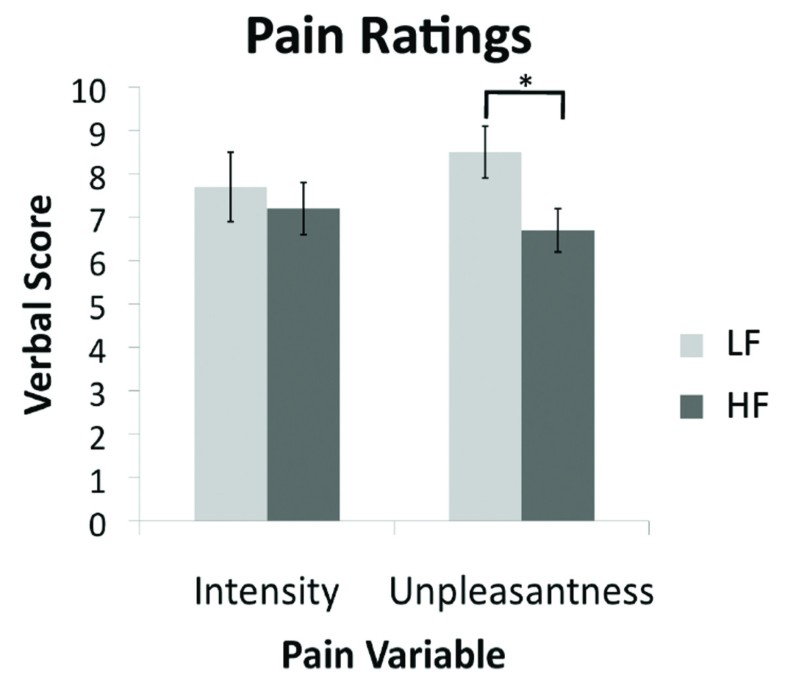 2.3. MRI Measures
2.3.1. Functional Analysis - Painful Heat fMRI Activation
Although data for the entire brain were acquired, striking differences was observed in basal ganglia (BG) structure and function as described below:
Contrast analysis of the HF vs. LF migraine group in response to the "pain threshold +1°C" stimuli revealed significant (p < 0.05, corrected) lower (HF < LF) BOLD signal changes throughout the caudate, putamen, and pallidum nuclei of the BG (Figure
2
, and Table
2
) in HF vs. LF patients that were also symmetrical. Increased (HF > LF) BOLD signal change (p < 0.05, corrected) was observed in the contralateral nucleus accumbens (NAc). Single trial averages also revealed significant reduction in the second peak of the biphasic hemodynamic response of the caudate (p < 0.024), putamen (p < 0.002) and pallidum (p < 0.003) in response to noxious stimulation in the HF group relative to the LF group.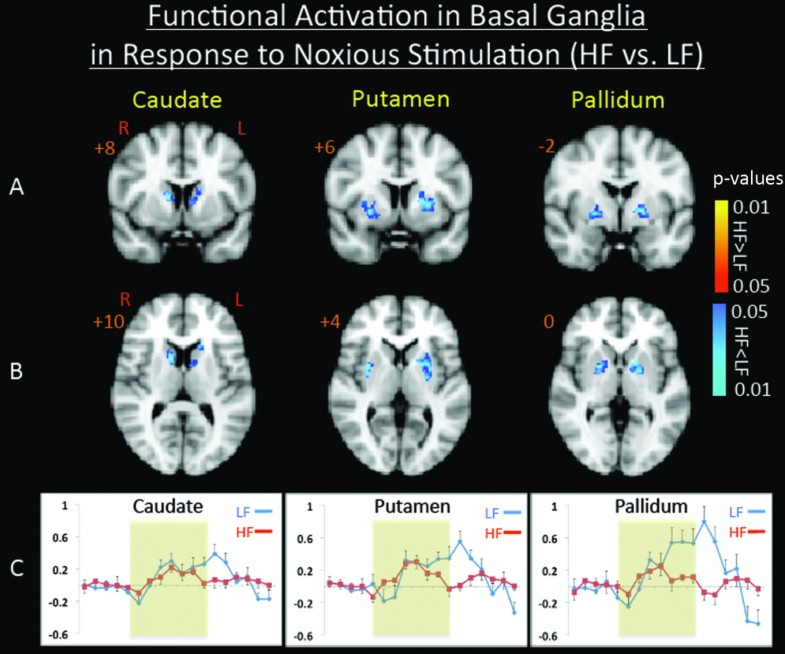 Table 2
Sub-cortical Clusters for Painful Heat fMRI Activation
| Brain Region | Lat. | Max z-stat | X(mm) | Y(mm) | Z(mm) | Vol (cm3) |
| --- | --- | --- | --- | --- | --- | --- |
| HF > LF | | | | | | |
| Thalamus | L | 2.2586 | -10 | -28 | 8 | 0.352 |
| PAG | | 2.1464 | -6 | -32 | -4 | 1.176 |
| Pons | | 2.2187 | 0 | -26 | -36 | 0.232 |
| Hypothalamus | L | 2.8448 | -10 | -6 | -12 | 1.568 |
| HF < LF | | | | | | |
| Caudate | L | -1.7572 | -16 | 20 | 10 | 1.504 |
| Caudate | R | -1.7704 | 18 | 20 | 0 | 2.024 |
| Putamen | L | -1.9119 | -24 | 4 | 4 | 1.2 |
| Putamen | R | -2.1153 | 30 | 2 | 4 | 1.312 |
| Pallidium | L | -2.1256 | -20 | -2 | 0 | 0.328 |
| Pallidium | R | -1.7506 | 16 | 4 | -2 | 0.39 |
2.3.2. Structural Analysis
High frequency migraine patients showed a larger volume in the bilateral caudate vs. the low frequency migraine patients (left: p < 0.025 and right: p < 0.006), Figure
3
. No other significant changes in subcortical structures were observed.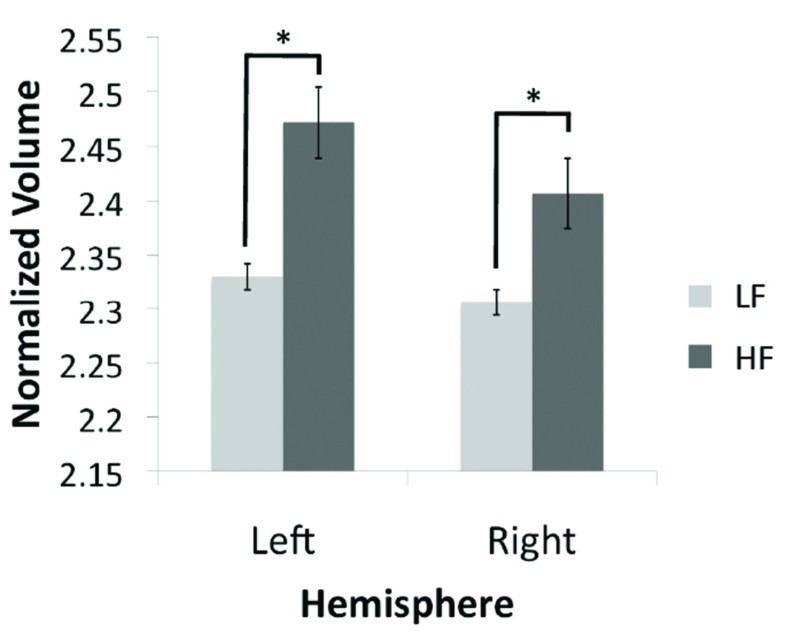 2.3.3. Functional Connectivity (Fc) Analysis
The Fc analysis results, summarized in Figure
4
showed significant differences between the two groups encompassing a number of brain regions, further suggestive of widespread differences in brain function between the two groups as described in the following: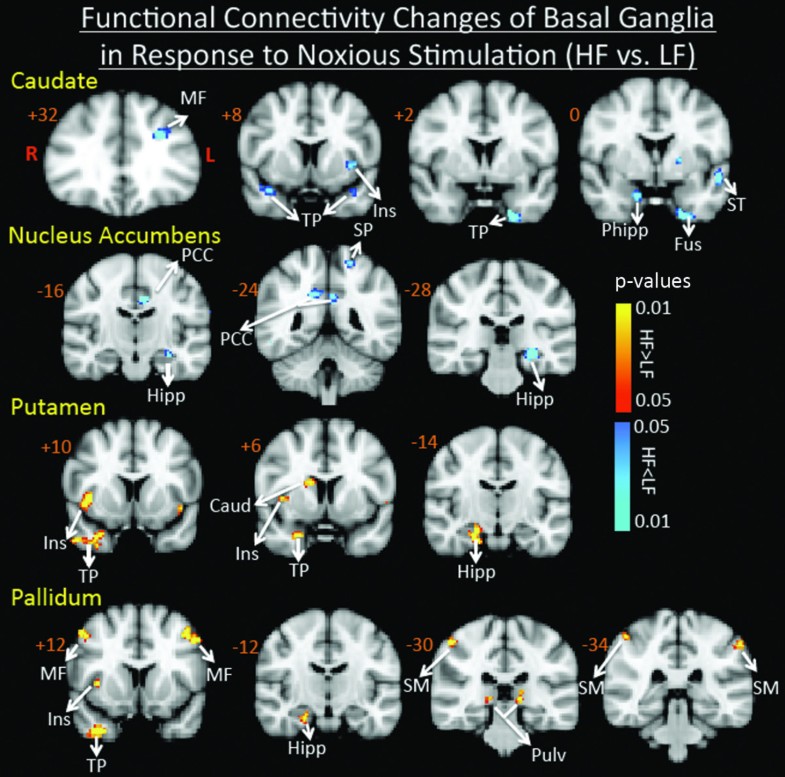 Caudate
Significantly reduced (HF < LF) Fc (p < 0.05, corrected) of caudate was observed with ipsilateral middle frontal gyrus, ipsilateral insula, bilateral temporal pole, and contralateral parahippocamus.
Putamen
Enhanced (HF > LF) Fc (p < 0.05, corrected) with putamen was observed in contralateral hippocampus, contralateral caudate, contralateral middle frontal gyrus and bilateral anterior insula (with a stronger connectivity contralaterally).
Globus Pallidus
Significantly increased (HF > LF) Fc (p < 0.05, corrected) with the pallidum was observed in bilateral middle temporal gyrus, bilateral supramarginal gyrus, bilateral thalamus, contralateral hippocampus, contralateral insula, and contralateral temporal pole.
Nucleus Accumbens (NAc)
Significantly reduced functional connectivity with NAc was observed in bilateral posterior cingulate cortex, ipsilateral superior parietal, and ipsilateral hippocampus.
3. Discussion
In this multimodal imaging study, in matched groups of HF and LF migraineurs, significant differences in gray matter volume and function in response to pain, as measured in the interictal period, were observed in the basal ganglia (BG). These regions are well positioned to integrate sensory, motor, cognitive and other information including behavior relating to predicting events, and in attention and learning [20]. The BG receives inputs from all cortical regions and the thalamus, and efferent pathways project, mostly through BG-thalamo-cortical loops back to the BG [20–22]. Here we report on novel findings in the BG that were measured in HF vs. LF migraineurs.
4. Conclusions
A few studies have attempted to evaluate specific basal ganglia function in pain [14, 79, 80]. Our findings report significant alterations in structure and function of the basal ganglia in migraineuers as a result of repeated pain, triptan treatment, or both. As such these changes may reflect alterations that may be indicators of migraine chronification/transformation.
5. Methods
5.1. Subjects and Study Design
The study met the criteria of the Helsinki accord for experimentation of pain in human subjects (Helsinki Accord, 1975;
http://history.nih.gov/research/downloads/helsinki.pdf
) and approved informed consent forms were obtained from all subjects, Figure
5
.

Sixty migraine patients were screened for this study out of which, 20 subjects (n = 10 per group) met the inclusion criteria, matched for gender, age, and medication type. The subjects (i) met the criteria for episodic migraine as classified as per the International Classification for Headache (http://www.ihs-classification.org/en/); (ii) had Beck Depression Inventory II (BDI-II) scores ≤ 25; (iii) suffered from episodic migraine for three years or longer; (iv) had no migraine 72 hours prior to the scan and no symptoms of developing one during or 24 hours after the scan; and (v) LF sufferers had 1-2 and HF sufferers had 8-14 headache days per month; and (vi) stable frequency levels were present for at least a year prior to the scan. None of the patients reported the use of either opioids of barbiturates [81]. A detailed history of triptan usage was collected for each subject.
5.2. Quantitative Sensory Testing
For all functional studies and for all groups, quantitative sensory testing (QST) was performed using a 1.6 cm × 1.6 cm contact thermode (TSA-II, Medoc Advanced Medical Systems, Ramat Yishai, Israel) prior to the MR session. The temperature increased from a 32°C baseline temperature at the 1°C/sec rate until stopped by the subject at the first onset of pain while the corresponding temperature was recorded as the pain threshold (THR).
5.3. Noxious Thermal Stimulation
For stimulation during functional imaging, 3 blocks of stimulation (30s baseline/15s stimulation @THR+1) were delivered from a baseline temperature of 32°C using the same probe that was used during QST. The rate of temperature change was 4°C/sec. The 15 seconds pain stimulation period did not include the ramp-up and ramp-down periods of the thermode from the baseline temperature. The ramps were modeled in defining the explanatory variables (EVs) for fMRI data analysis.
5.4. Functional and Structural Imaging
All data were collected on a 3 Tesla Siemens Trio scanner with an 8-channel phased array head coil (Erlangen, Germany). For structural data, high resolution, T1-weighted datasets were collected from each patient using a 3D MPRAGE pulse sequence (TR/TE/TI = 2100/2.74/1100 ms, FA = 12, 128 sagittal slices, res = 1.33 × 1.0 × 1.0 mm3). For acquiring functional data, a Gradient Echo (GE) echo planar imaging (EPI) sequence (TE/TR = 30/2500, res = 3.5 × 3.5 × 3.5 mm3, matrix = 64 × 64, 74 volumes, 41 slices) was used.
5.5. Data Analysis
5.5.1. Functional Analysis
fMRI analysis was carried out using FMRIB Software Library (FSL) (http://www.fmrib.ox.ac.uk/fsl), version 4.1.3. The initial two volumes were removed from each of the functional scans to allow for signal equilibration. Visual screening of the functional volumes revealed that none of the subjects showed indications of gross movement (> 1 voxel). The skull and other non-brain areas were extracted from the anatomical and functional scans using FSL's script Brain Extraction Tool (BET). Motion Correction using FMRIB's Linear Image Registration Tool (MCFLIRT) was performed on each functional scan. The volumes were spatially smoothed with a 5 mm full-width at half-maximum filter, and a 60s high-pass temporal filter was applied. These functional images were then co-registered with the anatomical images using FMRIB's Linear Image Registration Tool (FLIRT).
First-level fMRI analysis of single subject data was performed using FMRI Expert Analysis Tool (FEAT) Version 5.98. The explanatory variables (EVs) for thermal stimuli were entered using the recorded temperature traces for each subject. Subjects were spatially normalized to the MNI152 brain for group analysis. Group activation maps were generated by fMRI expert analysis tool (FEAT) fMRIB's Local Analysis of Mixed Effects (FLAME). For all of the functional comparisons, the group statistical parametric maps were threshold using a Gaussian Mixture Model (GMM) technique, a multiple comparisons-based analysis generally used for unsupervised classification of data into multiple categories (Pendse et al., 2007; Moulton et al., 2007). Single trial averages (STAs) were calculated using in-house programs.
5.5.2. Structural Analysis
Subcortical volumetric segmentation was performed with the Freesurfer image analysis software (http://surfer.nmr.mgh.harvard.edu/). The initial processing steps included (i) Motion correction and averaging of the two volumetric T1-weighted MPRAGE images, (ii) Removal of non-brain tissue using a hybrid watershed/surface deformation procedure [82], (iii) Automated Talairach transformation, (iv) Segmentation of the subcortical white matter and deep gray matter volumetric structures (including hippocampus, amygdala, caudate, putamen, ventricles) [83, 84], (v) Intensity normalization [85]. Subsequent to these processing steps, the volumes were labeled based on both subject-independent probabilistic atlas and subject-specific measured values [83, 84]. These labels were then mapped into Talairach space to achieve point-to-point correspondence for all subjects. This method uses both intensity and continuity information from the entire 3-dimensional high resolution structural volume in segmentation. A univariate analysis of variance for each of the segmented volumes was performed separately using IBM SPSS 19.0 statistics package to assess the differences between the two groups of migraine patients while accounting for the differences in the cranium size [86] and age as additional regressors.
5.5.3. Functional Connectivity (Fc) Analysis
Functional connectivity was measured using a seed correlation based approach [87, 88]. The evoked functional connectivity was assessed in order to determine if there were any differences in the functional connectivity of each of the seeds of interest to the network they functionally connected to for pain processing between the two cohorts. Seeds/Regions chosen for functional connectivity analysis were defined anatomically for the basal ganglia nuclei and also additional subcortical areas (PAG, Pulvinar and Hypothalamus) based on considerations that functional connectivity with those areas may reflect important processing of migraine systems between the two groups based on our previous studies in migraine [17]. The basal ganglia ROIs were defined by automatic segmentation of the T1-weighted anatomical volumes for each subject individually using Freesurfer image analysis software (http://surfer.nmr.mgh.harvard.edu/). Other ROIs were defined on the MNI brain in the standard space and then transformed to each subject's anatomical space.
Preprocessing steps were similar to the steps described for functional analysis above. For each subject the WM and CSF masks were created in anatomical space using Freesurfer tools (http://surfer.nmr.mgh.harvard.edu/). All time-courses in the brain were orthogonalized with respect to the eigen time-courses of WM and CSF masks which were computed by singular value decomposition (SVD) [89]. fMRI time-courses from each seed ROI were also extracted using SVD. The time courses were normalized for General Linear Model (GLM) analysis. The resulting GLM analysis parameter estimates (correlation coefficients) were transformed into normally distributed quantities using a Fisher z-transform, registered to MNI space and entered into a mixed effects group analysis (FLAME1). The group statistical parametric maps were threshold using a GMM technique (see above).
Abbreviations
BDI :

Beck Depression Inventory
BOLD :

Blood Oxygenation Level Dependent
CSF :

Cerebrospinal Fluid
EPI :

Echo Planar Imaging
Fc :

Functional Connectivity
FEAT :

fMRI expert analysis tool
FLAME :

fMRIB's Local Analysis of Mixed Effects
fMRI :

Functional Magnetic Resonance Imaging
GE :

Gradient Echo
GLM :

General Linear Model
GMM :

Gaussian Mixture Model
MPRAGE :

Magnetization Prepared Rapid Acquisition Gradient Echo
NAc :

Nucleus Accumbens
PAG :

Periaqueductal Gray
QST :

Quantitative Sensory Testing
ROI :

Region of Interest
STA :

Single Trial Average
SVD :

singular value decomposition
THR :

Pain Threshold
WM :

White Matter.
Declarations
Acknowledgements
The work was supported in by grants from NIH (K24 NS064050 (NINDS) and R01 NS056195 (NINDS) to DB) (data collection) and an Investigator Initiated Grant from Merck and Co. (Data Analysis).
Authors' Affiliations
(1)
Department of Radiology, Children's Hospital Boston, Harvard Medical School, Boston, USA
(2)
Department of Psychiatry, P.A.I.N. Group, Brain Imaging Center, McLean Hospital, Harvard Medical School, Belmont, MAUSA
(3)
Departments of Psychiatry and Radiology, Massachusetts General Hospital, Harvard Medical School, Charlestown, USA
(4)
Merck Investigator Studies Program and Scientific Education Group, Merck Research Laboratories, Merck & Co., Inc., North Wales, USA
(5)
Department of Neurology, Albert Einstein College of Medicine, Bronx, USA
(6)
Department of Anesthesia and Critical Care, Beth Israel Deaconess Medical Center, Harvard Medical School, Boston, USA
Copyright
© Maleki et al; licensee BioMed Central Ltd. 2011
This article is published under license to BioMed Central Ltd. This is an Open Access article distributed under the terms of the Creative Commons Attribution License (http://creativecommons.org/licenses/by/2.0), which permits unrestricted use, distribution, and reproduction in any medium, provided the original work is properly cited.