Neural mobilization reverses behavioral and cellular changes that characterize neuropathic pain in rats
Received: 9 October 2011
Accepted: 6 July 2012
Published: 29 July 2012
Abstract
Background
The neural mobilization technique is a noninvasive method that has proved clinically effective in reducing pain sensitivity and consequently in improving quality of life after neuropathic pain. The present study examined the effects of neural mobilization (NM) on pain sensitivity induced by chronic constriction injury (CCI) in rats. The CCI was performed on adult male rats, submitted thereafter to 10 sessions of NM, each other day, starting 14 days after the CCI injury. Over the treatment period, animals were evaluated for nociception using behavioral tests, such as tests for allodynia and thermal and mechanical hyperalgesia. At the end of the sessions, the dorsal root ganglion (DRG) and spinal cord were analyzed using immunohistochemistry and Western blot assays for neural growth factor (NGF) and glial fibrillary acidic protein (GFAP).
Results
The NM treatment induced an early reduction (from the second session) of the hyperalgesia and allodynia in CCI-injured rats, which persisted until the end of the treatment. On the other hand, only after the 4th session we observed a blockade of thermal sensitivity. Regarding cellular changes, we observed a decrease of GFAP and NGF expression after NM in the ipsilateral DRG (68% and 111%, respectively) and the decrease of only GFAP expression after NM in the lumbar spinal cord (L3-L6) (108%).
Conclusions
These data provide evidence that NM treatment reverses pain symptoms in CCI-injured rats and suggest the involvement of glial cells and NGF in such an effect.
Keywords
Sciatic nerve
DRG
Hyperalgesia
Satellite cells
NGF
Pain
Background
The neural mobilization technique (NM) is a manual therapy method used by physiotherapists to treat patients with pain of neural origin, such as the compression of the sciatic nerve. NM is a noninvasive technique that has been effective in improving the quality of life of patients with neuropathic pain [1]-3]. In the literature, there are several studies indicating that NM is clinically effective against neuropathies [2, 3]. However, the literature is scarce when surveyed on the possible mechanisms involved. There are only a few articles showing that joint mobilization it is able to decrease pain sensitivity in animals induced by neural injury or by capsaicin injection in to ankle joint [4–6].
During the execution of body movements, the nervous tissue protects the axons from tension and compression forces incident on peripheral nerves [7]. It should be stressed that the propagation of electrical impulses depends also on the elasticity of normal nervous tissue, as a normal component of its neurodynamics. The NM technique aims to restore mobility and elasticity of the peripheral nervous system and thus to improve the conditions of patients with various neural injuries [8–11].
Numerous studies have demonstrated that glial cells, both microglia and astrocytes, play a prominent role in the nociceptive pathways. After a threshold stimulus, activated glial cells release inflammatory mediators such as cytokines, prostaglandins, neurotrophic factors, ATP, NO, and glutamate [12]. These inflammatory mediators play a critical role in the development and maintenance of central sensitization and hyperalgesia. Furthermore, activated astrocytes have been shown to be a source of nerve growth factor (NGF) after injury [13] or after inflammatory cytokine application in vitro [14]. There is evidence that glial cells interact via neurotrophins with neurons and express NGF [15, 16].
NGF belongs to a still growing family of neurotrophic molecules collectively called neurotrophins and that play an important role on survival, growth and neural differentiation [17]. NGF is produced and released by target tissues and uptaken in a retrograde way to maintain neuronal survival. Herzberg et al. (1997) suggested the involvement of NGF in the development of hyperalgesia based on by the increase of mRNA coding for NGF in both the sciatic nerve and in the DRG after constriction of the sciatic nerve [18]. Neurotrophins also play important roles in chronic pain states caused by nerve injury and inflammation [15, 16, 19]. In addition, neurotrophic factors released by activated microglia have been reported to generate a restoration of locomotor function after LPS-induced inflammation [20].
The aim of our study is to verify if NM can improve the pain-related behavior of rats after chronic constriction injury (CCI). In addition, we attempted to identify the possible changes of astrocytes, satellite cells and NGF in the spinal cord and DRG of adult neuropathic rats after NM.
Results
Effect of NM on mechanical and thermal hyperalgesia and allodynia induced by CCI
Rats submitted to CCI developed a protective behavior characterized by guarding of the ipsilateral hindpaw, which is a sign of neuropathic pain. The CCI induced a significant decrease of pain threshold (Figure
1
A-C). These alterations were detected as early as day 1 and persisted for at least 1 month after surgery. The effects of the manipulation resulted in modifying pain thresholds (Figure
1
). A decrease of mechanical hyperalgesia and allodynia was observed starting in the second session of neural mobilization (CCI-NM) when compared to CCI animals that did not receive NM. This effect remained constant for the next eight sessions (Figure
1
A,B). On the other hand, thermal hyperalgesia was inhibited only after the fourth NM session, an effect that remained constant until the last session (Figure
1
C).

No significant difference of pain threshold was observed in sham-operated animals that received NM sessions (taken as control - sham-NM) during the whole period analyzed (Figure 1), and no significant differences of paw withdrawal threshold were observed on the contralateral side of injury between measurements or at any time post-lesion (data not shown). It is important to point that all CCI animals that received NM sessions exhibit a behavioral improvement, such as reduced guarding behavior and recovery of limping. No difference was observed in Naive or sham animals.
Effects of NM on NGF and GFAP expression
A single NGF-positive band was observed in DRG and spinal cord extracts from all groups analyzed. Figure
2
shows an increase of NGF protein levels on the ipsilateral side from experimental animals in the DRG (CCI and CCI NM) and spinal cord when compared to the same side from naive rats, taken as controls and designated as 100%.

Regarding DRG, densitometric analysis revealed an increase of NGF expression in animals with CCI (111% above the control) when compared to naive animals and a return to control levels in rats that received NM treatment (CCI-NM) (Figure 2A). No statistical differences of NGF expression were observed between sham- NM and naive or between sham and sham-NM animals (data not show). On the other hand, no difference was observed when the lumbar spinal cord was analyzed (Figure 2B).
Similar results were observed when we analyzed the GFAP-positive band in the DRG and lumbar spinal cord tissue described above. Our results showed an increase of GFAP levels (68% for DRG and 108% for spinal cord, above the control) after CCI injury when compared to naive animals and a return to normal levels after NM treatment (CCI-NM) (Figure
3
). No difference was observed between naive and sham-NM or between sham and sham-NM (data not show). No differences were observed for β-actin between control and experimental sides at any of the time points tested (Figures 
2
and
3
).

Double-labeling immunofluorescence for NGF and GFAP in the DRG after NM in neuropathic rats
We also examined the immunostaining for NGF (Figure
4
) and GFAP (Figure
5
) in the lumbar (L4) DRG from CCI, sham and naive rats. Immunofluorescence was performed in the ipsilateral (right) sides of the CCI animals (with or without NM) and compared to the ipsilateral side of sham-operated rats or the same side naive animals (taken as controls).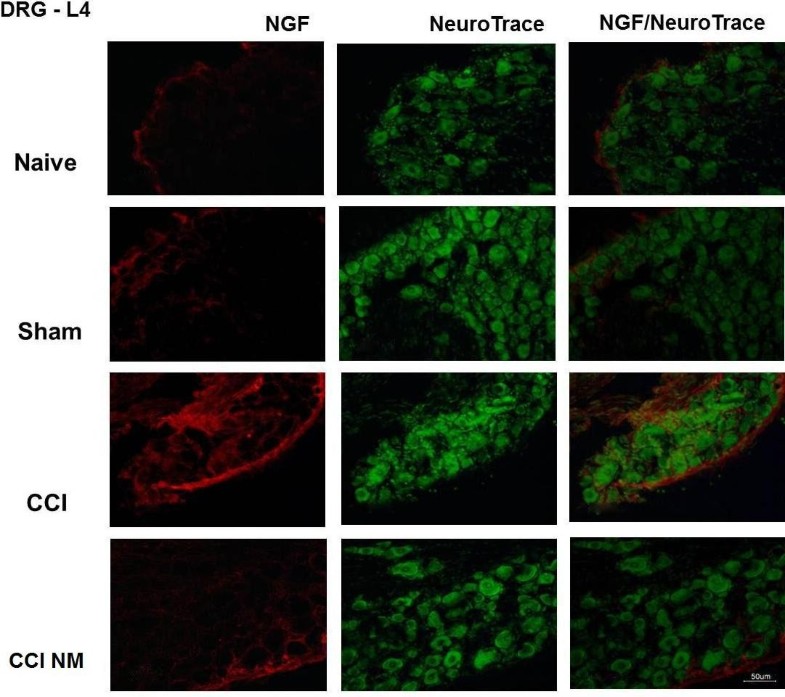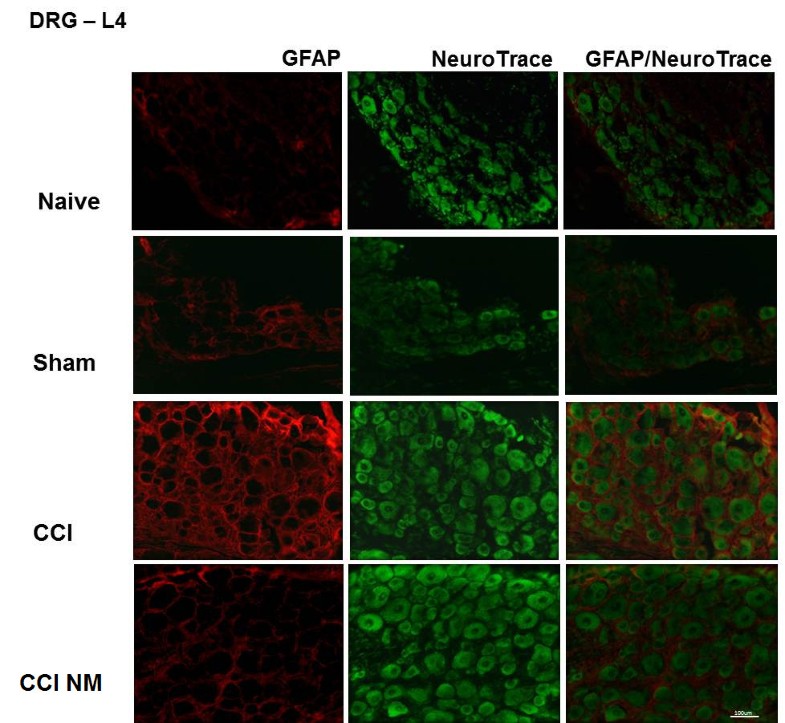 A moderate number of cells labeled for NGF-immunoreactivity (NGF-IR) were observed in the DRG of naive and sham rats (Figure 4). After CCI, there was a marked increase in the number of NGF-IR cells in the ipsilateral side. We observed a decrease of NGF-IR in animals that received NM treatment in relation to untreated rats (Figure 4).
Regarding GFAP, we observed an increase of cells labeled for GFAP-IR in the DRG after CCI when compared with naive animals and a reduction after NM treatment when compared to CCI animals (Figure 5).
Discussion
The aim of our study was to evaluate the effects of NM in behavioral improvement in neuropathic rats, and to evaluate NGF and GFAP levels in the DRG and spinal cord after NM.
Behavioral data confirmed the onset of neuropathic pain syndrome 3 days after CCI, which stabilized by the 14th day after injury, as shown by reduced mechanical, thermal and allodynic thresholds in the ipsilateral side of injury. We demonstrated those ten NM sessions each other day restored mechanical, thermal and allodynic sensitivity, as well as all behavior parameters that were associated with the neuropathic condition.
There is a growing body of evidence that a unilateral nerve injury induces contralateral changes. The effect of the unilateral peripheral nerve lesion on contralateral non-lesioned structures was reviewed by many authors. In general, the responses to contralateral injuries are usually in smaller magnitude and with a briefer time course compared to ipsilateral changes [21, 22]. However, our results demonstrated an effect at the unilateral nerve injury which corroborates with others studies showing the same response [23–27]. Methodological variables could account for this discrepancy, such as different strains of rats, different methodologies or different suture material used for different authors [28].
The impact of halothane anesthesia does not interfere with behavior responses, since the nociceptive experiments were realized on subsequent day after NM sessions. In addition, studies demonstrated that from inhalation anesthetics, halothane was able to decrease nociceptive reactions (returned to basal levels) faster than other inhalatory anesthesics (enflurane, isoflurane, and desflurane) [29]. Furthermore, studies have shown that the use of inhalational anesthetic during nine sessions of physical therapy in rats did not change expression of glial cells markers [4]. Suggesting that this anesthetic does not influence in chronic models of sensitization [30, 31].
Our behavioral data are in agreement with studies showing that NM is efficient as a therapeutic approach in clinical applications [1, 3, 11]. Studies realized recently, demonstrated the reversion of hyperalgesia, as well as nerve regeneration and decreased of glial cells expression such as microglia and astrocytes in the spinal cord, after joint mobilization in a model of sciatic nerve crush injury [4]. In addition, Malisza, K.L. et al. (2003) examine neuronal activation in the spinal cord due the secondary hyperalgesia resulting from intrajoint capsaicin injection [32].
On the other hand, studies realized by Vicenzino et al. (1998) and Sterling et al. (2001) using spinal manual therapy, showing a hypoalgesia effect but no influence on thermal hyperalgesia, suggesting an effect in inhibitory pathway from the dorsal periaquedutal gray area [33, 34].
In this regard, we also evaluated the levels of NGF and GFAP in the DRG and spinal cord after NM treatment in CCI-injured animals. We demonstrated an increase of NGF expression in CCI-injured rats, and a decrease to normal levels after NM treatment in DRG tissues. On the other hand, no difference was observed in lumbar spinal cord tissue analyzed. This indicates that the increase of NGF occurs at time points that are coincident with its role in pain-related behaviors, suggesting that NGF is involved in the nociceptive effects induced by neuropathic pain. Our data are in agreement with several studies showing that NGF injections by systemic and peripheral routes induce nociception [15–17, 19]. Indeed, NGF seems to be a critical mediator of all types of pain, including short-term pain [35], surgical pain [36], inflammatory pain [37] visceral pain [38] and neuropathic pain [19, 38].
The pain induced by peripheral inflammation or neuropathic pain is currently being linked to the involvement of glial cells or satellite cells located in the spinal cord and DRG, respectively [39, 40]. Our studies demonstrate through Western Blot technique an increase in optical density of the bands marked with astrocytes and satellite cells (GFAP) in spinal cord and DRG, respectively, in animals with chronic constriction sciatic nerve (CCI). Animals with CCI and treated with NM, we observed a decrease in GFAP-IR in both tissue analyzed and a reversal of hyperalgesia and allodynia. Our findings corroborate Garrison et al. 1991 showed an increased density of these cells, specifically astrocytes, in the spinal cord after induction of ligatures in the sciatic nerve [41]. Nerve injury activates glial cells, which produce and release inflammatory mediators that act on glial cells and neurons, sensitizing the dorsal horn and facilitating pain transmission [39, 42]. Here we demonstrated an increase of NGR-IR and GFAP-IR in DRG neurons after CCI-injury, which was decreased after NM treatment. This suggests an involvement of NGF and glial cells in our experimental model, which remains to be fully understood. Our observations were generally consistent with the literature regarding the time course and localization of astrocytes and satellite cells activation [43]. Nerve injury and inflammation have been shown to lead to proliferation and hypertrophy of satellite cells, and to upregulate other molecules, including neurotrophins, tumor necrosis factor α, and functional gap junctions [17, 43].
Glial cells appear to be a pivotal component of the neuroinflammatory process, and it is known that this type of cell, in the spinal cord, reacts to peripheral nerve injury and inflammation by activation, proliferation, and by releasing messengers that contribute to pathological pain. Glial cells participate in synaptogenesis and maintenance of synaptic activity and expression of receptors, transporters, ionic channels, at least through the release of neurotrophins such as NGF [44–46].
In summary, our data reveal a reversal of the NGF and GFAP increase in DRG by NM treatment in CCI animals. On the other hand, we observed the involvement of GFAP only in spinal cord. We also demonstrated that NM sessions are able to improve behavioral responses, providing evidence of the importance of NM in restoring the changes caused by CCI injury, which contribute to neuropathic pain behavior. These findings suggest that NM reverses the nociceptive behavior of neuropathic animals, and suggest the involvement of glial cells and NGF in such an effect.
Declarations
Acknowledgments
This study was supported by FAPESP, CNPq, CAPESP (Brazil) and IASP-International Association For Study of Pain-2009 IASP Early Career Grant and scan|design foundation by Inger & Jens Bruun. There are no conflicts of interest between all authors.
Authors' Affiliations
(1)
Department of Anatomy, Laboratory of Functional Neuroanatomy of Pain, Sao Paulo, Brazil
(2)
Department of Physiology and Biophysics, Laboratory of Cellular Neurobiology, Institute of Biomedical Sciences, University of São Paulo, Sao Paulo, Brazil
(3)
Professor of Anatomy from University Nine of July, Sao Paulo, Brazil
(4)
Laboratory of Functional Neuroanatomy of Pain Department of Anatomy Institute of Biomedical Sciences, University of São Paulo, Sao Paulo, Brazil
Copyright
© Santos et al.; licensee BioMed Central Ltd. 2012
This article is published under license to BioMed Central Ltd. This is an Open Access article distributed under the terms of the Creative Commons Attribution License (http://creativecommons.org/licenses/by/2.0), which permits unrestricted use, distribution, and reproduction in any medium, provided the original work is properly cited.