Hot receptors in the brain
Received: 20 July 2006
Accepted: 08 November 2006
Published: 08 November 2006
Abstract
Two major approaches have been employed for the development of novel drugs to treat chronic pain. The most traditional approach identifies molecules involved in pain as potential therapeutic targets and has focused mainly on the periphery and spinal cord. A more recent approach identifies molecules that are involved in long-term plasticity. Drugs developed through the latter approach are predicted to treat chronic, but not physiological or acute, pain. The TRPV1 (transient receptor potential vanilloid-1) receptor is involved in nociceptive processing, and is a candidate therapeutic target for pain. While most research on TRPV1 receptors has been conducted at the level of the spinal cord and peripheral structures, considerably less research has focused on supraspinal structures. This short paper summarizes progress made on TRPV1 receptors, and reviews research on the expression and function of TRPV1 receptors in supraspinal structures. We suggest that the TRPV1 receptor may be involved in pain processing in higher brain structures, such as the anterior cingulate cortex. In addition, some regions of the brain utilize the TRPV1 receptor for functions apparently unrelated to pain.
Keywords
Dorsal Root Ganglion
Capsaicin
Anterior Cingulate Cortex
Ventral Tegmental Area
Locus Coeruleus
Background
The TRPV1 (transient receptor potential vanilloid-1) receptor was originally isolated using a calcium imaging-based expression method [1–3]. This receptor is activated by capsaicin (the pungent ingredient of hot peppers), protons, and heat (>43°C), and behaves as a non-selective cationic channel with high permeability for calcium [2–6]. A number of endogenous ligands suggested for these receptors include: protons, ATP, lipoxygenase products, anandamide, N-oleoyldopamine, and N-arachidonoyl dopamine [5–7].
TRPV1 receptor subunits are predicted to have six transmembrane spanning domains with an intramembrane loop connecting the 5th and 6th domains [3]. A variety of molecules and proteins interact with and/or modulate the TRPV1 receptor. These include: TRPV3 and phosphitidylinositol-4,5-bisphosphate receptor modulation of capsaicin binding [8, 9] and interactions with scaffolding and synaptic vesicle proteins [10, 11].
The role of the TRPV1 receptor in pain-related behaviors has been demonstrated with gene knockout mice [12]. Specifically, these mice showed impairments in their ability to detect painful heat stimuli, and demonstrated little thermal hypersensitivity during an inflammation test [12]. Responses to noxious mechanical stimulation were not altered by the gene knockout, suggesting a selective modality for the TRPV1 receptor [12]. While this study demonstrates that TRPV1 of the dorsal root ganglia (DRG) neurons modulate nociceptive behaviors, the role of the TRPV1 in supraspinal brain structures was not investigated.
Most research on the TRPV1 receptor has been conducted on spinal cord and peripheral structures [6, 13]. In this review, we highlight studies that report the expression and function of the TRPV1 receptor in supraspinal structures, with particular emphasis on brain regions involved in the processing of pain.
Expression in the brain
A variety of studies have been conducted to determine the expression profile of the TRPV1 receptor throughout the brain [3, 14–21] (See additional file 1: Table 1). Initial studies with [3H] resiniferatoxin (RTX), which label TRPV1 receptors, have shown that TRPV1 is expressed in the trigeminal ganglia and DRG [15]. However, no TRPV1 receptor expression was detected in the brain. Confirmation of these findings was obtained with northern blot analysis [3]. Collectively, these results suggest that the TRPV1 receptor is not expressed in the brain.
Acs et al. [
17
] established that TRPV1 receptors could be detected in the preoptic hypothalamus, locus coeruleus, and ventral thalamus of human and rat brain, using a modified RTX-labeling technique. The existence of TRPV1 receptors in the brain has been supported numerous times with assays for both TRPV1 protein and mRNA [
14
,
16
,
18
–
22
] (for example, Fig.
1
). One of the most comprehensive studies was conducted by Roberts et al. [
18
] in which RTX labeling in the brain of TRPV1 knockout mice was compared to mice with the TRPV1 gene. This study revealed a wide distribution of TRPV1 receptors in the brain, including regions of the cerebral cortex, cerebellum and a variety of subcortical structures. It should be emphasized that TRPV1 RNA is approximately 28 times greater in the DRG than in any other brain region [
21
]. Thus, the most likely explanation for the absence of TRPV1 detection in the brain, described by other investigators [
3
,
15
], is that their assays were not sensitive enough to detect the lower expression in the brain.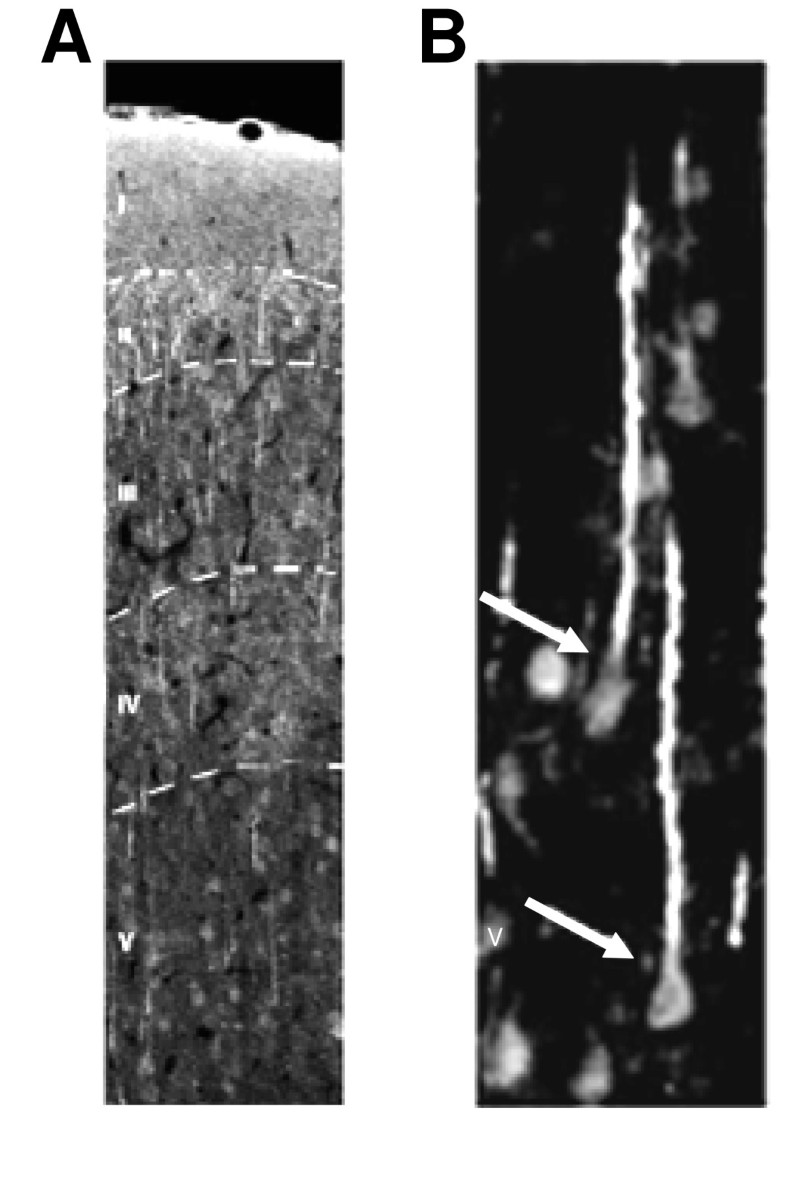 The TRPV1 receptor is localized to neuron cell bodies and dendrites, astrocytes, and perivascular structures within the brain [14, 16, 18, 19]. TRPV1 can be detected predominantly on postsynaptic spines at the subcellular level [19]. In addition, TRPV1 can be detected in pericytes and at the feet of astrocytes surrounding small vessels [19]. It has also been demonstrated that TRPV1 co-localizes and physically interacts with TRPV2 receptors within the brain [14]. These two receptors were found to be extensively co-localized within the cytoplasmic component and plasma membrane of cortical neurons [14]. In contrast, there was much less co-localization of TRPV1 and TRPV2 receptors reported for DRG neurons [14]. Another point of departure between TRPV1 expression in the DRG and the brain is that, neonatal capsaicin treatment in rats reduces expression of TRPV1 mRNA in the DRG, but not in the brain [16]. The authors suggested that neonatal capsaicin treatment may deplete neurotrophic factors which are required for the survival of peripheral neurons and not central neurons [16]. A more recent finding demonstrated that a high dose of capsaicin to cultured mesencephalic dopaminergic neurons induces cell death [23]. The cell death was likely a consequence of calcium entry leading to mitochondrial damage [23]. Thus capsaicin can destroy central neurons, suggesting that neonatal capsaicin treatments may not reach toxic levels in supraspinal structures.
Since the TRPV1 receptor is activated by capsaicin and is involved in nociceptive processing at the level of the DRG and sensory nerve endings, it is likely that this receptor occupies a role in pain processing at other brain regions. Such regions might include: the rostral ventromedial medulla, periaqueductal grey, solitary tract nucleus (NTS), preoptic hypothalamus, ventral thalamus, somatosensory cortex, anterior cingulate cortex (ACC), and insula [24, 25]. Indeed, the TRPV1 receptor and its mRNA have been localized to neurons in most of these regions (See additional file 1: Table 1.). However, regions such as the NTS appear to express more TRPV1 receptors than that of cingulate or somatosensory cortices. Considering that the expression of DRG TRPV1 receptors can be up-regulated in response to peripheral inflammation [26], it would be of interest to determine whether TRPV1 receptors of the ACC and somatosensory cortex can be similarly regulated.
TRPV1 receptor activation in the brain
The effect of TRPV1 receptor activation in a variety of brain regions has been investigated. These areas include the following: the ventral medulla, periaqueductal grey, solitary tract nucleus (NTS), dorsal raphé nucleus, locus coeruleus, hypothalamus, thalamus, ventral tegmental area, substantia nigra, hippocampus, cerebellum and cortex. Many of these studies have utilized pharmacological activation of TRPV1 receptors with capsaicin. In this section, the effect of TRPV1 receptor activation in the central nervous system will be examined and possible synaptic mechanisms will be addressed.
Future directions
The TRPV1 receptor is expressed and functional throughout the brain. It is possible that populations of TRPV1 receptors within the brain are also involved in processing nociceptive information. This not only suggests that local manipulation of cortical TRPV1 may lead to alterations in pain behaviors, but also warns against assigning a strictly peripheral role of TRPV1 receptors in pain transmission. For example, since TRPV1 receptor knockout mice have a global gene deletion, it is not possible to discount the role of the receptors expressed at supraspinal structures in the pain phenotypes reported [12].
The most prominent expression of TRPV1 mRNA and receptors is in the DRG with expression much less concentrated in supraspinal structures. While, minor expression does not necessarily imply minor functions, research will need to carefully examine the role of the TRPV1 receptors in the brain. Indeed, many early studies were conducted without determining the specificity of the capsaicin effect to the TRPV1 receptor. Future experimentation will need to confirm the involvement of TRPV1 receptors in the brain with antagonists and TRPV1-deficient mouse studies.
Electrophysiological studies indicate that the actions of the TRPV1 receptor in supraspinal structures are largely presynaptic [13, 22, 43, 49, 58]. However, this receptor is reported to be localized to postsynaptic spines in the brain [19]. This inconsistency is likely due to incomplete analysis of synaptic TRPV1 localization throughout the whole brain.
Direct activation of the TRPV1 receptor in different brain regions can result in diverse effects including changes in body temperature, respiration, heart rate, blood pressure and locomotion [27, 28, 41, 42, 46, 50, 56, 57]. This indicates that TRPV1 receptor function depends on where it is located in the brain.
The TRPV1 receptor is not only of interest to the basic neuroscientist but also among pharmaceutical industries. The initial observation that there was little or no expression of this receptor in the brain suggested that this receptor would be an ideal target for the treatment of pain. Although treating pain through the modulation of the TRPV1 receptor is an exciting prospect, caution should be exercised when developing drugs to target this receptor since it is expressed and functional in the brain [3, 14–21] and body [6, 13]. More extensive research of supraspinal TRPV1 receptors is needed to determine its role in synaptic transmission and the control of behavior.
Abbreviations
ACC:

Anterior cingulate cortex
ATP:

Adenosine triphosphate
DRG:

Dorsal root ganglion
NTS:

Solitary tract nucleus
TRPV1:

Transient receptor potential vanilloid-1
CB1:

Cannabinoid receptor-1
Authors' Affiliations
(1)
Department of Physiology, Faculty of Medicine, University of Toronto, Toronto, Canada
Copyright
© Steenland et al; licensee BioMed Central Ltd. 2006
This article is published under license to BioMed Central Ltd. This is an Open Access article distributed under the terms of the Creative Commons Attribution License (http://creativecommons.org/licenses/by/2.0), which permits unrestricted use, distribution, and reproduction in any medium, provided the original work is properly cited.