Comparison of evoked vs. spontaneous tics in a patient with trigeminal neuralgia (tic doloureux)
Received: 02 August 2007
Accepted: 06 November 2007
Published: 06 November 2007
Abstract
A 53-year old woman with tic doloureaux, affecting her right maxillary division of the trigeminal nerve (V2), could elicit shooting pains by slightly tapping her teeth when off medication. The pains, which she normally rated as > 6/10 on a visual analog scale (VAS), were electric shock-like in nature. She had no other spontaneous or ongoing background pain affecting the region. Based on her ability to elicit these tics, functional magnetic resonance imaging (fMRI) was performed while she produced brief shocks every 2 minutes on cue (evoked pain) over a 20 min period. In addition, she had 1–2 spontaneous shocks manifested between these evoked pains over the course of functional image acquisition. Increased fMRI activation for both evoked and spontaneous tics was observed throughout cortical and subcortical structures commonly observed in experimental pain studies with healthy subjects; including the primary somatosensory cortex, insula, anterior cingulate, and thalamus. Spontaneous tics produced more decrease in signals in a number of regions including the posterior cingulate cortex and amygdala, suggesting that regions known to be involved in expectation/anticipation may have been activated for the evoked, but not spontaneous, tics. In this patient there were large increases in activation observed in the frontal regions, including the anterior cingulate cortex and the basal ganglia. Spontaneous tics showed increased activation in classic aversion circuitry that may contribute to increased levels of anxiety. We believe that this is the first report of functional imaging of brain changes in tic-doloureaux.
Keywords
Neuropathic PainAnterior Cingulate CortexTrigeminal NerveTrigeminal NeuralgiaComplex Regional Pain Syndrome
Background
Trigeminal neuralgia, the most common craniofacial neuropathic pain disorder, is characterized by spontaneous, episodic, unilateral, electric-like shocks that arise from a consistent location in the face [1, 2]. Of the three divisions of the trigeminal nerve, the second (V2) is most commonly affected. The pain of tic doloureaux can be excruciating and debilitating. Although a number of theories exist for trigeminal neuralgia, its mechanism remains unclear. Trigeminal neuralgia can arise spontaneously without apparent damage to the trigeminal nerve, but can also arise from compression or irritation of the dorsal root entry zone [3], or from damage such as tooth extraction [4]. Subjects with the condition have evoked pains (e.g., from touch, chewing, etc.) and/or spontaneous pain that emanates from the same location. The electric quality of this type of neuropathic pain differentiates it from the spontaneous burning pain or the evoked pains of allodynia and hyperalgesia, that are characteristic of other neuropathic pains [5].
Though several studies have evaluated electric stimulation in healthy subjects [6, 7] and spontaneous and evoked pain activations have been compared in chronic pain patients [8–10], no study has yet evaluated the brain response in patients with pathological pain that was shooting/electric in nature. The aims of the study were (a) to determine a functional MRI (fMRI) paradigm that would allow us to measure pain associated with tics since a number of issues complicate this type of study including timing of the tic, movement associated with the tic (both facial spasm and head movement); (b) to describe brain activation associated with this type of pain; (c) to differentiate between 'evoked' pain produced by cues and spontaneous pain in this patient and (d) to determine if there were any differences observed for activation patterns by tic pain with other pain activations in chronic pain patients.
Case presentation and methods
The investigation was approved by the McLean Hospital IRB Ethics Committee. The study met with the ethical standards as defined by the Helsinki agreement on human experimentation. The subject was compensated for her participation.
Patient history
The patient is a 53-year-old female diagnosed with trigeminal neuralgia in 2002. Prior to the onset of her pain, she had extensive dental work (two root canals and three extractions). No other contributing factors were present in her history. The pain was sharp, electrical in nature, and primarily affected the right V2 region, specifically the upper lip. Her pain was a recurring, temporally discrete experience that lasted for a few seconds (< 1–2 seconds) at a time and radiated laterally towards her ear. The pain attacks were sometimes accompanied by a mild motor tic. The patient experienced both evoked (e.g., by tapping her teeth, eating, brushing her teeth, movement of the jaw, wind against her face, touch) and spontaneous shooting pain that had no obvious precipitating factor. After discontinuation of her medication for a day, the patient could evoke these shock pains by light tapping of her teeth. Typically, the patient had no background pain between attacks unless she experienced multiple tic attacks over a short period of time. The patient rated her worst tic-related pain as 8–10/10.
Her usual medications included carbamazepine (Tegretol, 300 mg/day) and gabapentin (Neurontin, 900 mg/day); these provided excellent pain relief. If she discontinued the medications for 12 hours she could evoke tics (see below) by tapping her teeth lightly. She had no other significant medical history.
Prior to scanning, the patient underwent a battery of testing including forms to evaluate depression (Beck Depression Scale – BDI-II) and the Galer/Jensen Neuropathy Pain Scale (NPS) and McGill Pain Questionnaire (MPQ). The patient scored a 5/63 on the BDI-II, indicating that she was not depressed. The scores for the NPS, each rated on an 11-point scale for pain quality were: intense 8, sharp 8, hot 1, dull 1, cold 1, sensitive 1; itchy 1, pain with standing or walking 5, unpleasant 8, deep pain rating 2, and surface pain rating 8. On the MPQ the patient scored a 20/78 on the PRI (pain rating index) section of the form. She scored a 4/5 on the PPI (present pain intensity) section of the questionnaire. The patient indicated that the following words best described her pain: pulsing, flashing, lancinating, sharp, exhausting, intense, piercing, and horrible.
Functional magnetic resonance imaging (fMRI)
MRI was carried out in a 3.0 T Siemens Trio scanner (Erlangen, Germany) with a quadrature head coil. For anatomical localization, an MPRAGE was used (1 × 1 mm in-plane resolution, 1.3 mm slice thickness). Magnitude and phase images were acquired on the same orientation as the functional scan to correct for susceptibility distortions. Functional scans were acquired using a Gradient Echo (GE) EPI sequence with isotropic resolution of 3.5 mm, 41 slices (no-gaps) were prescribed obliquely along the brainstem axis. A TR/TE = 3.0 s/30 ms was used and 404 volumes were acquired.
In order to determine brain areas activated by the pain, fMRI was used to measure regional hemodynamic changes related to the timing of her shock-like pain. Following a short practice session, she underwent standard anatomical scans followed by a 24-minute functional scan (Figure
1
). During the functional scan, she would tap her teeth once or twice in response to a light tap to the maleolus of the left foot. After a baseline scan of 2 minutes, the tap cue was administered every 2 minutes, followed by a 2-minute baseline scan at the end of the session. The timing of each tic attack was determined by the patient signaling its onset by turning a dial using the hand contralateral to the side of the tic. Since the duration of the tics were consistent and very short (< 2 × the image repetition time (TR = 2.5 sec)), offset was not marked. The times for each tic (evoked and spontaneous) are noted in Figure
1
. The subjects rated pain intensity for evoked and spontaneous pains on a computerized VAS (0–10) upon completion of the scan.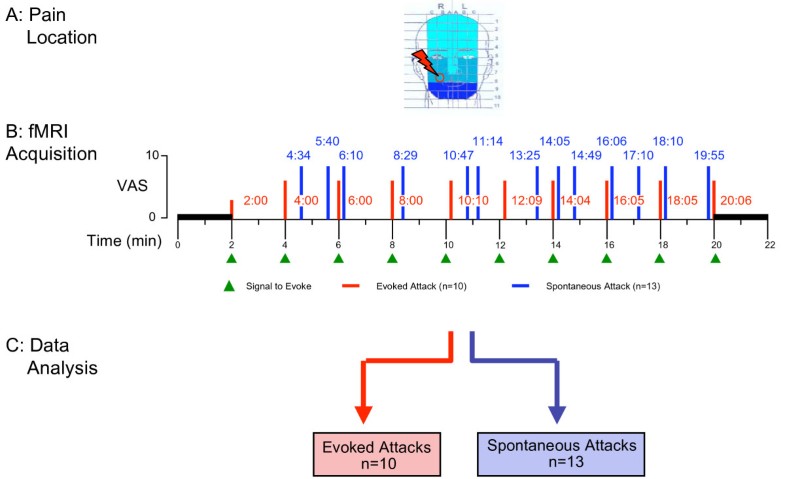 Activation in the ganglion and trigeminal nucleus could not be assessed as we have previously done [9, 11] as these areas were severely affected by signal artifacts from metal dental work.
Data analysis
General Analysis
Analysis was carried out using FEAT (FMRI Expert Analysis Tool) Version 5.43, part of FSL (FMRIB's Software Library [68]). The following pre-statistics processing was applied; high-pass filtering for trend removal and spatial smoothing FWHM = 10 mm to improve signal to noise ratio. There were two binary (0 = on, 1 = off) explanatory variables (EVs). The EV's were convoluted with standard hemodynamic responses (fsl). The first EV modeled the evoked pain, and the second EV modeled the spontaneous pain. General linear model (GLM) based time-series statistical analysis was carried out using FILM (FMRIB's Improved Linear Model) with local autocorrelation correction [12]. Statistical maps corresponding to the evoked, spontaneous, and evoked vs. spontaneous were created and thresholded using Gaussian Mixture Modeling (GMM) with automatic model order selection using Bayes Information Criterion. GMM is a multiple comparisons-based analysis generally used for unsupervised classification of data into multiple categories [13], and was used to determine appropriate z-statistical thresholds. No additional criteria using spatial extent were used to determine significance.
Evaluation for Motion
To ensure that responses to evoked and spontaneous EVs were not contaminated by motion, we tested for a significant correlation between the EVs and measures of head motion. A general linear model (GLM) analysis was run between the design matrix and the three translations along x, y, and z directions estimated during motion correction. An F-test for overall model fit was used to determine any significant correlation between the design matrix and the motion parameters.
Single Trial Average
In order to verify that changes in the BOLD signal correlated with the spontaneous or evoked tic, single trial averages (STA) were evaluated. STA were calculated using in-house programs implemented via MATLAB (Release 7.2, Mathworks Inc., Natick, MA, USA) in combination with the functional time course and stimuli activation maps. Two regions of interest were defined to encompass the left and right insula in functional resolution space. The insula was chosen as a representative region since it is involved in both sensory [14] and emotional reactions to pain [15]. Furthermore, the insula is not expected to participate in the motor network that may be minimally utilized during the patient's marking of tic events. Direct stimulation of the insula in humans can produce intense shock-like pain [16], and this area is one of the most consistently activated brain regions during pain [17, 18]. Other regions significantly activated would be expected to also show responses, although the temporal profile of their responses may be different. Activation masks for the evoked and spontaneous tics for both ROIs were created based on GMM-determined thresholding of the z-statistics (z > 5.93 for increased activation and z < 2.96 for decreased activation for evoked stimulus; z > 2.24 for increased activation and z > 0.85 for decreased activation for spontaneous stimulus; z > 2.86 for evoked > spontaneous and z < 1.98 for spontaneous > evoked). The mean time course for each ROI was extracted from the high pass-filtered and spatially smoothed functional image. The EV for each stimulus type (evoked and spontaneous) was sampled to define each specific "trial". A trial was defined as the period consisting of 3 seconds prior to the beginning of the tic attack (as indicated by the patient's use of the dial), and 33 seconds immediately following the onset of the tic attack. A trial average was calculated for each ROI and each stimulus by taking the average time course of the trials. To avoid the possibility of calculating temporally overlapping tic-responses, only tics that were spaced at least 36 seconds apart were considered (evoked n = 3; spontaneous n = 3). This criterion was determined during preliminary analysis, which indicated that responses of isolated tics returned to baseline within this time frame. For the statistical analysis, however, all the evoked and spontaneous tics were included.
Discussion
Tic doloureaux is a severe and relatively common facial pain disorder that has an unusual presentation for a neuropathic pain condition [20, 21]. The patient did not have any tics in the prior weeks because of successful pharmacological therapy (see above), but had induced some after coming off the drug prior to the scanning session. Here, slight tapping of the teeth "evoked pain" as a result of triggering the tic. The pain of a tic-produced activation in a number of regions associated with cognitive, sensory, and emotional functions.
Conclusion
We believe that this is the first report of brain activation in tic doloureaux. Although the syndrome may have elements seen in other neuropathic pain conditions (e.g., small areas of altered sensory function [65, 66], the overwhelming feature of tic doloureaux is the severe lancinating pain that may be triggered with perturbation or may occur spontaneously. The pain is usually consistent in its nature and may vary in intensity. A number of features seem to differentiate the brain activation in tic doloureaux from evoked pain in neuropathic facial pain patients [9]. Predominant among these is the level of activation observed in the frontal regions, including the anterior cingulate cortex and the basal ganglia. Spontaneous tics observed in this study seem to activate classic aversion circuitry [19], and this may contribute to the high level of anxiety related to the disorder [23, 67].
Declarations
Acknowledgements
This work was supported by a grant from NINDS (R01 NS 042721) to DB.
Authors' Affiliations
(1)
Pain/Analgesia Imaging Neuroscience (P.A.I.N.) Group, Brain Imaging Center, McLean Hospital, Harvard Medical School, Belmont, USA
(2)
Dept of Radiology, Athinoula A. Martinos Center for Biomedical Engineering, Harvard Medical School, Charlestown, USA
(3)
Cranio-Facial Program, New England Medical Center, Tufts University, Boston, USA
Copyright
© Borsook et al; licensee BioMed Central Ltd. 2007
This article is published under license to BioMed Central Ltd. This is an Open Access article distributed under the terms of the Creative Commons Attribution License (http://creativecommons.org/licenses/by/2.0), which permits unrestricted use, distribution, and reproduction in any medium, provided the original work is properly cited.