A key role of the basal ganglia in pain and analgesia - insights gained through human functional imaging
Received: 11 February 2010
Accepted: 13 May 2010
Published: 13 May 2010
Abstract
The basal ganglia (BG) are composed of several nuclei involved in neural processing related to the execution of motor, cognitive and emotional activities. Preclinical and clinical data have implicated a role for these structures in pain processing. Recently neuroimaging has added important information on BG activation in conditions of acute pain, chronic pain and as a result of drug effects. Our current understanding of alterations in cortical and sub-cortical regions in pain suggests that the BG are uniquely involved in thalamo-cortico-BG loops to integrate many aspects of pain. These include the integration of motor, emotional, autonomic and cognitive responses to pain.
Keywords
Chronic Pain
Basal Ganglion
Diffusion Tensor Imaging
Deep Brain Stimulation
Remifentanil
Introduction
The basal ganglia (BG) consist of the striatum (caudate (C), putamen (Pu) and the core of the nucleus accumbens), the external segment of the globus pallidus (GP), the internal segment of the globus pallidus (GPi), the subthalamic nucleus (STh), and the substantia nigra (SN) [
1
–
3
] (Figure
1
). Although best known for their role in motor systems, these regions are a major site for adaptive plasticity in the brain, affecting a broad range of normal behaviors [
4
] and neurological and psychiatric conditions [
5
].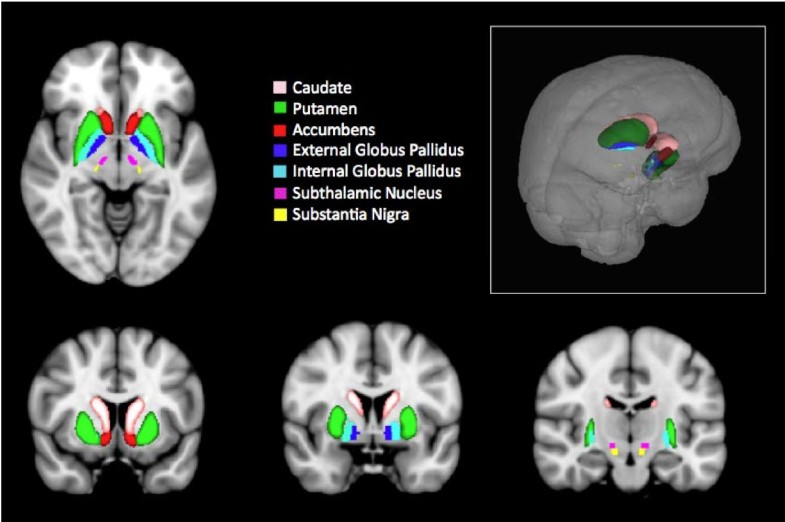 The first section of this review, Basal Ganglia: Pain Processing, summarizes the role of the BG in pain processing as has been reported in specific research and review papers. In the section titled Basal Ganglia: Functional Imaging Studies of Pain in Humans, we describe functional imaging studies in humans reporting activation of the BG in acute pain, chronic pain, and in response to analgesics. The third section titled Basal Ganglia: Lessons Learned from Functional Imaging attempts to integrate the information about lessons learned from functional imaging. The final section, Basal Ganglia: Imaging and Improved understanding of Clinical Applications, describes how imaging may provide insight to how and why certain therapies may be useful. Future measures of BG function may contribute significantly to our understanding about the brain changes associated with chronic pain and specific therapies that may change the brain in a manner that corresponds with therapeutic effects.
Conclusions
Functional imaging of pain has shown clear and consistent changes in the BG in pain conditions. Table
4
summarizes the salient features of each sub-region of the BG as it pertains to overall putative function and specific functions in pain, and Figure
5
summarizes potential alterations in BG outputs affecting behaviors in acute and chronic pain. Future work should help contribute to further understanding functional and anatomical connectivity of inputs and circuits that show how the BG may be involved in acute and chronic pain. Such findings may present an increasing and important role of these brain regions in the centralization of chronic pain and the contribution to the altered brain in chronic pain conditions. Future studies, using a combination of imaging approaches, will help define the specificity of BG in pain processing. For example, functional connectivity analysis can demonstrate probable correlations between BG subdivisions and other brain regions [
141
].
Table 4
Components of the Basal Ganglia - Putative Function in Pain Processing.
| Region | Putative Role in Pain | Reference |
| --- | --- | --- |
| Caudate | Involved in avoidance behavior to pain | [169] |
| | Decrease pain sensitivity following apomorphine injections | [14] |
| | Encode noxious stimuli intensity to minimize bodily harm | [9] |
| | Behavioral Reinforcement (? Including Pain) | [3] |
| Putamen | Somatotopic modulation of pain | [148] |
| | Variations in subjective ratings of pain | [135] |
| Nucleus Accumbens | Affective Valence for Reward and Aversive Stimuli | |
| | Processing of emotional salience of pain | [135] |
| Globus Pallidus | Encoding of behavioral repertoires (? Including pain) | [3] |
| | Deep brain stimulation inhibits pain | |
| | Morphine analgesia | [172] |
| Subthalamic Nucleus | Functional suppression of neural messages | [173] |
| | Behavioral Inhibition | [174] |
| | Regulates level of execution of cortical commands; processing of emotional, cognitive and motor behavior | [3] |
| Substantia Nigra | Heterogeneous response to aversive stimuli | [96] |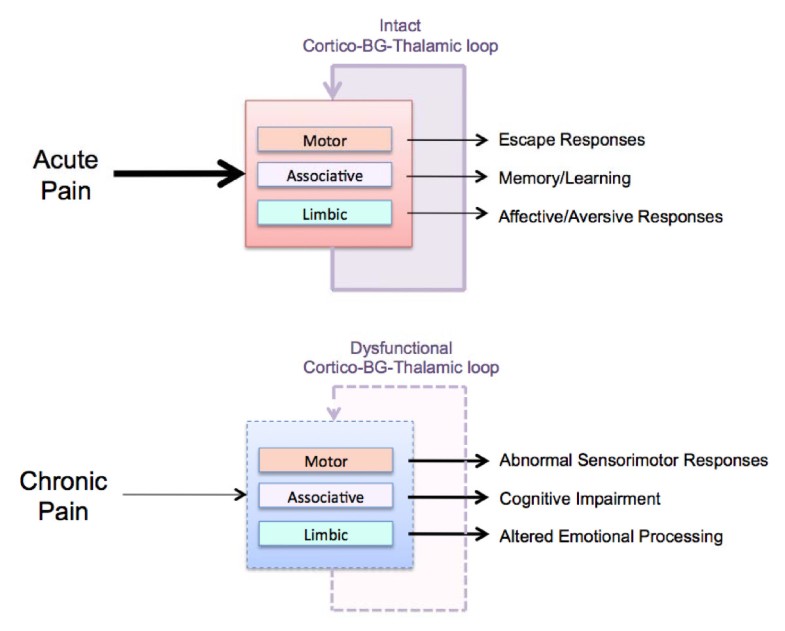 Declarations
Acknowledgements
This work was supported by NINDS K24 NS064050 (DB) and the L Herlands Grant for Pain Research (DB and LB). We would like to thank N. Maleki for help with some of the brain images.
Authors' Affiliations
(1)
P.A.I.N. Group, Harvard Medical School, Belmont, USA
(2)
Department of Anesthesiology, University of Washington, Seattle, USA
Copyright
© Borsook et al; licensee BioMed Central Ltd. 2010
This article is published under license to BioMed Central Ltd. This is an Open Access article distributed under the terms of the Creative Commons Attribution License (http://creativecommons.org/licenses/by/2.0), which permits unrestricted use, distribution, and reproduction in any medium, provided the original work is properly cited.