Transcription factors Sp1 and Sp4 regulate TRPV1 gene expression in rat sensory neurons
Received: 23 June 2009
Accepted: 6 June 2011
Published: 6 June 2011
Abstract
Background
The capsaicin receptor, transient receptor potential vanilloid type -1 (TRPV1) directs complex roles in signal transduction including the detection of noxious stimuli arising from cellular injury and inflammation. Under pathophysiologic conditions, TRPV1 mRNA and receptor protein expression are elevated in dorsal root ganglion (DRG) neurons for weeks to months and is associated with hyperalgesia. Building on our previous isolation of a promoter system for the rat TRPV1 gene, we investigated the proximal TRPV1 P2-promoter by first identifying candidate Sp1-like transcription factors bound in vivo to the P2-promoter using chromatin immunoprecipitation (ChIP) assay. We then performed deletion analysis of GC-box binding sites, and quantified promoter activity under conditions of Sp1 / Sp4 over-expression versus inhibition/knockdown. mRNA encoding Sp1, Sp4 and TRPV1 were quantified by qRT-PCR under conditions of Sp1/Sp4 over-expression or siRNA mediated knockdown in cultured DRG neurons.
Results
Using ChIP analysis of DRG tissue, we demonstrated that Sp1 and Sp4 are bound to the candidate GC-box site region within the endogenous TRPV1 P2-promoter. Deletion of GC-box "a" or "a + b" within the P2- promoter resulted in a complete loss of transcriptional activity indicating that GC-box "a" was the critical site for promoter activation. Co-transfection of Sp1 increased P2-promoter activity in cultured DRG neurons whereas mithramycin-a, an inhibitor of Sp1-like function, dose dependently blocked NGF and Sp1-dependent promoter activity in PC12 cells. Co-transfection of siRNA directed against Sp1 or Sp4 decreased promoter activity in DRG neurons and NGF treated PC12 cells. Finally, electroporation of Sp1 or Sp4 cDNA into cultures of DRG neurons directed an increase in Sp1/Sp4 mRNA and importantly an increase in TRPV1 mRNA. Conversely, combined si-RNA directed knockdown of Sp1/Sp4 resulted in a decrease in TRPV1 mRNA.
Conclusion
Based on these studies, we now propose a model of TRPV1 expression that is dependent on Sp1-like transcription factors with Sp4 playing a predominant role in activating TRPV1 RNA transcription in DRG neurons. Given that increases of TRPV1 expression have been implicated in a wide range of pathophysiologic states including persistent painful conditions, blockade of Sp1-like transcription factors represents a novel direction in therapeutic strategies.
Keywords
PC12 CellNerve Growth FactorDorsal Root GanglionDorsal Root Ganglion NeuronTransient Receptor Potential Vanilloid Type
Background
Identification of receptors/ion channels that respond to noxious stimuli has been at the forefront of a new understanding of peripheral pain transduction. A seminal finding was the isolation of TRPV1 (capsaicin receptor, VR1) [1] which functions as an integrator of multiple noxious stimuli [2–5] and is essential for the detection of inflammatory pain/hyperalgesia [6, 7]. TRPV1 is not only selectively expressed in a subset of primary afferent nociceptors, but its expression is also dynamically regulated. Nociceptor expression of TRPV1 mRNA and receptor protein is lost over a period of days when target-tissue derived trophic factors such as Nerve Growth Factor (NGF) are reduced [8, 9]. In contrast, conditions that increase trophic factors as a result of inflammation or tissue-nerve injury result in an increase in TRPV1 mRNA and/or receptor protein expression [10–13]. In part, these reports suggest that a transcription-dependent mechanism drives persistent TRPV1 mediated pain and hyperalgesia.
To advance our understanding of how TRPV1 transcription is enhanced under pathophysiologic conditions, we initially isolated and characterized a dual promoter system for the rat TRPV1 gene [14]. These studies revealed that the proximal P2-promoter directed cell-type specific activity that was positively regulated by the trophic factor NGF [14]. Building on these observations, we now investigate the role of regulatory sites within the P2-promoter and attempt to identify candidate transcription factors that control the activity of the P2-promoter and apparently regulate the transcription of TRPV1 RNA in sensory neurons. Based on transcription factor binding studies in dorsal root ganglion (DRG), luciferase-based transcriptional assays in cultured sensory neurons and NGF treated PC12 cells and quantitative measurements of mRNA encoding Sp1-like factors and TRPV1, we propose a model of TRPV1 gene expression that is dependent on the action of at least two members of the Sp1-like transcription factor family, Sp1 and Sp4, acting at a specific GC-box binding site.
Methods
Chromatin Immunoprecipitation assay (ChIP)
Identification of Sp1-like transcription factor binding to the TRPV1 promoter in native rat dorsal root ganglion (DRG) chromatin was obtained using ChIP-IT® Enzymatic (Active Motif, Carlsbad, CA) with the following modifications: Whole rat DRG or enriched DRG neurons were harvested on ice then dounce homogenized ten times in an ethanol - dry ice bath followed by crosslinking (1% formaldehyde in PBS). Goat IgG antiserum directed against Sp1 (PEP 2), Sp3 (D-20) and Sp4 (V-20) (Santa Cruz Biotech, Santa Cruz, CA) were used to direct chromatin antibody pull-down at 4°C overnight (2 μg of antisera per sample). Control goat IgG was prepared from normal goat serum using a Protein A- column. Cross-linking was reversed at 65°C overnight. DNA for PCR analysis was eluted in 50 μl of sterile water. Primers were designed to amplify chromatin DNA spanning P2-promoter GC-box "a" and "b" using MacVector® software (Accelrys, San Diego, CA). GC-box F (5'-TTGAGTGCCAGAGTATGCCCAG), GC-box R (5'-CACCCCAAATGGAGCAAGTG). PCR: 94°C for 3 min (94°C for 20 sec; 56°C for 30 sec; 72°C for 30 sec) and repeated for 36 cycles; and finally terminated at 4°C. PCR products were electrophoresed through a 2% agarose gel and visualized with ethidium bromide staining.
Cell Culture
Prior authorization was obtained through the Institutional Animal Care and Use Committee- IACUC (UCSF) for all experiments and protocols requiring the use of rat tissues. Primary cultures of rat neonatal DRG neurons were isolated and maintained in media containing NGF (100 ng/ml) as previously described [14]. PC12 cells from American Type Culture Collection (ATCC, Manassas, VA) were maintained in F-12 K (Kaighn's Modification, Gibco-Invitrogen Corp., Rockville, MD) supplemented with 10% heat inactivated horse serum, 5% heat inactivated fetal bovine serum (FBS), streptomycin (100 μg/ml), and penicillin (100 units/ml). HEK293 cells (ATCC) were grown in Dulbecco's modified Eagle's medium (DMEM) H-21 supplemented with 10% heat inactivated FBS, streptomycin (100 μg/ml) and penicillin (100 units/ml) (Cell Culture Facility, UCSF).
Dual Luciferase Reporter Assay
Neonatal DRG neurons and PC12 cells were plated onto coated 96-well plates (Nunc, Naperville, IL) as previously described [14]. In either case, each sample was composed of 50 μL of Opti-MEM® I (Cell Culture Facility, UCSF) combined with 0.70 ng of Lipofectamine™ 2000 (Invitrogen, Carlsbad, CA) and allowed to incubate for 5 minutes at room temperature. 50 μL of Opti-MEM® I was also combined with a total of 0.3 μg/well of the desired pGL3-reporter construct and/or appropriate expression construct. Additionally, the reference renilla luciferase reporter plasmid, pRL-SV40 was included at 0.05 μg/well. The Lipofectamine™ 2000 and DNA solutions were then combined following the manufacturer's recommendations (Invitrogen, Carlsbad, CA). Overall, transfection efficiency was < 5% in primary neonatal DRG neurons [14]. When indicated, PC12 cells were cultured in the presence of NGF (100 ng/ml) after transfection. Following 48 hours of culture, cell lysates were prepared according to the manufacturer's recommendations of the Dual Luciferase Reporter Assay System® (Promega, Madison, WI). Both firefly and renilla luciferase products were measured in a MicroLumatPlus® LB96V microplate luminometer using Winglow® software (Perkin-Elmer Berthold, Wellesley, MA). Firefly luciferase activity was normalized to renilla luciferase activity as a relative ratio resulting in a "Relative Luciferase Activity", which represents the transcriptional activity directed by a particular luciferase reporter construct. In experiments where multiple expression plasmids were required, empty control plasmid was used to maintain an equivalent DNA concentration between transfected samples.
Plasmid Constructs and siRNA
Luciferase reporter plasmids pGL3-E (empty) and pGL3-0.4 kb containing TRPV1 P2-promoter were previously described [14]. Co-expression of Sp1-like transcription factors was accomplished through the transfection of pN3-Sp1, pN3-Sp3, pN3-Sp4 and pN3-Empty, a gift from Prof. G. Suske (Marburg, Germany) [15]. siRNA knockdown experiments were performed through the transfection of the pBS/U6 plasmid based constructs containing targeted short hairpin loops: siRNA scrambled (scr) (gggaattaatatgcacacaggcc) siRNA-Sp1 (gggaacatcaccttgctacct) nucleotides 881-901, accession no. NM_138473 (XM 028606.7) and siRNA Sp4-1: (gggctccaactttaacacctt) nucleotides 1551-1571 accession no. NM_003112. Total plasmid concentrations remained constant between experimental groups through the addition of empty control plasmids. (siRNAs were a gift from G. Gill, Boston, MA) [16].
Site-directed mutagenesis
To delete GC-box "a" and "b" (Figure
1A
) residing within the P2-promoter, we utilized the pGL3-0.4 kb luciferase reporter plasmid as template and followed the manufacturer's primer design software (Stratagene, La Jolla, CA) [
14
]. Using primers: Del-a F (5'-CATCCCTGCCGTACGCCACGAGGACC CTCA); Del-a R (5'-TCTGTGAGGGTCCTCGTGGCGTACGGCAGGGATG); Del-b F (GAGGACCCTCAC AGAGGCACCGGCCACTC); Del-b R (GAGTGGCCGGT GCCTCTGTGAGGGTCCTC), deletion was performed according to the method described in the QuikChange
®
Site-Directed Mutagenesis Kit (Stratagene, La Jolla, CA). All PCR was performed using pfu Turbo (Stratagene, La Jolla, CA) by initially denaturing the template at 95°C for 30 sec, followed by denaturing at 95°C for 30 seconds, annealing at 60°C for 1 minute, extension at 68°C for 7 minutes, with this cycle repeated 19 times. Original template DNA was digested by Dpn I treatment at 37°C for 1 hour. After 1% agarose gel analysis, desired bands were excised and isolated using the PureLink Quick Gel Extraction Kit (Invitrogen, Carlsbad, CA). Isolated DNA was then ligated using T4 DNA ligase (New England Biolabs, Beverly, MA) and transformed into XL1-Blue 'super-competent' cells (Stratagene, La Jolla, CA). The resultant constructs containing GC-box deletions "a" and "b" were subjected to DNA sequence analysis and only the targeted GC-box binding sites "a" (GGGGAGGGG) and "b" (GGGAGG) were confirmed to be disrupted within the modified 0.4 kb reporter plasmid (Biomolecular Resource Center DNA Sequencing Facility, UCSF, San Francisco, CA).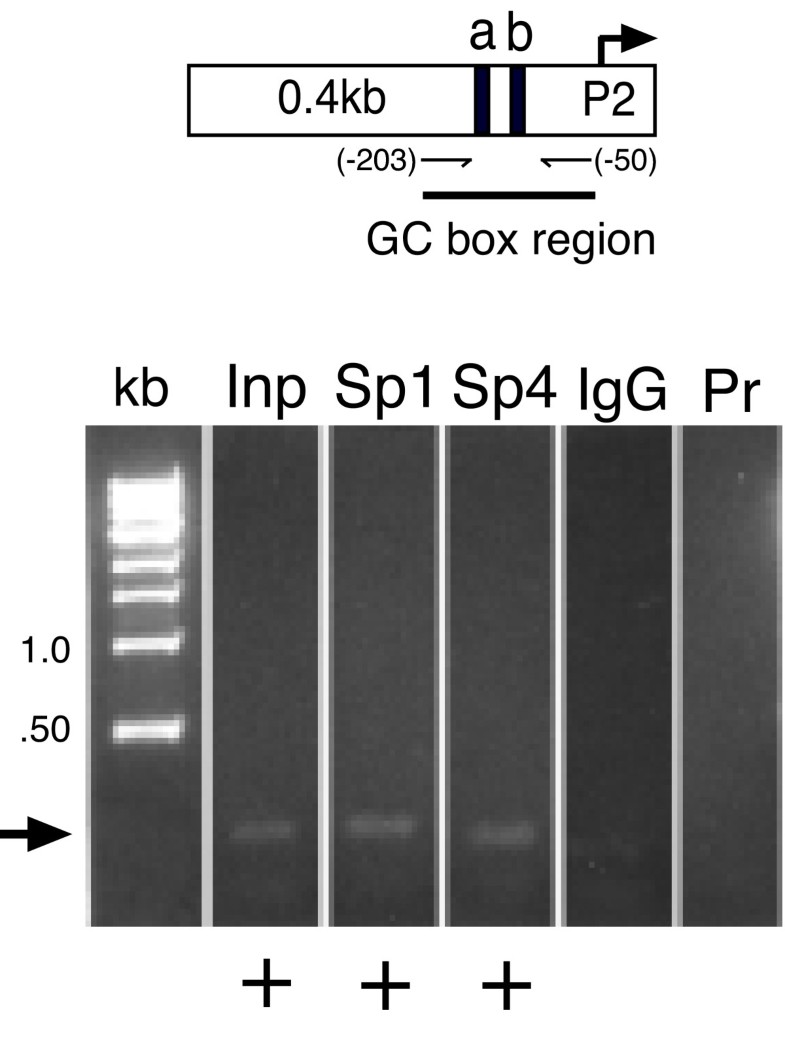 Quantitative RT-PCR
Electroporation
To obtain a sufficiently high level of transfection efficiency to detect gene expression changes in cultured DRG neurons, we used the Amaxa Nucleofector II Device with the Rat Neuron Nucleofector Kit (Lonza, Basel, CH). For each nucleofection sample, we harvested 40 neonatal DRGs (~1.3 × 106 cells according to the hemacytometer count). The manufacturer's protocol (Optimized Protocol for Rat Dorsal Ganglion Neurons - Amaxa®, Lonza Basel CH) was followed: Samples were transfected with 3 ug of the cDNA expression plasmids: PN3-empty, PN3-Sp1, or PN3-Sp4 [15]; or the knockdown plasmids: siRNA-scramble, siRNA-Sp1, or siRNA-Sp4 #1 [16]. Each sample was transfected using program G-013. Following electroporation, total DRG cultures were plated with a total volume of 2 mL in 24-well plates on 15mm coverslips pre-coated with poly-D-ornithine/laminin (0.1 mg/ml/5 ug/ml). After a three-hour incubation period, the top 1 mL media was replaced with equal volume of fresh media plus 100 ng/ml NGF. Transfection by electroporation with 3 ug Monster™ GFP (Promega, Madison, WI) showed a transfection efficiency of approximately 30-40% in neonatal DRG neurons (data not shown).
qPCR
Following RNA purification (TrIzol®, Invitrogen, Carlsbad, CA), precipitation and first strand cDNA synthesis (First Strand®, Stratagene, San Diego, CA), the level of expression Sp1 and Sp4 mRNAs in rat DRG neurons in culture were analyzed using quantitative real-time PCR performed on the StepOnePlus Real-Time PCR system (Applied Biosystems, Carlsbad, CA). Two experimental approaches were used to manipulate gene expression in the DRGs: siRNA-directed knockdown of Sp1 or Sp4 and over-expression of Sp1 or Sp4 through transfection with Sp1 or Sp4 cDNA. All PCR reactions were performed using 10 μl of TaqMan® Fast Universal Master Mix 2x (Applied Biosystems, Carlsbad, CA), 2 μl 50 ng/μl cDNA, 1 μl of forward and reverse primers, and water to reach the final volume of 20 μl/rxn. PCR was carried out using inventoried primers specific for rat G6PDH from Applied Biosystems (ABI), Carlsbad, CA: (Cat# Rn00566576_ml), Sp1 (Cat# Rn00561953_ml) and Sp4 (Cat# Rn00562717_ml), human Sp1 (Cat# Hs00916521_ml) and Sp4 (Cat# Hs00162095_ml), and custom designed primers for rat TRPV1 Forward: CAA GGC ACT TGC TCC ATT TG; Reverse: TCT GTG GCC CAA TTT CGA; Probe: CCT GCA CCT AGC TGG. Each sample was run as a single-plex reaction system along with a negative control (template: water) for each primer being tested, all samples were run in triplicate. The mRNA expression levels of the genes analyzed were represented as Relative Quantities (RQ) using the comparative CT method (RQ = 2-ΔΔCt). First, CT (threshold cycle) values for each sample and target gene were obtained from real-time PCR analysis with the StepOne® Software (Applied Biosystems, Carlsbad, CA). CT values of each gene were then normalized with respect to the housekeeping gene (G6PDH), using the equation where ΔΔCT = (CT, Target - CT, G6PDH) Sample - (CT, Target - CT, G6PDH) [17]. The reference CT values were derived from the control (empty vector/scrambled) samples. RQ values of all other treated samples with the same target gene are compared to the control reference values.
Statistics
Relative luciferase activity was expressed as the mean of three independent experiments each done in at least triplicate measures, +/- SEM. Mean values between groups were compared using ANOVA with Bonferroni post-hoc test (Prism 5.0, GraphPad). P values less than 0.05 were considered to show a significant difference. Differences in mRNA expression levels between non-treated control DRGs and Sp1 or Sp4 over-expession and siRNA knockdowns respectively, were analyzed by two-tailed unpaired t-test with the GraphPad Prism software (GraphPad Software, La Jolla, CA).
Discussion
The regulation of transcription is a fundamental way that mammalian cells restrict and adjust their gene expression in response to changing cellular conditions such as stress or injury. In the case of primary afferent nociceptors, gene expression of ion channel -receptors such TRPV1 can be increased or decreased depending on changes in the cellular environment. Recruitment of RNA polymerase II for gene-specific transcription of TRPV1 DNA into RNA is envisioned to require a unique set of transcription factors that direct a subset of sensory neurons to express TRPV1. Our findings reported here support the hypothesis that the P2-promoter is a major site for the regulation of TRPV1 RNA transcription. In addition to being adjacent to TRPV1 transcriptional (RNA) start sites confirmed by 5'-RACE and EST database [14], we have also reported that the P2-promoter directs transcription in a cell-type specific manner. Moreover, P2-promoter activity is increased in DRG cultures enriched in sensory neurons but lacking in cells such as 3T3 fibroblasts [14] or HEK293 cells (unpublished observations). We now report that factors Sp1/Sp4, acting at a specific GC-box binding site, play a critical role in controlling TRPV1 RNA transcription in sensory neurons.
Conclusions
We propose an initial model of rat TRPV1 gene expression that is dependent on factors Sp1/Sp4, with Sp4 playing a critical role in activating TRPV1 transcription (Figure
9
). This idea is persuasive because the non-neuronal cell line HEK293 directs no TRPV1 P2-promoter activity unless Sp4 is co-transfected (unpublished observations). Sp4 may also form a complex with Sp1 and/or other members of the Sp1-like family. Recently, another factor, Sp5, has been reported and was found to repress Sp1 target genes such as p21 [
60
]. The idea that Sp5 may also participate in TRPV1 transcription is attractive because Sp5 shows a restricted pattern of expression involving the trigeminal ganglion and dorsal portion of the spinal cord, although its role in DRG remains unreported [
61
]. Ultimately, investigating the role of Sp4 and other Sp1-like transcription factors using transgenic models will help reveal their contribution to the initiation and/or maintenance of painful hyperalgesic states observed under conditions of tissue injury.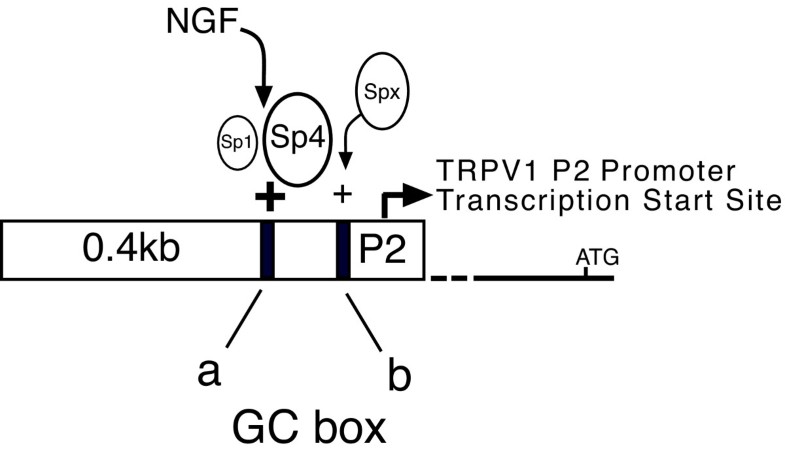 Declarations
Acknowledgements
Supported by grants from the: NIH NS38737, UCSF School of Medicine/Springer H. Mem. Foundation, IARS Frontiers in Anesthesia Research Award. Thanks to M. Waterman for helpful discussion and suggestions. We also thank Judith Hellman and Nigel Bunnett for assistance with the qPCR and Nucleofector device respectively.
Authors' Affiliations
(1)
San Francisco Department of Anesthesia and Perioperative Care 513 Parnassus Ave. Rm. S436 (Box0427), University of California, University of California, San Francisco, USA
Copyright
© Chu et al; licensee BioMed Central Ltd. 2011
This article is published under license to BioMed Central Ltd. This is an Open Access article distributed under the terms of the Creative Commons Attribution License (http://creativecommons.org/licenses/by/2.0), which permits unrestricted use, distribution, and reproduction in any medium, provided the original work is properly cited.