Molecular and cellular mechanisms of the age-dependency of opioid analgesia and tolerance
Received: 30 November 2011
Accepted: 9 May 2012
Published: 21 May 2012
Abstract
The age-dependency of opioid analgesia and tolerance has been noticed in both clinical observation and laboratory studies. Evidence shows that many molecular and cellular events that play essential roles in opioid analgesia and tolerance are actually age-dependent. For example, the expression and functions of endogenous opioid peptides, multiple types of opioid receptors, G protein subunits that couple to opioid receptors, and regulators of G protein signaling (RGS proteins) change with development and age. Other signaling systems that are critical to opioid tolerance development, such as N-methyl-D-aspartic acid (NMDA) receptors, also undergo age-related changes. It is plausible that the age-dependent expression and functions of molecules within and related to the opioid signaling pathways, as well as age-dependent cellular activity such as agonist-induced opioid receptor internalization and desensitization, eventually lead to significant age-dependent changes in opioid analgesia and tolerance development.
Keywords
Molecular and cellular mechanisms
Age-dependency
Opioid tolerance
Background
Opioid drugs, such as morphine, are commonly used analgesics that are effective for treating most acute and chronic pain conditions. However, prolonged and repetitive opioid treatment can have side effects and result in a significant reduction or even complete loss of the analgesic effect (i.e. tolerance). Thus, although opioid analgesia remains a powerful means of pain therapy, opioid tolerance has become a major clinical problem for many patients who receive daily opioids for pain conditions. Tolerance is also a long-standing problem in the basic pharmacology of opioids. Opioid drug research and development has yet to produce potent and type-selective opioid agents that do not cause tolerance because we still have a poor understanding of the mechanisms by which opioid analgesia occurs and opioid tolerance develops.
The mechanisms of opioid analgesia and tolerance are complicated, involving numerous molecules and cells, as well as many reactions and processes. These mechanisms act in concert across multiple levels: molecular, cellular, neuronal interaction and network, hormonal, and systemic. In addition, several physiological factors, such as age, sex, and genetic variations, can directly or indirectly affect the analgesic effectiveness and tolerance development of opioid drugs.
Recently, age-specific opioid therapy for pain, as well as the relationship between opioid tolerance and aging, has drawn considerable attention and renewed interest. It is well known that age-related processes (including early development and aging) play essential roles in the expression and function of many genes and in the development and function of many cells, tissues, and whole organisms. Studies also suggest that age is a determinant of opioid analgesia and tolerance in human beings, animals, and individual cells. The bases of such age-dependency are as complicated and poorly understood as the mechanisms of opioid analgesia and tolerance themselves, and they involve multiple levels.
This review discusses recent evidence supporting the concept that opioid analgesia and tolerance are age-dependent. It also explores the molecular and cellular mechanisms that underlie this phenomenon.
Age-dependent opioid analgesia and tolerance
Results from many clinical observations and laboratory studies strongly support the notion that age is an important factor affecting opioid analgesia. Recent clinical and laboratory data indicate that age also affects the development rate of opioid tolerance.
Age-dependent opioid analgesia and tolerance in patients with pain
For many years, studies have shown that age significantly influences the dosing and analgesic effects of commonly used opioid drugs [1, 2]. In recent years, there has been a significant increase in the use of daily opioids to treat chronic nonmalignant pain [3]. There continues to be some debate as to whether daily opioid use results in sustainable pain relief for chronic nonmalignant pain conditions [4]. Clinical studies of long-term opioid administration show that although it can produce prolonged pain relief in many patients, some patients with nonmalignant pain require escalating doses of opioids over time to maintain opioid efficacy [5, 6], suggesting that opioid tolerance development is indeed a clinical problem.
Opioid escalation can occur for a variety of reasons, including underlying disease progression, addiction, and pharmacologic tolerance. There are diagnostic tools to identify disease progression, and there are guidelines to identify and manage pain patients who might be drug-seeking or have a history of substance abuse [7]. However, there are not yet any guidelines to identify patients who may be poor candidates for long-term opioid treatment because they are prone to rapid opioid tolerance development that would make long-term pain relief unsustainable. Furthermore, there are currently no drugs available to delay opioid tolerance. Therefore, the problem is two-fold. We need to identify important clinical parameters that affect opioid tolerance development and, in turn, find ways to use this information to pinpoint effective therapeutic targets for future drug development. Age could be an important member of this set of parameters.
It is widely observed in pain management that younger patients seem to develop opioid tolerance more rapidly than older patients. Although there have been numerous studies of the effects of age on the pharmacokinetics of opioids, potential age-related changes in clinical pharmacodynamic tolerance to long-term opioids has never been studied. Rather, the majority of clinical studies have examined patients aged 18–80 years as a single group, with the mean age usually in the 50- to 60-year range.
To determine whether opioid dose escalation and long-term pain relief with extended opioid treatment differs significantly among patients in different age groups, a recent retrospective study examined patients treated for an extended period with long-acting opioids for nonmalignant pain [8]. Opioid dose escalation and visual analog scale (VAS) scores were compared between patients less than 50 years old and patients older than 60 years. Significant differences were found; older patients, regardless of gender or type of pain, escalated their opioid use significantly less than younger patients over the 2-year treatment period.
A study by Moulin et al [9] showed that a group of 46 patients with chronic nonneuropathic pain and an average age of 40 years had to take up to 60 mg oral morphine twice a day to get sustainable pain relief. These doses were much higher than those used in patients aged 60 years and older.
Age-dependent opioid analgesia and tolerance in laboratory animals
Rats of varying ages have been evaluated in single-dose studies to determine the effects of age on opioid pharmacokinetics and analgesic efficacy [10]. There also have been studies of opioid tolerance in prenatal and early postnatal animals [11–13]. Both types of studies have suggested that opioid tolerance is age-dependent, yet no study has systematically evaluated the rate of opioid tolerance development across an animal's lifespan, from early adolescence to advanced maturity. An early study suggested that morphine tolerance after repeated daily administration occurred more rapidly in young rats; however, the oldest rats used in that study were 12 weeks old [14]. In a study of daily morphine administration in rats ranging in age from 3 weeks to 1 year, the time to onset of tolerance increased dramatically as the rats aged. This effect could not be explained by age-related changes in the pharmacokinetics of morphine, suggesting that cellular and molecular mechanisms of opioid receptor signal transduction may be involved [15].
Conflicting evidence exists concerning whether tolerance develops to opiate-induced antinociception during the first 2 postnatal weeks. Tolerance to the antinociceptive effects of morphine does develop in rats within 15 days after birth, but it is masked by the rapid proliferation of opiate receptors, which simultaneously enhance the antinociceptive potency of morphine [16]. The dose–response curve for morphine-induced antinociception in 9-day-old rat pups pretreated with morphine (20 mg/kg) over 4 days is shifted to the right, showing that repeated morphine administration can produce tolerance within the first 2 weeks after birth.
Likewise, it has been shown that 2-week-old rats develop tolerance to continuous subcutaneous morphine infusion within 72 hours [17]. Other studies have shown that opioid tolerance develops within 8–10 days in young adult rats [18, 19]. However, there is some debate as to how early a neonatal rat can develop opioid tolerance (e.g. 9 versus 15 days after birth) [16, 20].
Results from a study by Laferrière et al [21] indicated that postnatal development did not affect the potency of fentanyl in 6- to 9-day-old rats. The fentanyl pump–implanted animals were observed to develop tolerance to fentanyl, and this tolerance was not affected by gender, developmental changes, fentanyl distribution, or changes in fentanyl metabolism. These results indicate that continuous administration of fentanyl via an osmotic minipump can render normal neonatal rats tolerant to and physically dependent on fentanyl within 72 hours [22].
Recently, Zissen et al [23] examined the development of opioid tolerance by intermittent injection or continuous infusion of morphine in postnatal 5- to 8- and 19- to 21-day-old rats and found that different dosages and delivery schedules affected morphine tolerance in an age-dependent manner. These findings suggest that the dose and frequency of opioid administration interact with age in determining the development of tolerance.
Age-dependent opioid effects in cells
Age-dependent opioid effects have also been observed in cultured neuronal cells. A recent study showed that dorsal root ganglion (DRG) neurons cultured from 10-month-old rats were more sensitive to long-term morphine treatment than neurons from 3-month-old rats; in the neurons from the older rats, lower doses of morphine (10 times lower) and a shorter treatment period (33% shorter) were sufficient to induce significant increases in the immunoreactivity of calcitonin gene-related peptide and substance P [24]. Although the relationship between this age-dependent sensitivity to chronic morphine in cultured DRG neurons and the rate of morphine tolerance development in whole animals is unknown, the impact of aging on the effects of opioids is apparent and significant.
Molecular and cellular mechanisms of the age-dependency of opioid analgesia and tolerance
Mechanisms of opioid tolerance at the molecular and cellular levels are complex. Many of them require a modification of the expression and functions of signaling molecules [
25
–
27
]. To explore the molecular and cellular bases of the age-dependency of opioid analgesia and tolerance, we must first have a comprehensive understanding of opioid receptor signaling systems (Figure
1
), as well as up-to-date knowledge of the mechanisms of opioid tolerance at the molecular and cellular levels.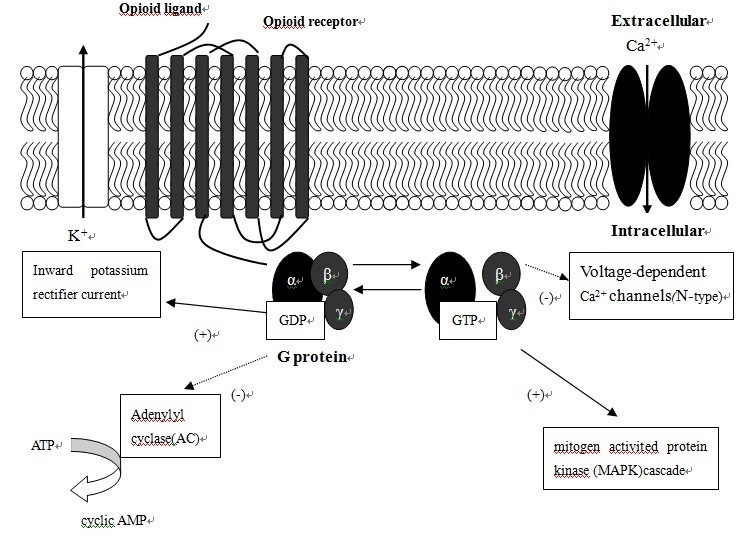 Having this knowledge enables us to address two important questions. First, what role does age play in the mechanisms of opioid analgesia and tolerance? Second, how do the development, growth, and aging processes affect the molecular and cellular events described in the previous section?
In response to the first question, evidence shows that development and aging have a significant impact on almost every aspect of the molecular and cellular mechanisms underlying opioid analgesia and tolerance (Figure
2
). Some of these effects are described below.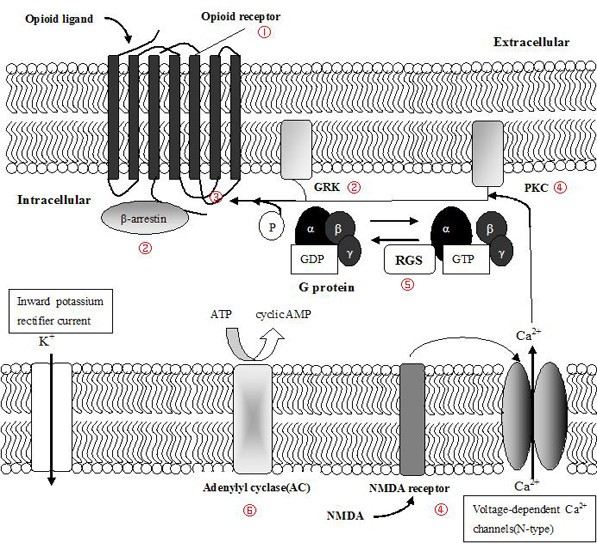 Opioid receptor signal transduction pathways
Decades of opioid research have led to the magnificent discovery of endogenous opioid peptides and multiple opioid receptors, which play the primary and essential roles in opioid action. In humans and other mammals, there exist at least four families of endogenous opioid peptides. The members of each family are formed from one of four large precursor proteins: prepro-opiomelanocortin, prepro-enkephalin, preprodynorphin, and prepro-nociceptin. Through processes of cleavage by specific peptidases and post-translational modification, a dozen active opioid peptides are derived from the precursors (Table
1
). These endogenous opioid peptides play important roles in mediating and modulating the analgesic effect of and tolerance to opioids administered exogenously.
Table 1
Endogenous opioid peptides and their precursors
| Opioid Peptide | Precursor |
| --- | --- |
| β-Endorphin | Pro-opiomelanocortin |
| Met-enkephalin | Pro-enkephalin |
| Leu-enkephalin | Pro-enkephalin |
| Octapeptide | Pro-enkephalin |
| Heptapeptide | Pro-enkephalin |
| Dynorphin 1-8 | Pro-dynorphin |
| Dynorphin 1-17 | Pro-dynorphin |
| α-Neoendorphin | Pro-dynorphin |
| β-Neoendorphin | Pro-dynorphin |
| Nociceptin | Prepro-nociceptin |
| Bocistatin | Prepro-nociceptin |
Pharmacological, biochemical, and molecular cloning studies have revealed that there are four different types of opioid receptors: the δ, μ, κ, and opioid receptor-like 1 (ORL1) receptors. They all belong to the G protein–coupled, seven-transmembrane receptor superfamily (GPCR) and share significant sequence homology (more than 60% identical at the amino-acid level) [
28
]. The δ, μ, and κ types are considered the classical opioid receptors because they are the selective binding sites for commonly-used opioid drugs and mediate typical opioid effects that can be reversed by the specific "pure" opioid antagonist naloxone. In contrast, the ORL1 receptor mediates atypical dual (opioid and anti-opioid) effects that cannot be reversed by naloxone. Thus, the ORL1 receptor can be seen as a divergent and atypical member of the opioid receptor family. The selectivity of the four types of opioid receptors for different endogenous opioid peptides and exogenous opioid drugs is summarized in Table
2
.
Table 2
Selectivity of Opioid receptors to the Endogenous Opioid Peptides and Exogenous Opioid Drugs
| Opioid receptor | Endogenous opioid peptides | Opioid drugs |
| --- | --- | --- |
| Μ-receptor | β-endorphin | morphine |
| | enkephalin | fentanyl |
| | | sufentanil |
| | | D-Ala2,MePhe4,Gly-ol5 |
| | | (DAMGO) |
| δ-receptor | Met-enkephalin | deltorphin |
| | Leu-enkephalin | [D-Pen2,D-Pen5]enkephalin |
| | | (DPDPE) |
| κ-receptor | dynorphin A | ethylketocyclazocine (EKC) |
| | dynorphin B | buprenorphine |
| | | pentazocine |
| | | U 50,488 |
| ORL1-receptor | nociceptin | None |
Opioid receptors of all four types are coupled to the inhibitory G protein Gi or Go, which is in turn regulated by RGS proteins. The analgesic effect of opioid agonists is attributed to signal transduction through the G protein-mediated second messenger system initiated by the binding of agonist to opioid receptor. Once an opioid agonist binds to its specific receptor, the conformation of the opioid receptor changes, and the coupled Gi/o protein is subsequently activated. The Gα subunit switches from a GDP-bound inactive state to a GTP-bound active state and dissociates from the Gßγ subunits. Activated G subunits then interact with downstream effectors, which further amplify the signal initiated by the opioid agonist and opioid receptor. Those downstream actions include the inhibition of adenylyl cyclase (AC) to reduce the production of cyclic AMP (cAMP), the opening of potassium channels, the inhibition of calcium channels, and the activation of mitogen-activated protein kinase (MAPK) and other kinases.
The agonist-bound opioid receptor goes through internalization for signaling and recycling itself. Opioid receptor internalization is assisted by RGS proteins [29]. The termination of opioid signaling results from the hydrolysis of GTP by a GTPase; this process is accelerated by specific RGS proteins, which return the Gα subunit to its GDP-bound inactive form. The processes of internalization, recycling, and inactivation resets opioid receptors and G proteins, readying them to transduce the next signal when another opioid agonist binds to the receptor.
Evidence shows that all four types of opioid receptor are involved in opioid analgesia and tolerance. Each of the four types of opioid agonist produces analgesia (or hyperalgesia in the case of nociceptin) and tolerance by binding to its respective receptor. In addition, the multiple types of opioid receptors interact with each other to enhance or attenuate opioid analgesia and tolerance. For example, studies have shown that morphine analgesia is greatly enhanced by activation of δ or κ opioid receptors [30] and that the ORL1 agonist nociceptin/orphanin FQ attenuates morphine analgesia and accelerates morphine tolerance [31].
Conclusions
Age is an important physiological factor that influences opioid drug action. The subject of opioid tolerance and aging has drawn great attention and interest. To understand the molecular mechanisms of the age-dependency of opioid tolerance is important for both basic scientific research and clinical practice. A thorough investigation of the patterns of tolerance induced by various type-selective opioids, as well as the differential expression and functions (including internalization) of multiple opioid receptors during opioid tolerance development, in animals of different ages may lead to new insights into the pharmaceutical application of type-selective opioid drugs for improving opioid analgesia and delaying tolerance occurrence in chronic pain therapy. In addition to providing novel insights into the best opioid agonists to use in various age groups of patients to avoid rapid tolerance development, further defining the concept of age-dependent tolerance will help to educate physicians who treat with chronic pain patients of different ages. Currently, little attention is paid to the age of the patient when clinicians decide whether to prescribe daily opioids to patients with nonmalignant pain conditions. Upfront discussions of the appropriate dosing of opioids in young patients for chronic pain conditions can greatly benefit from published data regarding the age-dependent mechanisms of opioid tolerance. In addition, the apparent age-dependency of opioid analgesia and tolerance suggests that age should be included as a parameter in studies of opioid analgesia and tolerance.
Abbreviations
RGS:

regulators of G protein signaling
NMDA:

N-methyl-D-aspartic acid
VAS:

visual analog scale
DRG:

dorsal root ganglion
ORL1:

opioid receptor-like 1
GPCR:

G protein-coupled, seven-transmembrane receptor superfamily
AC:

adenylyl cyclase
cAMP:

cyclic AMP
MAPK:

mitogen-activated protein kinase
GRKs:

G protein-coupled receptor kinases
MOR:

μ-opioid receptor
PAG:

periaqueductal grey matter
EGF:

epidermal growth factor
IL2:

interleukin 2
PKC:

protein kinase C
CCK:

cholecystokinin
NPFF:

neuropeptide FF
PrRP:

prolactin-releasing peptide
COX:

cyclooxygenase
CGRP:

calcitonin gene-related peptide
mGluRs:

metabotropic glutamate receptors
NPY:

neuropeptide Y
SP:

substance P
GAP:

GTPase-accelerating protein.
Authors' Affiliations
(1)
Department of Anesthesia, Peking Union Medical College Hospital, Chinese Academy of Medical Sciences & Peking Union Medical College, Beijing, China
(2)
Department of Anesthesiology and Perioperative Care, University of California, San Francisco, USA
(3)
Department of Anesthesiology and Perioperative Care, University of California, San Francisco, USA
(4)
Department of Anesthesia, Peking Union Medical College Hospital, Chinese Academy of Medical Sciences, Dongcheng District, Beijing, China
Copyright
© Zhao et al.; licensee BioMed Central Ltd. 2012
This article is published under license to BioMed Central Ltd. This is an Open Access article distributed under the terms of the Creative Commons Attribution License (http://creativecommons.org/licenses/by/2.0), which permits unrestricted use, distribution, and reproduction in any medium, provided the original work is properly cited.