Peripheral nerve injury is accompanied by chronic transcriptome-wide changes in the mouse prefrontal cortex
Received: 3 December 2012
Accepted: 22 March 2013
Published: 18 April 2013
Abstract
Background
Peripheral nerve injury can have long-term consequences including pain-related manifestations, such as hypersensitivity to cutaneous stimuli, as well as affective and cognitive disturbances, suggesting the involvement of supraspinal mechanisms. Changes in brain structure and cortical function associated with many chronic pain conditions have been reported in the prefrontal cortex (PFC). The PFC is implicated in pain-related co-morbidities such as depression, anxiety and impaired emotional decision-making ability. We recently reported that this region is subject to significant epigenetic reprogramming following peripheral nerve injury, and normalization of pain-related structural, functional and epigenetic abnormalities in the PFC are all associated with effective pain reduction.
In this study, we used the Spared Nerve Injury (SNI) model of neuropathic pain to test the hypothesis that peripheral nerve injury triggers persistent long-lasting changes in gene expression in the PFC, which alter functional gene networks, thus providing a possible explanation for chronic pain associated behaviors.
Results
SNI or sham surgery where performed in male CD1 mice at three months of age. Six months after injury, we performed transcriptome-wide sequencing (RNAseq), which revealed 1147 differentially regulated transcripts in the PFC in nerve-injured vs. control mice. Changes in gene expression occurred across a number of functional gene clusters encoding cardinal biological processes as revealed by Ingenuity Pathway Analysis. Significantly altered biological processes included neurological disease, skeletal muscular disorders, behavior, and psychological disorders. Several of the changes detected by RNAseq were validated by RT-QPCR and included transcripts with known roles in chronic pain and/or neuronal plasticity including the NMDA receptor (glutamate receptor, ionotropic, NMDA; grin1), neurite outgrowth ( roundabout 3; robo3), gliosis ( glial fibrillary acidic protein; gfap), vesicular release (synaptotagmin 2; syt2), and neuronal excitability ( voltage-gated sodium channel, type I; scn1a).
Conclusions
This study used an unbiased approach to document long-term alterations in gene expression in the brain following peripheral nerve injury. We propose that these changes are maintained as a memory of an insult that is temporally and spatially distant from the initial injury.
Keywords
Neuropathic painChronic painRNA sequencingTranscriptomeNoncoding RNANeuronal plasticity
Background
Peripheral nerve injury can result in a multitude of changes within an organism, including motor dysfunction, pain and associated cognitive and emotional comorbidities. While acute pain related to an injury is protective and normally resolves, chronic pain can be detrimental to the overall wellbeing and functioning of the individual. Indeed, occasionally the "memory" of injury, in the form of chronic pain, persists long after the initial recovery phase and becomes difficult to reverse. This is due, in part, to changes in anatomy and function that take place in the peripheral as well as the central nervous system. These changes can occur at many levels: individual molecules, synapses, cellular function, and network activity [1]. It is therefore not surprising that injury is often accompanied by local or systemic alterations in gene expression. To date, several reports have identified strong links between injury and transcriptional changes in the peripheral nervous system [2], blood [3] and in the brain [4]. However, the full profile of transcriptional changes that accompany chronic pain in response to peripheral injury is unknown.
The fact that peripheral injury results in chronic behavioral changes suggests that transient exposure to injury is chronically embedded in the transcription programming within the central nervous system, resulting in altered phenotypic behaviors. In the current study, we tested this hypothesis by focusing on the transcriptional changes that occur in the prefrontal cortex (PFC) of chronically neuropathic mice six months after the induction of neuropathy. This area was chosen based on evidence indicating its involvement in pain modulation [5, 6] and epigenetic differences that accompany peripheral nerve injury [7]. In humans with back pain, reversible pathological changes in both cortical thickness and functional activation have been shown in the PFC [8]. In animal models of neuropathic pain, the PFC undergoes synaptic re-organization as early as 8 days following nerve injury [9], and shows reductions in grey matter 5 months post-injury [10]. Since the PFC has also been implicated in depression and anxiety [11], common co-morbidities of chronic pain, transcriptional changes in brain regions such as the PFC can also provide an explanation for these co-morbidities.
While brain-specific transcription associated with neuropathic pain and injury has been previously investigated, few studies have looked at the effects at time points longer than ~ 1 month post-injury, whereas individual patients often suffer for many years following the initial injury. This distinction is critical as the development of co-morbid conditions, such as anxiety-like behavior in the rat, takes multiple months to develop [10]. Thus, early time points might not fully incorporate the impact of long term chronic pain on CNS plasticity. Furthermore, previous studies have been limited by microarray-based technologies that are inherently biased by probe density/design and limited to coding mRNA transcripts [12]. We therefore investigated the long-term (6 months post-injury) transcriptional changes induced by peripheral injury in the prefrontal cortex using whole transcriptome sequencing (RNAseq) in a mouse model of chronic pain (Spared Nerve Injury, SNI). Furthermore, we employed bioinformatic tools to identify functional gene clusters that were altered in the prefrontal cortex.
The aim of this work is to provide a comprehensive and unbiased look at the molecular correlates of peripheral nerve injury and catalog long-term transcriptional changes that may play a role in the pathologies associated with injury and pain. We believe that our findings will help shed light on the "signature" of painful neuropathy in the brain at both the molecular and network levels.
Results
Peripheral injury is accompanied by behavioral signs of neuropathic pain six months post-injury
The persistence of nerve injury-induced hypersensitivity to mechanical and cold stimuli and injury-related motor impairment were confirmed six months following SNI (data not shown; mechanical thresholds (grams) = 0.20±0.05 in SNI vs 0.82±0.07 in controls, p<0.0001; acetone-evoked behaviors (seconds) = 2.9±0.4 vs. 0.4±0.05 in controls, p>0.0001; motor impairment (latency to fall from accelerating rotarod) = 76±11 in SNI vs. 225±21 in controls, p>0.0001; n=10/group).
Peripheral injury is accompanied transcriptomic changes in the prefrontal cortex six months post-injury
Six months following SNI, significant changes in the expression levels of 1147 different transcripts were identified in the prefrontal cortex (Figure 
1
, Additional file
1
: Table S1). Considering the genomic base pair representation of exonic (3.2%), intronic (35.5%) and intergenic (61.3%) elements in mouse (Figure 
1
A), the PFC SNI-associated transcriptome was equally partitioned between coding RNA accounting for 40% (exonic) and 60% non-coding (intergenic+intronic) base pairs of the transcriptome (Figure 
1
B). Within differentially expressed transcripts in SNI vs. sham control animals, the largest transcriptional changes were observed in protein-coding exons (63.4%) with the rest made up of non-coding RNA. Within non-coding RNAs, the largest observed changes were in non-translated transcripts (retained introns and processed transcripts) followed by classes of microRNAs, transcribed processed pseudogenes, lincRNAs and nonsense mediated decay (Figure 
1
C).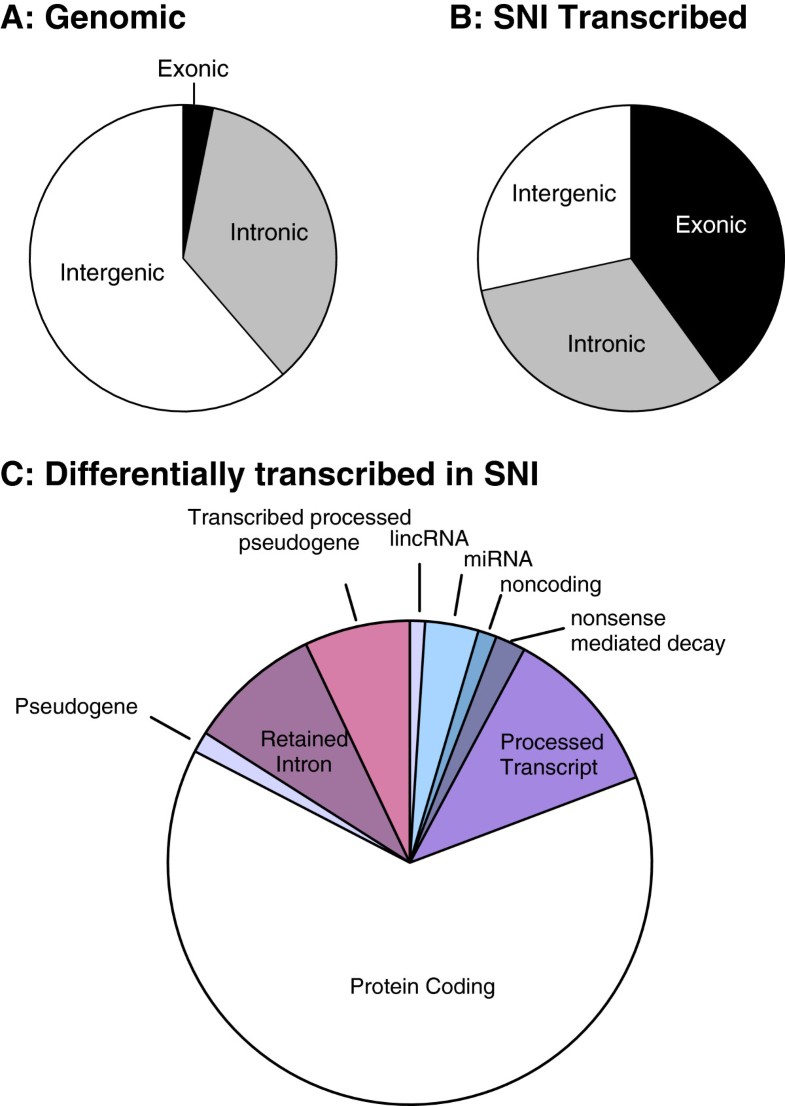 The transcripts with the largest log
2
fold changes in RNA expression in response to SNI (summarized in Table 
1
) included several transcripts with previously uncharacterized roles in the brain. Within this subset, specific transcripts with a role in subcellular structure (
actbl
,
col11a2
,
krt12
,
krt20
) and development pathways
(lrat
[
13
],
aldh3a1
[
14
],
crb1
[
15
]) show some of the greatest transcriptional changes. These transcripts showed large transcriptional differences from control ranging between 4.20 and 5.20 log
2
fold change for repressed genes and between 2.61 and 5.60 log
2
fold for induced genes.
Table 1
Top upregulated and downregulated transcripts in SNI
| Gene | Chr | Start | End | p-Value | Log2fold change |
| --- | --- | --- | --- | --- | --- |
| Brain-specific angiogenesis inhibitor 1-associated protein 2-like protein 1 | 5 | 145036642 | 145036834 | 1.23E-08 | −5.20 |
| A330050B17Rik | 3 | 35921194 | 35924028 | 5.37E-07 | −4.92 |
| Actin, beta-like 2 | 13 | 112045221 | 112047957 | 8.12E-10 | −4.56 |
| mmu-mir-220 | 6 | 136348946 | 136349031 | 5.54E-20 | −4.53 |
| Crumbs homolog 1 | 1 | 141142194 | 141145652 | 4.49E-5 | −4.43 |
| Collagen, type XI, alpha 2 | 17 | 34189110 | 34189163 | 2.34E-4 | −4.23 |
| Thyrotropin-releasing hormone receptor | 15 | 44065008 | 44065236 | 2.34E-4 | −4.22 |
| Gm14204 | 2 | 158421208 | 158422248 | 1.10E-12 | −4.08 |
| Gap junction alpha-5 | 3 | 96879570 | 96881339 | 2.37E-11 | 5.60 |
| Keratin 20* | 11 | 99299001 | 99299464 | 7.97E-6 | 4.65 |
| Mediator complex subunit 23 | 10 | 24589792 | 24589952 | 4.30E-4 | 4.08 |
| Keratin 12 | 11 | 99280858 | 99281014 | 3.83E-10 | 4.08 |
| 40S ribosomal protein S28 | 17 | 33959981 | 33960061 | 1.47E-13 | 3.76 |
| A830036E02Rik | 11 | 99283179 | 99283574 | 1.77E-17 | 3.69 |
| Lecithin-retinol acyltransferase | 3 | 82696501 | 82701050 | 4.22E-08 | 3.10 |
| Thiosulfate sulfurtransferase (rhodanese)-like domain containing 2 | 4 | 46151364 | 46151566 | 5.24E-4 | 2.77 |
| Complement component 1 r subcomponent A | 6 | 124463670 | 124463895 | 5.24E-4 | 2.73 |
| Aldehyde dehydrogenase 3 family member A1 | 11 | 61028052 | 61028260 | 3.22E-6 | 2.61 |
We further classified differentially expressed transcripts in SNI animals that have brain-specific functions (Summarized in Table 
2
). Examples include down-regulation of neurotransmitter channel and receptor subunits
gabrg1/3, clca1, slc14a1
and
drd2
and the astrocyte marker
gfap
while sodium channel subunit
scn1a
, NMDA subunit
grin1
, and promoters of neuronal growth
xlr4b, robo3, prc
, and
cux1
were all up-regulated in PFC from injured mice. Specific transcripts identified with asterisks in Tables 
1
and
2
were further validated with RT-qPCR (labeled with asterisks) and summarized in Figures 
2
A-D,
3
B-C,
4
B-C and
5
B. Within these validated genes,
robo3, scn1a, grin1, xlr4b, krt20, syt2,
and
lbp
showed marked induction following SNI while
gfap
and
clca1
showed marked repression (unpaired 2-tailed t-test, p<0.05, n=8). Whereas the genes in Figure 
2
were selected for validation due to an interesting role in the CNS, Figures 
4
,
5
, and
6
highlight validated genes within the context of an identified functional gene cluster.
Table 2
Biased upregulated and downregulated transcripts in SNI with known brain-specific functions
| Gene | Chr | Start | End | p-Value | Log2fold change |
| --- | --- | --- | --- | --- | --- |
| Calcium-activated chloride channel regulator 1* | 3 | 144409728 | 144409992 | 4.95E-04 | −3.19 |
| Solute carrier family 14 (urea transporter), member 1 | 18 | 78308093 | 78308285 | 2.90E-06 | −2.37 |
| Gamma-aminobutyric acid receptor subunit gamma-1 | 5 | 71185885 | 71185952 | 8.90E-05 | −2.17 |
| Activating transcription factor 3 | 1 | 192994175 | 192995558 | 8.97E-07 | −1.98 |
| Fatty acid binding protein 7 | 10 | 57505312 | 57505484 | 4.36E-12 | −1.44 |
| Gamma-aminobutyric acid receptor subunit gamma-3 | 7 | 64433752 | 64435107 | 3.29E-04 | −1.38 |
| Glial fibrillary acidic protein * | 11 | 102753225 | 102753268 | 2.40E-04 | −1.24 |
| Fos | 12 | 86816542 | 86816649 | 4.62E-04 | −0.90 |
| Dopamine receptor D2 | 9 | 49215006 | 49216282 | 1.44E-05 | −0.88 |
| X-linked lymphocyte-regulated 4B * | X | 70463702 | 70467280 | 1.72E-03 | 3.87 |
| Lipopolysaccharide-binding protein* | 2 | 158139209 | 158139364 | 3.31E-04 | 2.54 |
| Protein regulator of cytokinesis 1 | 7 | 87460000 | 87461144 | 5.70E-05 | 2.40 |
| Cut-like homeobox 1 | 5 | 137041250 | 137041567 | 1.46E-04 | 2.24 |
| Roundabout, axon guidance receptor, homolog 3* | 9 | 37227254 | 37227393 | 1.51E-05 | 1.96 |
| Sodium channel, voltage-gated, type I, alpha subunit* | 2 | 66166462 | 66166603 | 4.34E-04 | 1.10 |
| Synaptotagmin-2* | 1 | 136644052 | 136649726 | 9.10E-09 | 0.91 |
| Synapsin 1 | X | 20497539 | 20498130 | 1.72E-03 | 0.59 |
| Glutamate [NMDA] receptor subunit zeta-1* | 2 | 25174149 | 25174615 | 3.31E-04 | 0.57 |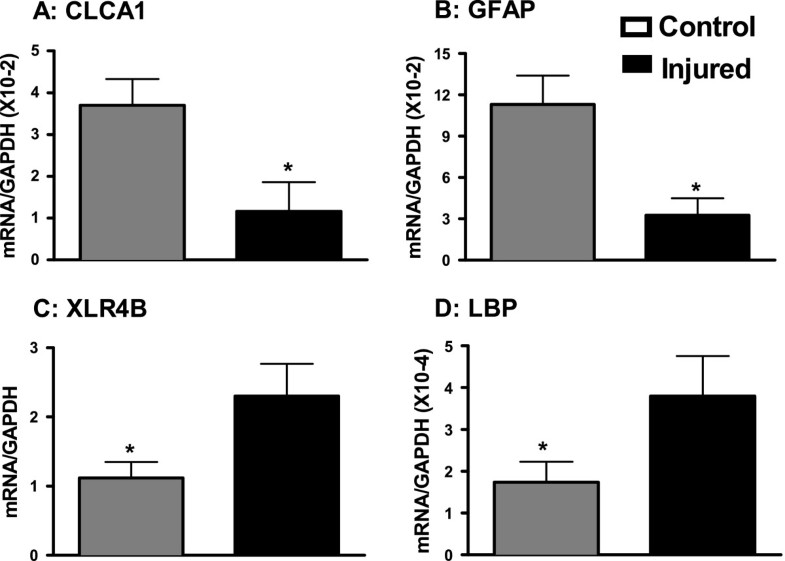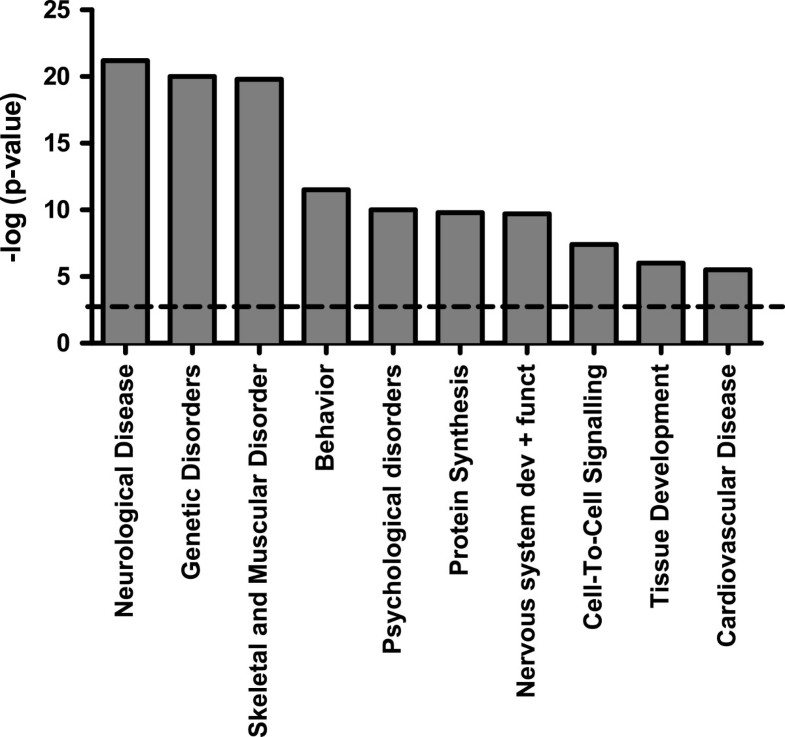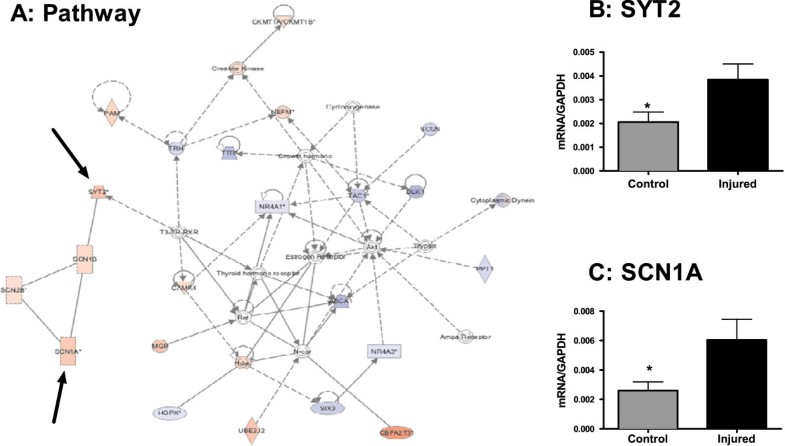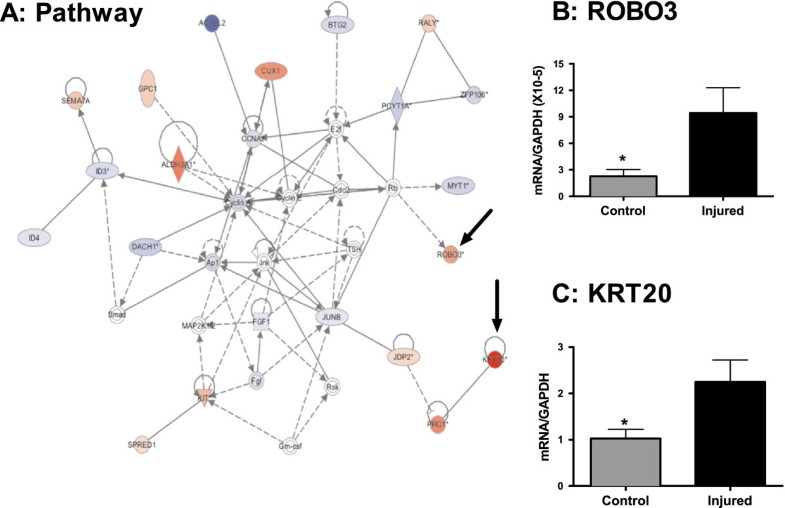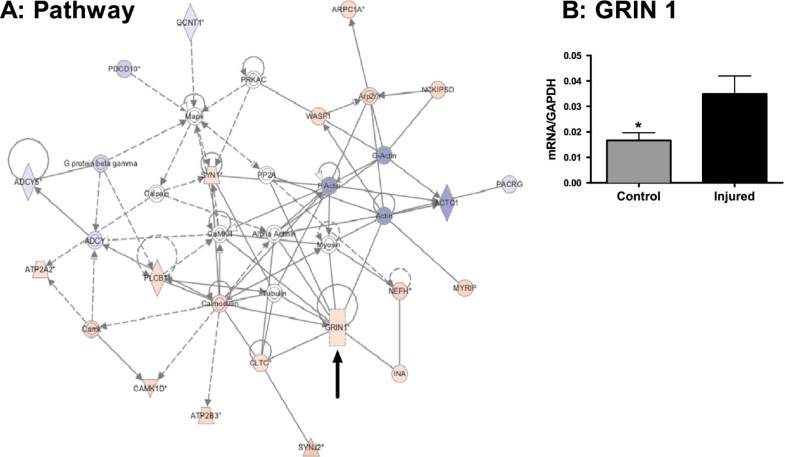 Peripheral nerve injury results in changed brain-specific transcriptional programs
Ingenuity Pathway Analysis (IPA) identified specific networks that were dysregulated six months post-SNI in the prefrontal cortex. Biological functions with a cutoff p-value < 0.05 were considered statistically significant. We identified the following biological functions specific to peripheral nerve injury: neurological disease (p-value= 2.02E-21-1.46E-02), behavior (p-value= 2.68E-12-1.31E-02), psychological disorder (p-value=7.80E-11- 1.46E-02), protein synthesis (p-value=1.70E-10 to 4.23E-03), and nervous system development and function (p-value=5.93E-10 to 1.42E-02) (Figure 6, Additional file 2: Table S2). In our screen, genetic disorders and skeletal muscular disorders emerged but due to an unclear role in CNS we did not perform further validation within these pathways.
With each biological function comprised of hundreds of functional gene clusters we then focused on transcriptional clusters previously associated with neurological function. Within this scope, peripheral injury resulted in up-regulation of pathways involved in cellular growth and proliferation (Figure 3A), molecular transport and neurological disease (Figure 4A) and neuronal development (Figure 5A). We validated the induction of representative genes included in these clusters by QRT-PCR: robo3 and krt20 in the cellular growth and proliferation pathway (Figure 3B-C), scn1a and syt2 in the molecular transport and neurological disease pathway (Figure 4B-C) and grin1 in the neuronal development pathway (Figure 5B).
Discussion
Our results delineate for the first time a transcriptomic signature in the prefrontal cortex resulting from peripheral injury six months prior. Interestingly, both coding and non-coding transcripts are altered.
The coding transcripts include both genes that were previously implicated in the pathology associated with neuronal plasticity as well as genes with yet an unknown role in brain function, neuronal plasticity or in chronic pain. We further mapped the functional gene pathways whose transcription was altered, identified specific clusters involved in neuronal plasticity and validated candidate genes within these pathways. Genes known to play a role in brain structure and function that were differentially expressed and validated in response to peripheral injury were: clca1, syt2, grin1, scn1a, krt20, xlr4b, gfap, lbp and robo3. Considering the importance of the PFC to chronic pain and its associated co-morbidities, these broad, functionally-relevant changes in the transcriptome of the PFC provides a possible substrate for the long-term systemic effects of peripheral injury and may elucidate transcriptional mechanisms of supraspinal pathologies associated with chronic pain.
Conclusions
We demonstrate broad changes in gene expression in the mouse prefrontal cortex six months after peripheral nerve injury, illustrating a long-term impact of a peripheral injury on brain genome function. The use of RNAseq allowed for an unbiased picture of the transcriptomic changes involved in chronic neuropathy in the PFC. Furthermore, the ingenuity pathway analysis revealed functional gene networks that were significantly implicated including networks involved in brain development and function. These reported changes and their functional analysis will generate hypotheses on the molecular mechanisms that mediate chronic pain and its co-morbidities that will need to be tested in future experiments.
These wide-spread changes in gene expression in the PFC are consistent with our previous report demonstrated significant genome-wide changes in global DNA methyation that we predicted would result in the dysregulation of hundreds of genes. Thus, epigenetic mechanisms that embed the transient peripheral injury into a long-term programmatic change in gene function in the brain may be contribution to these mechanisms [7].
Although we demonstrate a causal relationship between peripheral injury and a transcriptome change six months later, it is unknown whether these are the same changes that occurred in the brain at the time of injury or whether (and more probably) a cascade of gene expression alterations led to the chronic profile observed in our study. Furthermore, it is unknown if similar changes occur in other spinal or supraspinal regions. Further experiments are required at multiple time point and in additional brain regions, including those not implicated in pain signaling, before the significance of these findings can be fully understood. Finally, there is currently no evidence that these patterns are the cause of chronic pain or its associated co-morbidities. Nevertheless, our study strongly supports the plausibility that long-term changes in gene expression in the CNS are involved in chronic pain and its associated behaviors, and generates hypotheses on the genes and functional gene networks that might be involved.
Abbreviations
CLCA1:

Calcium-activated chloride channel regulator 1
CNS:

Central nervous system
GFAP:

Glial fibrillary acidic protein
GRIN 1:

Glutamate receptor, ionotropic, N-methyl D-aspartate 1
IPA:

Ingenuity pathway analysis
KRT20:

Keratin 20
LBP:

Lipopolysaccharide binding protein
PCR:

Polymerase chain reaction
PFC:

prefrontal cortex
RNAseq:

RNA sequencing
ROBO3:

Roundabout, axon guidance receptor, homolog 3
SCN1A:

Sodium channel, voltage -gated, type I, alpha subunit
SNI:

Spared nerve injury
SYT2:

Synaptotagmin II
XLR4B:

X-linked lymphocyte-regulated 4B.
Declarations
Acknowledgements
This work was funded by CIHR MOP-102586 and, a FRSQ bourse de chercheur-boursier to LSS, a grant to MS from the CIHR MOP-42411 a gift from the Sackler McGill Program in Psychobiology and Epigenetics (MS) and a grant from the Canadian Institute for Advanced Research (MS). MT was supported by a studentship from The Louise and Alan Edwards Foundation.
Authors' Affiliations
(1)
Department of Pharmacology and Therapeutics, McGill University, Faculty of Medicine, Montréal, Canada
(2)
Sackler Program for Epigenetics & Developmental Psychobiology, McGill University, Montréal, Canada
(3)
Department of Neurology and Neurosurgery, McGill University, Faculty of Medicine, Montreal, Canada
(4)
Alan Edwards Centre for Research on Pain, McGill University, Montreal, Canada
(5)
Faculty of Dentistry, McGill University, Montreal, Canada
(6)
Department of Anesthesiology, Anesthesia Research Unit, McGill University, Faculty of Medicine, Montreal, Canada
Copyright
© Alvarado et al.; licensee BioMed Central Ltd. 2013
This article is published under license to BioMed Central Ltd. This is an Open Access article distributed under the terms of the Creative Commons Attribution License (http://creativecommons.org/licenses/by/2.0), which permits unrestricted use, distribution, and reproduction in any medium, provided the original work is properly cited.