Purinergic mechanosensory transduction and visceral pain
Received: 20 October 2009
Accepted: 30 November 2009
Published: 30 November 2009
Abstract
In this review, evidence is presented to support the hypothesis that mechanosensory transduction occurs in tubes and sacs and can initiate visceral pain. Experimental evidence for this mechanism in urinary bladder, ureter, gut, lung, uterus, tooth-pulp and tongue is reviewed. Potential therapeutic strategies are considered for the treatment of visceral pain in such conditions as renal colic, interstitial cystitis and inflammatory bowel disease by agents that interfere with mechanosensory transduction in the organs considered, including P2X3 and P2X2/3 receptor antagonists that are orally bioavailable and stable in vivo and agents that inhibit or enhance ATP release and breakdown.
Keywords
Irritable Bowel SyndromeCapsaicinP2X3 ReceptorInterstitial CystitisUrothelial Cell
Introduction
Visceral pain is one of the most common forms of pain associated with pathological conditions like renal colic, dyspepsia, inflammatory bowel disease (IBD), angina, dysmenorrhoea and interstitial cystitis. While it is generally accepted that IBD is associated with pain (see [
1
,
2
]) there are reports that in some patients with IBD, there is hyposensitivity. P2X
3
(homomultimer) and P2X
2/3
(heteromultimer) receptors were cloned and shown to be largely located on small nociceptive sensory neurons in the dorsal root ganglia (DRG) in 1995 [
3
,
4
]. A schematic showing the initiation of nociception by ATP on primary afferent fibres in the periphery and purinergic relay pathways in the spinal cord are shown in Figure
1
.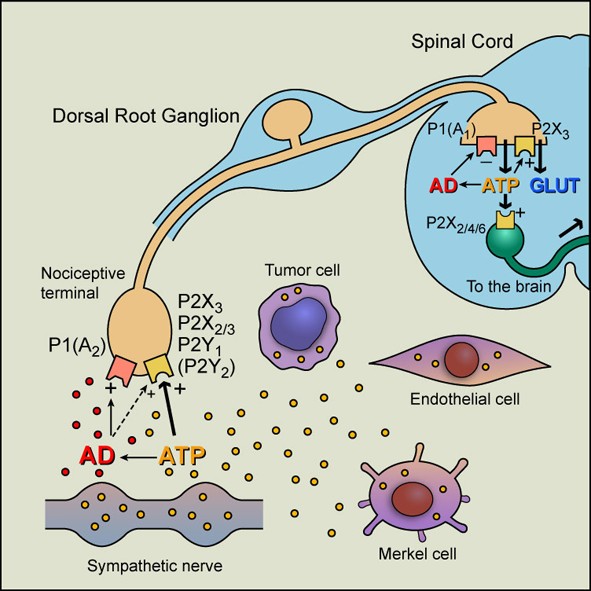 A hypothesis was proposed that purinergic mechanosensory transduction occurred in visceral tubes and sacs, including ureter, bladder and gut, where ATP released from epithelial cells during distension acted on P2X
3
homomeric and P2X
2/3
heteromeric receptors on subepithelial sensory nerves initiating impulses in sensory pathways to pain centres in the central nervous system (CNS) [
5
] (Figure
2a
). Evidence supporting this hypothesis in various organs is reviewed below.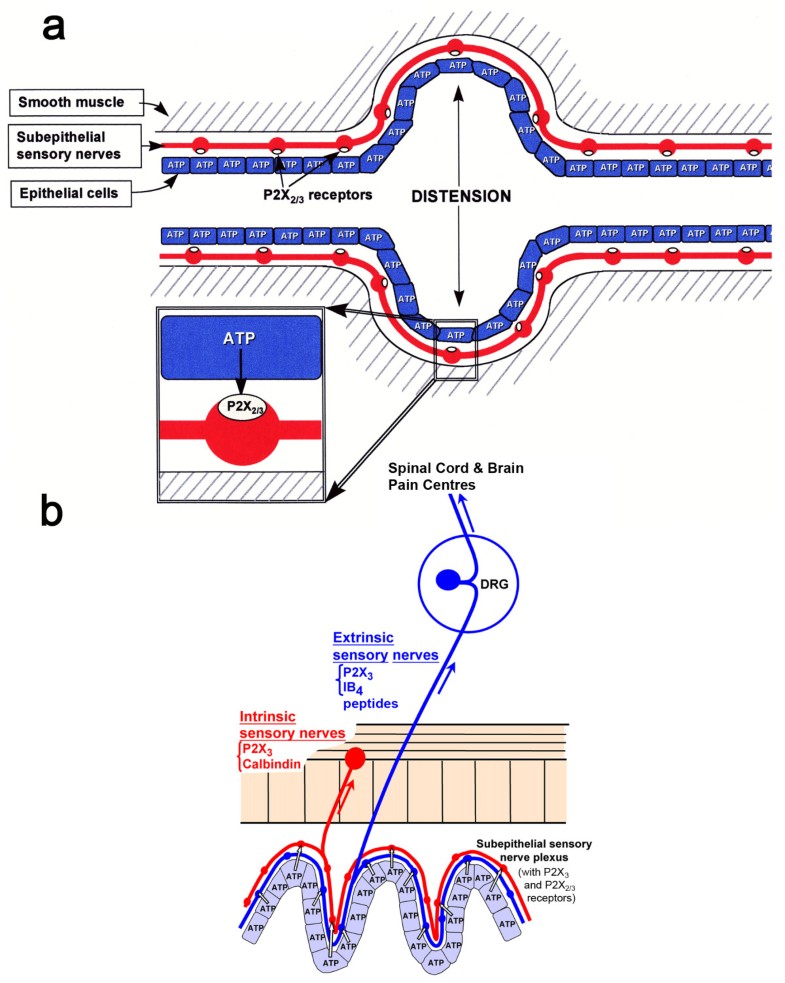 Conclusion
Compelling evidence has been presented for the role of purinergic mechanosensory transduction where ATP, released from epithelial cells lining the bladder, ureter and gut during distension, acts on P2X3 and/or P2X2/3 receptors on subepithelial sensory nerve terminals to relay nociceptive messages via sensory ganglia and spinal cord to pain centres in the CNS.
Antagonists to P2X3 and P2X2/3 receptors are being explored to treat visceral pain and the possibilities for development of agents that inhibit ATP transport from epithelial cells or enhance ATP breakdown after its release are discussed.
Declarations
Acknowledgements
The author thanks Dr Gillian E. Knight for her excellent editorial assistance.
Authors' Affiliations
(1)
Autonomic Neuroscience Centre, Royal Free and University College Medical School, London, UK
Copyright
© Burnstock; licensee BioMed Central Ltd. 2009
This article is published under license to BioMed Central Ltd. This is an Open Access article distributed under the terms of the Creative Commons Attribution License (http://creativecommons.org/licenses/by/2.0), which permits unrestricted use, distribution, and reproduction in any medium, provided the original work is properly cited.