Characterization of neuronal intrinsic properties and synaptic transmission in layer I of anterior cingulate cortex from adult mice
Received: 23 May 2012
Accepted: 26 June 2012
Published: 20 July 2012
Abstract
The neurons in neocortex layer I (LI) provide inhibition to the cortical networks. Despite increasing use of mice for the study of brain functions, few studies were reported about mouse LI neurons. In the present study, we characterized intrinsic properties of LI neurons of the anterior cingulate cortex (ACC), a key cortical area for sensory and cognitive functions, by using whole-cell patch clamp recording approach. Seventy one neurons in LI and 12 pyramidal neurons in LII/III were recorded. Although all of the LI neurons expressed continuous adapting firing characteristics, the unsupervised clustering results revealed five groups in the ACC, including: Spontaneous firing neurons; Delay-sAHP neurons, Delay-fAHP neurons, and two groups of neurons with ADP, named ADP1 and ADP2, respectively. Using pharmacological approaches, we found that LI neurons received both excitatory (mediated by AMPA, kainate and NMDA receptors), and inhibitory inputs (which were mediated by GABAA receptors). Our studies provide the first report characterizing the electrophysiological properties of neurons in LI of the ACC from adult mice.
Keywords
Spontaneous firing neurons
Layer I
Adult mice
Anterior cingulate cortex
Kainate receptor
Introduction
Knowledge about the intrinsic properties of neurons helps to reveal the neuronal mechanisms of brain functions [1, 2]. The mammalian neocortex is responsible for different brain functions, such as sensory perception and cognitive function [3–7]. The cortical network is mainly consisted with projection glutamatergic neurons and local GABAergic interneurons, the projection neurons communicate with other brain areas by extending axons to distant brain targets, interneurons modulate the temporal demands of brain functions by supporting inhibitory components [2]. Cumulative studies have found that the firing patterns, molecular expression profiles and innervations targets of the interneurons are with rich diversity, which is involved in the modulation of neuronal network [8]. Therefore, knowing the diversity of interneurons of different brain areas will be necessary for the understanding of brain functions.
Layer I (LI) is a unique part of the neocortex which has less cell density but a high percentage of GABAergic neurons, and receives strong dendritic tuft branches from other layers. The functions of cortical LI are age dependent. For example, during early stages of neocorticogenesis, the Cajal-Retzius cells in LI provide the signaling for neuronal migration [
9
]. After cortical development, LI neurons are involved in the modulation of cortical network by providing inhibition (Figure
1
A) [
2
]. LI neurons receive projections from both local area [
10
,
11
] and a large population of thalamocortical neurons [
12
–
15
]. It has been proposed that cortical LI neurons play a special role in top-down synaptic interaction within cortical networks [
14
–
19
]. Following the development of modern genetic techniques, mice have been broadly used to study the functions of interneurons in the central nervous system [
2
,
20
,
21
]. However, characterizations of LI neurons from adult mice have not been reported (see Table
1
).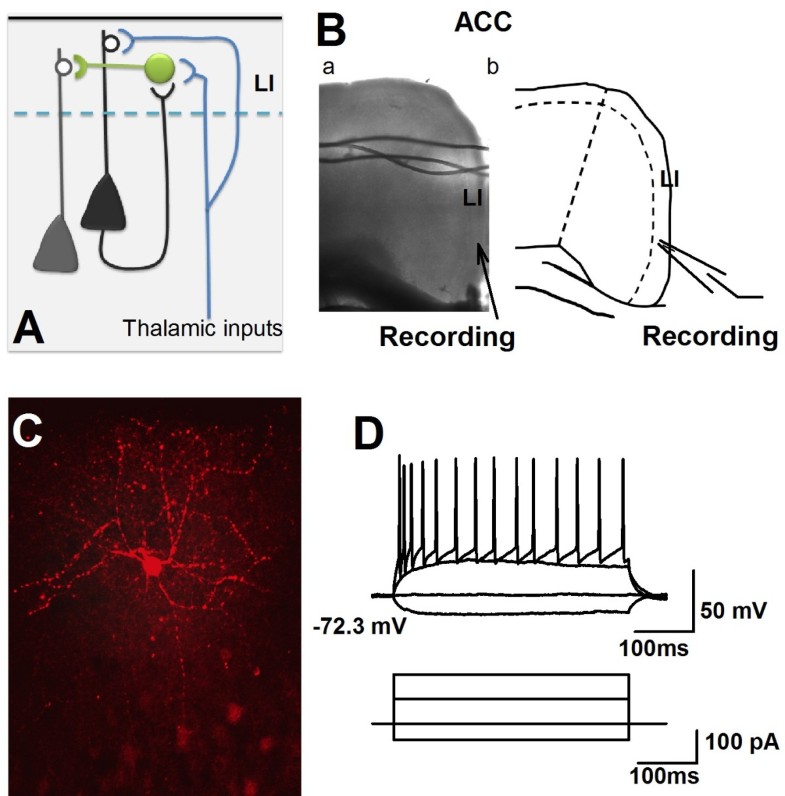 Table 1
Summary of previous works on the electrophysiological and morphological properties of neurons in LI of cortex
| Region | Age (day) | properties | Species &strain | Cell types | Reference |
| --- | --- | --- | --- | --- | --- |
| SS | 24–36 | M & P | Rat (Wistar) | NGFCs, C-AC, FS, BS | [11] |
| Neocortex | 0–10 | Synaptic transmission | Mice | CR&Non-CR | [22] |
| Visual cortex | 7–19 | M&P | Rat (Wistar) | CR & NG | [23] |
| Frontal cortex | 14–21 | P | Rat (SD) | Not mentioned | [24] |
| Vision &SS | 14–24 | M&P | Rat (SD) | LS & nLS | [25] |
| Not mention | 5–11 | M&P | Rat (wistar) | CR | [26] |
| Vision cortex | adult | M | Cat | Not mentioned | [27] |
The anterior cingulate cortex (ACC) is a heterogeneous brain area which is involved in sexual attraction [28], fear memory [29–35] and chronic pain [3–5, 36–42]. The change of cingulate glutamatergic synaptic transmission in chronic pain conditions has been intensively studied [3–5, 36–42], It has been demonstrated that strengthening of synaptic transmission in the ACC were mediated by both pre- and post synaptic mechanisms [4, 41]. And also previous work showed that the intrinsic properties of pyramidal neurons in layers II/III of the ACC were affected by peripheral nerve injury [43]. The inhibitory synaptic transmission is an import part of the neuronal network [2]. However, how the inhibitory components of cortical network change was less studied. Knowing the basic properties of LI neurons will help to understand the neuronal mechanism that mediated the functions of the ACC.
In the present study we investigated the intrinsic properties of LI neurons in the ACC of adult mice. Based on petilla classification scheme and unsupervised clustering results [1, 44], LI neurons were classified as five groups, including: Spontaneous firing neurons; Delay-sAHP neurons, Delay-fAHP neurons, other neurons showed ADP were separated into two clusters, called ADP1 and ADP2. Pharmacological experiments showed that 2-amino-3-(5-methyl-3-oxo-1,2- oxazol-4-yl) propanoic acid (AMPA), kainate and N-Methyl-D-aspartate (NMDA) receptors were the major postsynaptic targets of glutamate, GABAA receptors were the major targets for inhibitory synaptic transmission. To our knowledge, this is the first study to characterize LI neurons of the ACC from adult mice.
Materials and methods
Animals
Adult (8–10 weeks old) male C57BL/6 mice were purchased from Charles River. Mice were maintained on a 12 hr light/dark cycle. Food and water were provided ad. libitum. The Animal Care and Use Committee of University of Toronto approved all mouse protocols.
Slice preparation
Male C57BL/6 mice were anaesthetized with isoflurane, the brain was then quickly removed and submerged in cold, oxygenated artificial cerebrospinal fluid (ACSF) containing the following (mM): 124 NaCl, 2.5 KCl, 0.5 CaCl2, 2 MgSO4, 25 NaHCO3, 1 NaH2PO4, and 10 glucose. Coronal slices (300 μm thick) containing the ACC were prepared using standard methods [37]. Slices were cut with a Vibratome section system (VT 1000), and transferred to submerged recovery chamber with oxygenated (95% O2 and 5% CO2) ACSF at room temperature for at least 1 hr.
Whole-cell recordings
Experiments were performed in a recording chamber on the stage of a BX61WI microscope (Olympus) equipped with infrared differential interference contrast optics for visualization. The recording pipettes (2–3 MΩ) were filled with a solution containing (in mM) 120 K-gluconate, 5 NaCl, 1 MgCl2, 0.2 EGTA, 10 HEPES, 2 Mg-ATP, 0.1 Na3-GTP, 10 phosphocreatine disodium and 0.5% biocytin (sigma) (adjusted to pH 7.2 with KOH). Whole-cell recordings were performed at room temperature (24 ± 1°C) using a patch-clamp amplifier (multi-clamp 700B, Molecular Devices). The evoked post-synaptic response were recorded at 0.05 Hz, stimulations were delivered through a bipolar electrode which was put in layer III of the ACC. For synaptic response recordings, we used an internal solution containing (in mM): 120 Cs-gluconate, 5 NaCl, 1 MgCl2 0.5 EGTA, 2 Mg-ATP, 0.1 Na3GTP, 10 HEPES, (adjusted to pH 7.2 with CsOH); 280–300 mOsm. Access resistance was 15–35 MΩ and was monitored throughout the experiment. Data were discarded if the access changed >10% during an experiment. Data were filtered at 2 kHz and digitized at 20 kHz using the digidata 1322A.
Electrophysiological analysis
Different petilla terminologies [
1
] have been suggested to describe electrophysiological behaviors observed in cortical neurons, in our study, the following terminologies [
20
] will be used: Resting membrane potential (RMP) (1) was measured just after configuration of whole-cell patch; Input resistance (Rin) (2); and membrane capacitance (Cm) (3) were measured in voltage clamp mode. In current clamp mode, a 400 ms hyperpolarization current was used to evoke a voltage shift of 10–18 mV negative to resting membrane potential, and membrane time constant (Tau) (4) was determined after the fitting of this response to a single exponential function. Rheobase (Rho) (5) was the minimal current intensity which can generate at least one action potential (400 ms duration, 10 pA increments). The first spike latency (1
st
) (6) of the action potential (AP) was measured at Rheobase, as the time that the membrane voltage reached to the AP firing threshold (V
thre
) (7) which was defined as the first point on the rising phase of the spike at which the change exceeded 50 mV/ms. The amplitude of AP (8) was measured as the voltage difference between V
thre
and the positive peak of AP. The spike width (9) was measured at half height of the total spike (measured from the V
thre
level). The rise time (10) is the time that AP amplitude changes from 10% to 90%, while the decay time (11) is the time that AP amplitude decreases from 90% to 10%. In some cortical neurons, a complex waveform of afterhyperpolarization (AHP) has been recorded. The amplitudes (12, 13) and the latencies (14, 15) of the first (fAHP) and second (sAHP) components of AHP were measured as the difference between V
thre
and the negative peak of the AHP. If an afterdepolarization (ADP) was present, its amplitude (16) and latency (17) was estimated as the difference between the negative peak of fAHP and the positive peak of ADP. For the firing pattern, the maximal firing frequency was defined as the last trace before the prominent reduction of action potential amplitude, the instantaneous frequency were fitted to:
where A sat correspond to the amplitude of early frequency adaptation (18), τsat to the time constant of early adaptation (19), msat to the slope of the late adaptation (20) and Fmax to the maximal steady state frequency (21). The amplitude reduction (22) and the duration increase (23) were further analysis on action potential discharges elicited by short pulses of depolarizing current (80 ms) in the 50–150 pA range. The amplitudes of the first two action potentials (A1 and A2) were measured from the threshold to the peak of the spike. Their durations (D1 and D2) were measured at half amplitude. The amplitude reduction and the duration increase were calculated according to (A1−A2)/A1 and (D2−D1)/D1, respectively [45].
Visualization and imaging of the intracellular biocytin-labeled neurons
Slices containing biocytin-filled neurons were fixed overnight in a solution containing 4% paraformaldehyde at 4°C. Slices were then transferred into 0.01 M PBS for 1 hr and rinsed twice (5 min. each time) with PBS. Slices were then incubated in PBS with 0.1% Triton X-100 for a period of 2 hrs, followed by incubation with Cy3-conjugated streptavidin at 4°C for 6 hrs.
Unsupervised clustering
Unsupervised clustering [46] was performed using the 23 physiological parameters, which was normalized to stander score, the Ward's method was then performed to get the classification. The quality of the clustering was further quantified using silhouette analysis.
Data analysis
Off-line analysis was performed using Clampfit 9. Sigmaplot 11.0 was used to plot and fit the data. Statistical comparisons were made using paired t-tests, one or two-way ANOVAs (Student-Newmann-Keuls test) were used for post-hoc comparison. SPSS 18.0 was used to do the cluster analysis. All data are presented as the mean ± S.E.M. In all cases, P < 0.05 was considered statistically significant.
Discussion
Using whole-cell patch-clamp approach, we characterized neurons in LI of the ACC from adult mice. Based on the electrophysiological data and unsupervised clustering analysis, the neurons in LI can be classified into Spontaneous firing neuron; Delay-sAHP neurons, Delay-fAHP neurons, neurons with ADP were separated into two clusters, named ADP1 and ADP2, respectively. To our knowledge, this is the first report to characterize the intrinsic properties of neurons in LI of the ACC of adult mice. To further characterize the synaptic inputs to the LI neurons, we performed pharmacological experiments. The results showed that AMPA, kainate and NMDA receptors mediate excitatory synaptic transmission, while GABAA receptors mediate the inhibitory synaptic inputs to LI neurons. Furthermore, this is the first report that adult LI neurons express kainate receptors.
Declarations
Acknowledgements
This work was supported by Grants from the EJLB-CIHR Michael Smith Chair in Neurosciences and Mental Health, Canada Research Chair, CIHR operating grant (MOP-124807 and NSERC Discovery grant (402555) (M. Z.). X.-Y. Li, T.C., and K.K. are supported by postdoctoral fellowships from the Fragile X Research Foundation of Canada. G.D. is funded through the E. Fidlar Ontario Graduate Scholarship.
Authors' Affiliations
(1)
Center for Neuron and Disease, Frontier Institute of Science and Technology, Xi'an Jiaotong University, Xi'an, China
(2)
Department of Physiology, Faculty of Medicine, University of Toronto, Toronto, Canada
Copyright
© Li et al.; licensee BioMed Central Ltd. 2012
This article is published under license to BioMed Central Ltd. This is an Open Access article distributed under the terms of the Creative Commons Attribution License (http://creativecommons.org/licenses/by/2.0), which permits unrestricted use, distribution, and reproduction in any medium, provided the original work is properly cited.