Temporal dynamics of anxiety phenotypes in a dental pulp injury model
Received: 22 January 2015
Accepted: 11 June 2015
Published: 30 June 2015
The Erratum to this article has been published in Molecular Pain 2015 11:62
Abstract
Background
Accumulating clinical and preclinical evidence indicates that chronic pain is often comorbid with persistent low mood and anxiety. However, the mechanisms underlying pain-induced anxiety, such as its causality, temporal progression, and relevant neural networks are poorly understood, impeding the development of efficacious therapeutic approaches.
Results
Here, we have identified the sequential emergence of anxiety phenotypes in mice subjected to dental pulp injury (DPI), a prototypical model of orofacial pain that correlates with human toothache. Compared with sham controls, mice subjected to DPI by mechanically exposing the pulp to the oral environment exhibited significant signs of anxiogenic effects, specifically, altered behaviors on the elevated plus maze (EPM), novelty-suppressed feeding (NSF) tests at 1 but not 3 days after the surgery. Notably, at 7 and 14 days, the DPI mice again avoided the open arm, center area, and novelty environment in the EPM, open field, and NSF tests, respectively. In particular, DPI-induced social phobia and increased repetitive grooming did not occur until 14 days after surgery, suggesting that DPI-induced social anxiety requires a long time. Moreover, oral administration of an anti-inflammatory drug, ibuprofen, or an analgesic agent, ProTx-II, which is a selective inhibitor of NaV1.7 sodium channels, both significantly alleviated DPI-induced avoidance in mice. Finally, to investigate the underlying central mechanisms, we pharmacologically blocked a popular form of synaptic plasticity with a GluA2-derived peptide, long-term depression, as that treatment significantly prevented the development of anxiety phenotype upon DPI.
Conclusions
Together, these results suggest a temporally progressive causal relationship between orofacial pain and anxiety, calling for more in-depth mechanistic studies on concomitant pain and anxiety disorders.
Keywords
Dental pulp injury
Pain
Anxiety
Social phobia
Synaptic plasticity
Background
Anxiety disorders are a group of mental syndromes characterized by excessively unpleasant feelings of distress or uneasiness caused by fear of the future or dread regarding anticipated events [1]. Anxiety disorders can be categorized into specific phobia, generalized anxiety disorder, obsessive–compulsive disorder, panic disorder, post-traumatic stress disorder, and social anxiety disorder. Clinically, anxiety is an affective disorder that can be comorbid with chronic pain [2, 3]. The two afflictions synergistically affect the quality of life of patients. Preclinically, growing evidence [4] has implicated anxious phenotypes in animal models of chronic pain. These include inflammatory pain, associated with tissue damage or the infiltration of immune cells, and neuropathic pain, associated with damage or abnormal function of the nervous system [5–7]. Despite phenomenological implications of the pain-caused anxiety phenotypes, little is known on mechanisms mediating this re-enforcing interaction between chronic pain and anxiety. Recently, two forms of synaptic plasticity, pre- and post-synaptic long-term potentiation (LTP), in synapses of anterior cingulate cortex (ACC) have been identified to be mechanistically linked to the interaction between chronic pain and anxiety [8]. However, more in-depth studies [9] considering the causality, temporal progression, and neural mechanisms are necessary to further clarify the interaction between pain and anxiety.
As a prevalent type of orofacial pain [10–12], dental pain, such as toothache, produces a severely negative effect on quality of life, including eating disturbances, sleep disruption [13], and mood changes, altering negative affectivity and anxiety vulnerability [10]. The primary cause of toothache is injury to the uniquely innervated dental pulp. Thus, rodent models of this injury (i.e. dental pulp injury, DPI) enable examination of the biological mechanisms of orofacial pain that correlate with human toothache [14, 15]. Mechanical exposure of the dental pulp [12] induces inflammatory changes in the pulp as early as 1 day and periradicular changes 5 days after the procedure. Exposure of dental pulp to the oral environment results in infection and subsequent necrosis of pulp, while a chronic course of exposure further aggravates dental pulp pathology [14] and promotes expression of nociceptive ion channels including NaV1.7 [16], NaV1.8 [17], class A Ca2+ [18], and TRPA1 [19] channels. The growing understanding on the orofacial pain sensation is encouraging, while changes in mood and anxiety levels associated with DPI-induced neuroinflammatory pain [14] remain unexplored, although the development of therapeutic treatments for orofacial pain and the associated affective disorders relies on such research.
In the present study, we used the DPI model to investigate the causality, temporal progression, and potential mechanisms underlying pain-induced anxiety in mice. Based on the histological characterization of dental pulp and behavioral evaluation of daily life activities, including changes in drinking, feeding, body weight, and pain-like behaviors, respectively, we further compared anxiety phenotypes in mice carrying this specific form of chronic pain to sham controls. Through a comprehensive examination of anxious behaviors in DPI mice at different time points after surgery, we established the causality, in a temporally progressive manner, between anxiety and orofacial pain.
Discussion
Odontalgia is one of the most frequent reasons that patients seek stomatology care. Despite its prevalence in clinical practice as well as the strong likelihood that mood problems are concomitant with dental pain [10], few researchers have attempted mechanistic investigations [40] of odontalgia and the associated affective disorders using animal models, thus impeding the development of more efficacious therapeutic approaches. As a prototypical type of orofacial pain correlated with human toothache, the experimental DPI model [13–15] possesses multiple unique features that make it appropriate for use in neural and stomatologic studies. For instance, DPI can be specifically used to affect orofacial tissues, such as the teeth, tongue, and mucosa, without affecting other peripheral tissues. Because dental pulp lacks innervation by proprioceptive afferent fibers with larger diameters [14], and physiologic or pathologic stimulation of these tissues only evokes the sensation of pain, DPI represents an excellent animal model for studying affective comorbid disorders and neurophysiological mechanisms underlying odontalgia.
In the present study, we took advantage of the ease of generating DPI in mice [
14
]. We were thus able to comprehensively evaluate the associated behavioral and affective phenotypes at different time points following the DPI procedure. Based on our histological characterization of injured dental pulp and our behavioral evaluation of feeding- and nociception-related activities (Figures
1
,
2
), we concluded that DPI mice resembled a bell shape representing the appearance of anxious phenotypes over time (Figure
3
). We further verified the anxiogenic phenotypes of DPI mice via ethological quantitation of behavior during EPM tests (Figure
4
), and by additional analysis of behaviors during the open field (Figure
5
) and NSF (Figures
6
,
7
) tests. DPI mice displayed avoidance to the open arm, center area, and novelty environment in the EPM, open field, and novelty-suppressed feeding tests, respectively. Strikingly, DPI was associated with social phobia (Figure
8
) and increased repetitive grooming (Figure
4
l) up to 14 days subsequent to the surgery, implying that the mice developed social phobia and obsessive–compulsive anxiety. Exploring the possible causes of DPI-induced anxiety, we found that both anti-inflammatory and analgesic treatments significantly relieved anxiety in DPI mice (Figure
9
). Finally, to consider the central mechanisms of DPI-induced anxiety, we identified that pharmacological blockade of LTD significantly reduced the anxiety phenotypes subject to DPI (Figure
10
). Taken together, our results contain new information about the temporal dynamics of anxiety emergence in an orofacial pain model (Figure
11
), in addition to shed more lights on the underlying mechanisms, thus providing a primary basis for further in-depth studies regarding the mechanisms of comorbid pain and anxiety disorders [
2
–
4
].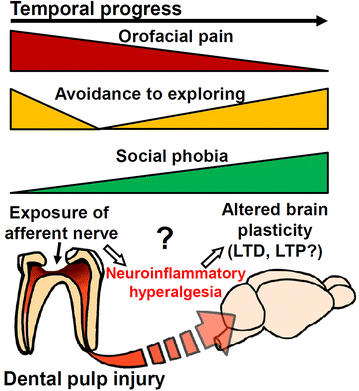 The neural mechanisms underlying here identified temporal dynamics of anxiogenic emergence subsequent to DPI remain unclear. There are several possibilities that could be considered in future research. The temporal dynamics of the appearance of various anxiogenic phenotypes in the DPI model might partially correlate with the pathological development of chronic orofacial hyperalgesia [11, 12, 14, 15]. As described previously [12, 14], mechanical exposure of the dental pulp induces inflammatory changes in the pulp as early as 1 day after surgery while periradicular changes occur at least 5 days after the surgery. Considering the fact that anxious phenotypes did not occur 3 days after DPI surgery, we speculated that the injury per se together with inflammation (Figure 1) and related pain (Figure 2) were not the only determinants of anxiogenic effects of DPI. Alternatively, we preferred that sustained rather than transient pain might be more critical for the anxiogenic effects. For the DPI in our animal model, an increased pain-like behavior continued for at least a week (Figure 2). Consistently, except 1 day after DPI, we did not observe increases in avoidance to the open arm, center area, or novelty environment in the EPM, open field, and NSF tests, respectively, until 1 week after DPI procedure. Moreover, we did not observe social phobia and increased repetitive grooming in DPI mice until at least 2 weeks after the surgery. It is worth noting that a previous study showed that in a neuropathic pain model of sciatic nerve ligation [41], when hyperalgesia was reversed, the anxiogenic effect was lost. However, in our experiment, the anxiogenic effects of DPI still persisted in spite of disappearance of pain-like behavior compared to the sham control. Nevertheless, these data collectively direct a notion that sustained hyperalgesia necessitates the initiation and expression of anxious phenotypes. Overall, we believed that the temporally-dependent anxiogenic effects of DPI (Figure 11) identified here raise an important view regarding affective comorbidity [10, 11] in the field of stomatology.
The neural mechanisms mediating affective disorders concomitant with DPI remain unexplored. Although the anxiolytic effects of either anti-inflammatory or analgesic treatment on DPI provided important information about the mechanisms of orofacial pain, the neural pathways, from peripheral sensory sensitization to the modification of specific brain regions, remain elusive. At the peripheral level, nociceptor excitability modulation via multiple molecular and cellular mechanisms [42], such as the regulation of emerging ion channel targets [43, 44], will represent the first step in mediating the sensory, affective, and even cognitive components [45] of persistent pain certainly including DPI. At the central level, two contrasting forms of LTP in ACC are required for the anxiogenic effects of inflammatory and neuropathic pain to take place [8]. In the current study, we added the central LTD to the list of cellular mechanisms which underlie the DPI-caused anxiety (Figure 11), although the precise site of this form of synaptic adaptation together with the molecular details remain elusive, which need to be clarified in the future studies. Except ACC [8], it has been increasingly considered that adaptive changes occurred in additional brain regions such as amygdala [41], dentate gyrus [9], hippocampus and prefrontal cortex [46] responsible for the interaction between sensory and affective components. Mechanistically, comprehensive deciphering synaptic adaption mechanisms in these regions under chronic pain are essentially required towards the understanding on the complex relationship between pain and anxiety. Of note, altered amygdala opioidergic function [41, 47, 48] has been identified to play significant roles in modification of reward and anxiety states associated with chronic pain. Consistently, DPI mice exhibit a paradoxical increase of sucrose consumption [13], a behavior index likely involving a convergence of neuronal pathways that underlie pain and reward. Not only, here we characterize an increased anxiety in DPI mice, a phenotype probably mediated by central plasticity interplaying with pain and anxiety [49]. Moreover, a recent study demonstrated a decreased motivation during chronic pain [37] that was associated with LTD in the nucleus accumbens. Overall, on the basis of these progresses, future studies are indeed required to make out the complicated relationship between pain-associated ethological changes and the respective adaptive plasticity. We believe that our data no doubt assist in achieving this goal by establishing the temporal dynamics of anxiety emergence in DPI.
Abbreviations
AMPAR:

α-amino-3-hydroxy-5-methyl-4-isoxazolepropionic acid receptor
ANOVA:

analysis of variance
DMSO:

dimethyl sulfoxide
DPI:

dental pulp injury
EPM:

elevated plus maze
H&E:

hematoxylin and eosin
i.p.:

intraperitoneally
LTD:

long-term depression
LTP:

long-term potentiation
NSF:

novelty-suppressed feeding
PEG:

polyethylene glycol
TRPA1:

transient receptor potential cation channel, subfamily A, member 1
Declarations
Authors' contributions
TLX, JS, and FL designed the project. LS and WGL conducted the research and analyzed the data. LS and WGL wrote the manuscript. All authors read and approved the final manuscript.
Acknowledgements
We thank Drs. Ming-Gang Liu and James Celentano for helpful comments on the manuscript. This study was supported by grants from the National Basic Research Program of China (Grants 2013CB835100), the National Natural Science Foundation of China (Grants 91132303, 81400870, 81222012, 81371949, and 91232706), the Shanghai Municipal Education Commission (Leading Academic Discipline Projects J50201; Dawning Plan 13SG18), the Shanghai Committee of Science and Technology (Grant 14JC1404600, 13411951200), and Project HOPE.
Compliance with ethical guidelines
Competing interests The authors declare that they have no competing interests.
Open AccessThis article is distributed under the terms of the Creative Commons Attribution 4.0 International License (http://creativecommons.org/licenses/by/4.0/), which permits unrestricted use, distribution, and reproduction in any medium, provided you give appropriate credit to the original author(s) and the source, provide a link to the Creative Commons license, and indicate if changes were made. The Creative Commons Public Domain Dedication waiver (http://creativecommons.org/publicdomain/zero/1.0/) applies to the data made available in this article, unless otherwise stated.
Authors' Affiliations
(1)
Laboratory of Oral Biomedical Science and Translational Medicine, School of Stomatology, Tongji University, Shanghai, China
(2)
Department of Developmental and Behavioral Pediatrics, Shanghai Institute of Pediatric Translational Medicine, Shanghai Children's Medical Center, Ministry of Education-Shanghai Key Laboratory of Children's Environmental Health, Shanghai Jiao Tong University School of Medicine, Shanghai, China
(3)
Discipline of Neuroscience and Department of Anatomy, Histology and Embryology, Institute of Medical Sciences, Shanghai Jiao Tong University School of Medicine, Shanghai, China