A comparison of RNA-seq and exon arrays for whole genome transcription profiling of the L5 spinal nerve transection model of neuropathic pain in the rat
Received: 30 May 2013
Accepted: 2 January 2014
Published: 28 January 2014
Abstract
Background
The past decade has seen an abundance of transcriptional profiling studies of preclinical models of persistent pain, predominantly employing microarray technology. In this study we directly compare exon microarrays to RNA-seq and investigate the ability of both platforms to detect differentially expressed genes following nerve injury using the L5 spinal nerve transection model of neuropathic pain. We also investigate the effects of increasing RNA-seq sequencing depth. Finally we take advantage of the "agnostic" approach of RNA-seq to discover areas of expression outside of annotated exons that show marked changes in expression following nerve injury.
Results
RNA-seq and microarrays largely agree in terms of the genes called as differentially expressed. However, RNA-seq is able to interrogate a much larger proportion of the genome. It can also detect a greater number of differentially expressed genes than microarrays, across a wider range of fold changes and is able to assign a larger range of expression values to the genes it measures. The number of differentially expressed genes detected increases with sequencing depth. RNA-seq also allows the discovery of a number of genes displaying unusual and interesting patterns of non-exonic expression following nerve injury, an effect that cannot be detected using microarrays.
Conclusion
We recommend the use of RNA-seq for future high-throughput transcriptomic experiments in pain studies. RNA-seq allowed the identification of a larger number of putative candidate pain genes than microarrays and can also detect a wider range of expression values in a neuropathic pain model. In addition, RNA-seq can interrogate the whole genome regardless of prior annotations, being able to detect transcription from areas of the genome not currently annotated as exons. Some of these areas are differentially expressed following nerve injury, and may represent novel genes or isoforms. We also recommend the use of a high sequencing depth in order to detect differential expression for genes with low levels of expression.
Keywords
Whole-genome transcription profilingExon arraysMicroarraysRNA-SequencingRNA-seqNext generation sequencingSpinal nerve transectionNerve injuryNeuropathic painDifferential gene expression
Background
Gene expression studies can be used to provide insights into the molecular mechanisms underlying the onset and maintenance of pain [1–5]. Such approaches can be hypothesis-driven, assessing the expression of preselected candidate molecules, or hypothesis-independent, interrogating gene expression at the genome-wide level.
Microarrays have been used extensively to investigate transcriptional changes that occur in different parts of the central and peripheral nervous systems [4]. Such studies have led to the discovery of novel pain-related genes, such as the Potassium voltage-gated channel subfamily S member 1, KCNS1 [2], GTP cyclohydrolase 1, GCH1 [6] and the neuropeptide VGF nerve growth factor inducible [7]. In recent years RNA-sequencing (RNA-seq) has emerged as an alternative platform for high-throughput transcriptional profiling [8]. The platform has been used in a variety of studies, but so far only one report has described the use of RNA-seq to measure gene expression changes in the peripheral nervous system in an experimental model of pain [9]. It has also been used to perform microRNA profiling following sciatic nerve injury [10] and to study gene expression changes in the pre-frontal cortex following spared nerve injury [11].
Microarray chips measure the expression of thousands of genes in a sample by quantifying the hybridisation of fragmented cDNA derived from gene-transcripts to a set of complementary probes specifically designed to detect a set of genes or transcripts. They have been used to study a variety of biological systems [12]. However, the use of probes leads to a number of drawbacks, including non-specific binding and signal saturation [13], which can negatively affect the measurement of expression for both lowly and highly expressed genes. Furthermore, microarray design is based on prior knowledge of the transcriptome and therefore microarrays can only interrogate a subset of known (or predicted) transcripts.
RNA-seq represents an alternative to microarrays [8]. It uses high throughput sequencing technology to investigate RNA expression [14] and allows the quantification of thousands of transcripts within a cell line or tissue without the need for a priori knowledge of the transcriptome. This "agnostic" approach represents a major advantage over microarrays, allowing the discovery of new transcript variants, novel genes and the annotation of less well characterized genomes [15, 16].
RNA-seq technology also suffers from drawbacks. The output of an RNA-seq experiment consists of millions of reads, short sequences of cDNA derived from RNA molecules. These reads must be mapped to a reference genome in order to identify the genomic location of the originating transcript and thus quantify expression [17]. Thus, analysis can be computationally expensive and time consuming. A common challenge arises due to the presence of reads that cannot be mapped to the genome. This can be due to genomic differences (such as polymorphisms) between the sample and the reference genome or erroneous base calling by the sequencing technology [17]. Conversely, RNA-seq reads may map to more than one genomic location. Such ambiguous reads can lead to imprecise gene quantification.
An important consideration when designing an RNA-seq experiment is sequencing depth, the number of reads generated per sample. In general it is expected that the higher the sequencing depth the more accurately the transcriptome of the tissue of interest is quantified [18, 19]. This is particularly important for the accurate detection of lowly expressed genes, where problems related to sampling error can lead to an over or under-estimation of transcript abundance. However, the cost of the experiment will also increase with sampling depth.
In addition to the technical pros and cons of both platforms, price is an important factor. Although RNA-seq costs are decreasing, microarrays remain more affordable, and data analysis is more standardised and easily implemented [16]. RNA-seq, on the other hand, demands more computational power and bioinformatics expertise; therefore it is important to determine to what extent the additional knowledge generated by RNA-seq experiments outweighs the computational demands and economic costs.
A large number of comparisons between RNA-seq and gene expression microarrays have been reported, covering a wide variety of different experimental designs, platforms, organisms, tissues, cell lines and experimental interventions. Table
1
shows an overview of these previous studies. So far, no direct comparison has been made using exon arrays for non-human, heterogeneous tissue from different individuals.
Table 1
Previous studies comparing microarray and sequencing platforms for the measurement of gene expression
| Study | Array platform | Sequencing platform | Species | Tissue/cell line | Replication | Experimental intervention/design |
| --- | --- | --- | --- | --- | --- | --- |
| Marioni et al. 2008 [20] | Affymetrix HG-U133 Plus 2.0 | Illumina Genome Analyzer | Human | Liver/kidney | Technical replications (3 per tissue for microarray, 7 different flow cell lanes for RNA-seq). | All RNA was taken from a single human male. Aliquots from each sample were then used for RNA-sequencing and microarray analysis. |
| Bradford et al. 2010 [21] | Affymetrix Human Exon 1.0 ST | Applied Biosystems SOLiD v3 platform | Human | MCF-7 and MCF-10a breast cancer lines | Technical replication (2 x MCF-7, 1 x MCF-10). Samples hybridised in triplicate to microarrays. | RNA analysed on the SOLiD platform and the same RNA samples hybridised in triplicate to Affymetrix Exon 1.0ST arrays. |
| Bottomly et al. 2011 [22] | Affymetrix MOE 430 2.0 and Illumina MouseRef-8 v2.0 | Illumina GA IIx | Mouse | Striatum | Biological replication, independent groups used for different technologies. | B6 strain mice were compared to D2 strain. For RNA-seq, 10 B6 and 11 D2 were used; for Affymetrix arrays 7 D2, 10 B6; for Illumina arrays 12 D2 12 B6. A subset of this group of mice were also used for RNA-seq. |
| Toung et al. 2011 [23] | Affymetrix HG Focus Array | Illumina 1G Genome Analyzer | Human | B-cells | Biological replicates (20 unrelated individuals). Independent samples (from same individuals) were used for different technologies. | B-cell lines were taken for 20 different individuals (10 male, 10 female). Cells were grown and total RNA extracted. |
| Su et al. 2011 [24] | Affymetrix Rat Genome 230 2.0 | Illumina GA II | Rat | Kidney | Biological replication (4 rats per condition). | Eight rats in total, 4 were administered with aristolochic acid, 4 with control vehicle. RNA was extracted from kidneys of each rat; each RNA sample was assayed using RNA-seq and miroarrays |
| Fu et al. 2009 [25] | Affymetrix Human Exon 1.0 ST | Illumina Solexa Sequencer (precise model name not given) | Human | Brain | Biological replication (two groups of 5 pooled individuals). | Two independent samples were used, each containing pooled mRNA from 5 adult human individuals. These samples were used as input for RNA-seq, microarray and proteomic analysis. |
| Griffith et al. 2010 [26] | Affymetrix Human Exon 1.0 ST and Nimblegen custom array | Illumina GA II | Human | Colorectal cancer cell-lines | One sample per condition. | 5-fluorouracil resistant cell lines compared to non-resistant lines. The same input was used for microarrays and RNA-seq. |
| Bullard et al. 2010 [27] | Affymetrix U133 Plus 2.0 | Illumina GA II | Human | Brain reference DNA and universal human reference DNA | Technical replication. | Various experimental designs were employed in order to teaste apart the effects of flow cell and library preparation on the results. |
| Kogenaru et al. 2012 [28] | Agilent custom array | Illumina GA IIx | Xanthomonas citri subsp . citri . | Whole organism | Biological replication (3 replicates per strain). | Comparison was made between wild-type and hrpX mutant strains. Biological replicates of each strain were grown in culture and the RNA was extracted. |
| Sîrbu et al. 2012 [29] | Affymetrix and dual-channel microarrays | Illumina GA II | Drosophila | Embryo development (time-series) | Technical replicates were used for RNA-seq, biological replicates were used for microarray. | Datasets were analysed and compared in terms of "reference" genes, which were highly likely to be expressed during embryogenesis. Several other technical measurements were also taken, including clustering and differential expression measurements. |
| Sekhon et al. 2013 [30] | NimbleGen custom array | Illumina GA II | Maize | 18 selected tissues representing 5 organs | Biological replicates, compared to historical dataset. | Samples were assayed by both technologies, and compared in terms of expressed genes and correlation. |
| Mooney et al. 2013 [31] | Affymetrix Canine Genome 2.0 | Illumina Hiseq 2000 | Dog | B-cell lymphoma | Biological replication; same samples used for both technologies (10 case, 4 control samples). | Investigation into the difference between technologies in terms of technical biases and pathways found. |
| Malone and Oliver 2011 [32] | Nimblegen custom array | Ilumina GA I | Drosophila pseudoobscura | Head | Biological replicates (four for microarray; one of these replicates used for RNA-seq). | RNA from males was compared to RNA from females. Four distinct RNA libraries were produced, with each library produced using 500–600 individual fly heads. |
In this study we investigate whether RNA-seq offers an advantage over microarrays for the study of differential gene expression within dorsal root ganglia (DRG) following nerve injury using the L5 spinal nerve transection (SNT) model of neuropathic pain in the rat [33]. Expression changes induced by this injury have been well characterised by microarrays [1, 4, 34], proteomics [35] and reverse transcription quantitative PCR (RT-qPCR) [1]. We have used technical replicates of the same biological samples and subjected them to exon expression array and RNA-seq analysis. This circumvents confounding effects brought about by comparing distinct technologies using historical data from previous/independent studies. We demonstrate the technical superiority of RNA-seq over microarrays in terms of sensitivity (ability to measure transcripts) and ability to detect differential gene expression. The latter is particularly important in the context of pain and nerve injury, as RNA-seq detects a large number of highly dysregulated genes, which may represent novel candidate pain genes. We also investigate the effects of increased sequencing depth on the results of an RNA-seq experiment, and the ability of RNA-seq to detect expression originating from unannotated genomic regions.
Results
Spinal nerve transection (SNT) is a widely used experimental model of neuropathic pain, associated with profound changes in gene expression in dorsal root ganglia (DRG) [1]. It therefore represents an excellent model for assessing the relative merits of RNA-seq in comparison with microarrays in the context of pain. DRG tissue was harvested at day 7 post transection, a time point at which altered gene expression and associated pain-related behaviour are well established [36].
We have performed RNA-seq and microarray analysis in parallel on technical replicates of the same biological samples. This design allowed us to avoid confounding effects due to biological variability and other differences in sample preparation. Poly(A) enriched RNA derived from the L5 DRG 7 days following L5-SNT and from naive L5 DRG tissue was subjected to microarray analysis and RNA-seq, as outlined in Figure
1
. Therefore, in total there were three biological replicates per condition; each of these six replicates was subdivided to produce technical replicates, one of which was used for microarray analysis, the other for RNA-seq. The aims of our experiment were three-fold: Firstly, to compare the ability of both methods to measure gene expression and identify differentially expressed (DE) genes. Secondly, to compare three distinct read depths for RNA-seq in order to investigate its impact on the detection of transcriptional changes across different levels of gene expression. Thirdly, to investigate changes in gene expression influenced by expression from areas outside of annotated exons (areas within annotated 5' and 3' ends of genes that are not annotated as exons in the reference genome) within the DRG following SNT.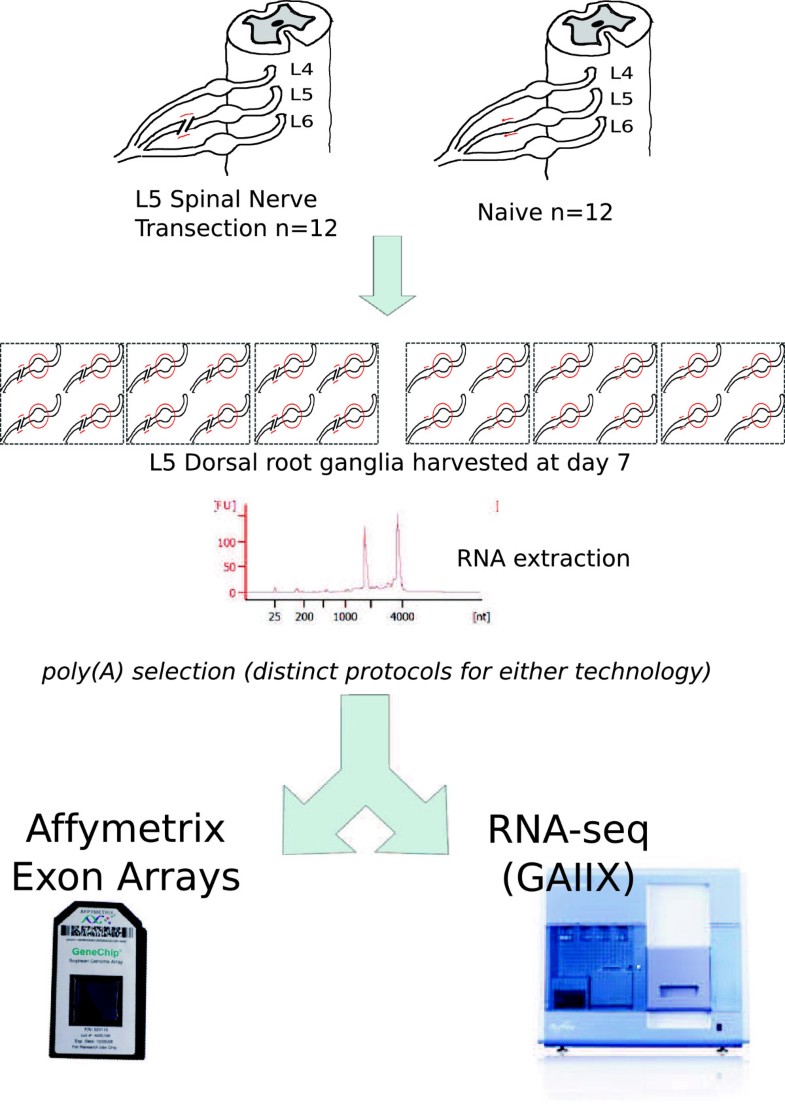 Discussion
RNA-seq has several advantages over microarrays
RNA-seq technology presents a novel tool for comprehensive, high throughput whole genome transcriptional profiling. In this study we profiled injured L5 DRG tissue following spinal nerve transection, using RNA-seq and microarrays. The same RNA samples were used for both platforms to enable a direct comparison of these technologies in an experimental pain model for the first time. We assessed both technologies for their ability to interrogate the transcriptome, detect gene expression, and to identify dysregulated genes that represent putative novel pain mediators.
Hammer and colleagues [9], have reported the use of RNA-seq to profile expression in the uninjured L4 DRG following L5 spinal nerve transection and reported a higher number of transcriptional changes in the SNT model than previously estimated in published microarray studies.
In the more direct comparison presented here, we also found a larger number of DE genes using RNA-Seq than using exon arrays, consistent with the literature [20, 24, 25]. This is partly due to the wider dynamic range of RNA-seq, as microarrays suffer from non-specific binding to probes, and signal saturation [13, 20]. Non-specific binding leads to background signals which affect detection/quantification of lowly expressed genes, while highly expressed mRNA species may saturate the fluorescent signal, which can compromise the detection of differential expression. However it should be noted that estimation of DE for short length/lowly expressed genes can be also inaccurate for RNA-seq [18]. This is especially important with regards to exons – our study found a similar number of DE exons using either platform when sequencing to a depth of 50 M, and microarrays outperformed RNA-seq at lower sequencing depths (Additional file 3).
Discrepancy in the number of DE genes detected by either method may also be caused by the different analysis methods employed (limma for microarray analysis [51] and DESeq for RNA-seq [19]). However we believe that these do not have a significant impact on our findings, since both methods apply variance-shrinking steps to reduce false positives. In fact, DESeq has been shown to be one of the most conservative methods for RNA-seq differential expression detection [52]. The variance-shrinking steps are implemented to deal with small fold changes occurring by chance due to extremely low values of variance between samples, a common problem when testing a large number of genes across a small number of samples. Such shrinkage methods have been shown to outperform methods based on simple t-tests and fold change cut-offs [53]. For this reason we did not impose an "effect size filter" when determining significantly DE genes. Finally, we do not believe that the FDR cutoff (0.1) favoured either technology, as we obtained qualitatively similar results with other FDRs (Additional file 7).
Despite the previously mentioned advantages of RNA-seq over microarrays, we observed a number of genes detected as DE using microarrays but not classed as such by RNA-seq (Figure 5). We have shown in Figure 4B and Additional file 2 that most of these genes have low FC values. Some of these genes may be false positives: the apparent significant change in expression might be due to non-specific binding. However it is also likely that some of these genes are truly DE. There are several reasons why microarrays might detect DE genes that are missed when using RNA-seq. For example, some genes will share high homology with other genes or pseudo genes, thus making it difficult to map reads to the genes unambiguously, as observed for three genes listed in Table 4 that appear DE in exon arrays and are classified as non-detected by RNA-seq. This should not be a problem for highly expressed genes, as long as there are enough regions of unique sequence along the length of the gene to make a robust signal, but can be a problem for lowly expressed genes, or genes with repetitive regions. Another reason is that lowly expressed genes will be strongly affected by random sampling – the expression of a gene for which only 10 copies are present in a sample is much less likely to be estimated accurately than a gene for which 1000 copies are present. The obvious solution to this issue with RNA-seq is to increase the sequencing depth, enabling a more accurate estimation of lowly expressed genes in conjunction with the increased detection of differential expression.
Functional analysis of DE genes reveals consistent results across datasets
Although RNA-seq detected a larger number of DE genes, functional enrichment analysis of the microarray and RNA-seq datasets individually using Ingenuity Pathway Analysis revealed qualitatively similar results. In agreement with previous studies in animal models of pain, functional categories/"diseases and disorders" related to immune function/inflammatory response, as well as neurological disease were statistically overrepresented in the respective lists of DE genes [47–49]. This suggests that the genes found exclusively with RNA-seq are likely to be true positives – as they fall into the categories already enriched amongst the overlapping genes. Had these genes arisen as an artefact of RNA-seq, we would expect less coherence in terms of enriched categories in the RNA-seq results, and reduced significance. This is consistent with our canonical pathway analysis where a number of neuron-specific pathways rank highly in the RNA-seq dataset (Figure 8 Cii), because ~10-20% of genes assigned to these pathways are deemed as DE by RNA-seq but not by exon arrays. In terms of discovery of putative pain mediators, RNA-seq has clear advantages over exon arrays as it unravels candidate genes that exon arrays (at the core and extended probeset confidence levels) would fail to identify (e.g. Nos1, Trpv4 and other molecules with established or putative functions in neurotransmission). In contrast, the great majority of putative candidates identified by exon arrays can be confidently identified by RNA-Seq.
In summary, our gene expression datasets accurately reflect the biological mechanisms triggered by peripheral nerve injury as demonstrated in prior pain and injury-related studies. However, it is worthwhile pointing out that our functional analysis is shaped by current literature information used to build the Ingenuity database and may also be incomplete due to lack of gene ontology annotations for a large proportion of genes in both datasets. We expect that the functional information provided by our dataset will become more refined as gene ontology and pathway annotations evolve.
A higher sequencing depth leads to the detection of a greater number of DE genes
We compared three distinct sequencing depths (17 M, 25 M, 50 M reads/sample) in terms of the number of DE genes detected (Figure 5). Increasing RNA-seq read depth leads to the detection of a higher number of DE genes (Figure 5C). A recent study has shown that a high sequencing depth could lead to the false detection of genes that are not expressed in the sample [54]. However, it is unlikely that we have reached such a point; moreover, it is unclear whether reaching such a point would affect DE calculation in an experimental design that takes into account biological variation between replicate samples. In conclusion, for our biological question, we recommend a 50 M read depth in order to obtain a truly comprehensive measure of differential gene expression. However it is important to use biological replicates in order to increase power and ensure results are generalizable to the population level [19, 55].
RNA-seq allows us to profile non-exonic expression
In addition to higher sensitivity and dynamic range, RNA-seq differs from microarrays in its ability to detect expression from areas of the genome regardless of prior annotation, allowing the detection of novel areas of transcription. Such areas, initially dubbed as transcribed "dark matter" [39], are becoming the focus of much attention and debate, fuelled in part by the recent ENCODE project, which showed that a large proportion of the non-exonic region of the human genome was transcribed in at least one cell line [41].
Our read mapping statistics suggest active transcription from non-exonic areas in rat DRGs: only 56-58% of the mappable reads aligned with previously annotated exons, 7-9% of the reads aligning to intronic regions (Figure 2C) and 33-35% aligning outside of the boundaries of annotated genes, i.e. intergenic areas. It would be interesting to perform this experiment in another organism used extensively in pain research, such as mouse, in order to investigate how the proportion of non-exonic reads compare. A possible cause for the high proportion of non-exonic reads may be due to yet unknown tissue-specific gene expression in DRG.
Remarkably, we observed a consistent increase in the proportion of reads mapping to regions of the genome annotated as intronic in SNT samples compared to naive samples, from 7 to 9% of the total number of mapped reads. On a gene-by-gene basis, ten times as many genes showed a significant increase in the proportion of reads mapping to intronic regions in SNT samples compared to naive (Additional file 5). Taken together, these data suggest that the SNT procedure is associated with an increase in expression from intronic regions. Such regions may represent novel exons whose inclusion into mature transcripts is induced upon peripheral nerve injury: the transcriptome of injured DRGs may contain novel exons that have not previously been observed in rat tissues, and are therefore not included in the rat transcriptome annotation.
In our alignment procedure, reads aligning within the genomic coordinates of an annotated gene are ascribed to this gene, however it is also possible they belong to novel genes with overlapping genomic coordinates either in the same or opposite strands (something we cannot determine due to lack of strand information in our protocol). Such novel and nested exons may be protein coding, but also correspond to other RNA species such as microRNAs (miRNAs) or long non-coding RNAs. For example, dysregulation of a number of miRNAs had been demonstrated in experimental models of pain, and a growing body of evidence suggests links between miRNA, spinal nerve injury and pain [10, 56–58]. In recent years the study and discovery of long non-coding RNAs has exploded, and at least one such molecule has been shown to have an effect on neuropathic pain [59].
Clearly, these data need further study in order to prioritise potential genes showing SNT-associated non-exonic expression and to confirm a potential role in pain. Prioritisation might include computational methods, such as enrichment studies of the genes showing intronic expression, or sequence based analysis of the intronic RNA, for example looking for potential complementarity to other genomic regions. Such methods would be greatly aided by further, more focused sequencing experiments that use longer, paired end, stranded reads, as well as other techniques to determine the precise start and end site of these RNA species.
Related to the "agnostic" nature of RNA-seq, allowing it to probe unannotated areas of the genome, another useful aspect of RNA-seq data is that it can constantly be reanalysed in light of new genome builds and updated annotations. This would be far harder to achieve for microarray data, because the proportion of the transcribed genome that can be interrogated is constrained by genome annotation at the time of array design: clearly, any genomic area that is not probed in the array chip cannot be measured. Although it would require some modifications to the protocol used in this study, RNA-seq could also be used to compare the transcriptomes of different strains of rat or other organisms, complementing the work of Sorge et al. [60], who compared strains of mice at the genome level and correlated differences in the genome with differences in pain sensitivity.
Summary of results
We compared RNA-seq and Affymetrix exon array technologies for the purpose of transcriptional profiling of rat DRG tissue after L5 Spinal Nerve Transection. Our key findings were as follows:
1.

RNA-seq technology is suitable for the transcriptional profiling of experimental models of pain, as it is able to replicate prior microarray studies.

2.

RNA-seq identifies a larger number of DE genes than microarrays, due to its increased sensitivity and higher dynamic range. The number of DE genes identified increases with higher sequencing depth.

3.

RNA-seq detects novel areas of transcription mapping to regions not currently annotated as exons (introns and intergenic regions). Some of these regions are differentially expressed in SNT relative to exonic expression and may represent novel candidate pain mediators.
Conclusions
We have demonstrated that RNA-seq offers major advantages over microarrays for the purpose of whole genome transcriptional profiling of DRG tissue after peripheral nerve injury. Firstly, RNA-seq is more comprehensive as it can interrogate previously unrecognized areas of transcription, while microarray design is constrained to known or predicted transcripts. Secondly, RNA-seq has a much wider dynamic range which favours detection and estimation of differential expression for highly expressed genes and, provided read depth is adequate, lowly expressed genes can also be measured more precisely. Most importantly, RNA-seq provided novel insights into putative novel pain mediators that were not detected using microarrays. We therefore highly recommend the use of RNA-seq for high throughput transcriptional profiling of pain models, and we expect that this technology will supersede microarrays in the near future.
Methods
Surgery and tissue collection
Spinal nerve transection (SNT) of the L5 spinal nerve was performed on male Wistar rats (n = 12) as described in [33]. L5 dorsal root ganglia (DRG) were harvested 7 days after surgery by fresh dissection, immediately frozen in liquid nitrogen and stored at -80°C. L5 DRG tissue from naive animals (n = 12) was used as control. Tissue from 4 animals was pooled to create three independent biological replicates per group (SNT or naive) and total RNA was extracted using the miRNEasy kit (QIAGEN, Redwood City, CA, USA) according to manufacturer's instructions. RNA concentration was measured using the NanoDrop 1000 Spectrophotometer (Thermo Scientific, Wilmington, DE, USA). RNA integrity was assessed using RNA Nano chips in an Agilent 2100 Bionalyzer (Agilent technologies, Santa Clara, CA, USA); RNA integrity numbers (RIN) were between 8.5 and 9.3. Each RNA sample was separated into two technical replicates; one was further processed for microarray analysis and the other for RNA-seq library preparation. Each RNA-seq library was further subdivided into 3 technical replicates, which were sequenced to three distinct read depths as described below.
Microarray analysis and data processing
Microarray analysis was performed using the Affymetrix GeneChip Rat Exon 1.0 ST Array (Affymetrix, Santa Clara, CA, USA). Sample preparation and hybridization were performed by UCL genomics, following Affymetrix instructions. The resultant CEL files were processed in R using the oligo Bioconductor package [61]. Background correction, normalisation and summarisation were performed using robust multi-array average (RMA), quantile normalisation and median polish respectively [62]. Summarisation was performed at the exon level (where each probeset corresponds to an exon, with some exons being probed by more than one probeset) or the transcript cluster/gene level, where all probesets from different exons belonging to the same gene were summarised to produce a single transcript cluster measurement. Throughout this manuscript "normalised probe intensity" is used to refer to expression at the transcript cluster or exon level, following all three pre-processing steps. Transcript clusters were summarised and annotated using the official Affymetrix .ps and .mps data-files, obtained from the NetAffx Analysis Center (http://www.affymetrix.com/analysis/index.affx) through the getNetAffx() function of the oligo package. Presence/Absence calls were determined at the exon level using the detection above background (DABG) method. A default threshold of p = 0.05 for expression above background was used to assign "present" (p < 0.05) and "absent" calls (p > 0.05).
Detection of differentially expressed genes/exons was performed using the limma Bioconductor package [51]. In order to adjust for multiple testing, the false discovery rate (FDR) was derived from the p-values using the method described in [63]. An FDR of 0.1 is accepted when defining significantly differentially expressed genes. Differential expression analysis results for exon arrays, containing fold changes and FDR can be found in Additional file 8. All array data can be found in GEO using accession numbers GSE53764 and GSE53860 for transcript and probe-set level data, respectively. Differential expression data is also available from PainNetworks [64].
Probeset confidence levels
Rat exon array probesets are annotated with different evidence levels, which indicate the confidence that the probeset truly represents a transcribed genomic sequence, based on the quality of evidence supporting that claim. Probes labelled "core" refer to probesets probing gene transcripts taken from RefSeq and full-length mRNA GenBank records, "extended" probesets are supported by ESTs or partial mRNAs from databases, and "full" probesets are supported by computational predictions. These probeset confidence scores were assigned at the time of array design. Separate gene and exon-level expression matrices were produced, depending on the probe set confidence levels considered, for: 1) core probes only, 2) core and extended probes, and 3) all probes in the chip (core, extended and full, respectively). Core and extended level confidence probes were used when comparing microarrays with RNA-seq. This level of confidence was chosen because it led to the largest number of differentially expressed genes that could be detected with an FDR of 0.1.
RNA-seq protocol
cDNA libraries were prepared using the TruSeq™ RNA Sample Preparation Kit (Illumina, San Diego, CA, USA), low throughput protocol: 200 ng of total RNA were subjected to poly(A) enrichment using poly(T)-attached magnetic beads. Poly(A)-enriched RNA was subsequently used for reverse transcription and library preparation according to Illumina's instructions. Sequencing was performed using the Illumina GAIIx sequencer (Illumina). Each library was sequenced at three distinct read depths (M = million reads/sample): ~17 M (average: 16.6 M; range: 14.7 M-17.8 M), ~25 M (average: 25.5 M reads; range: 23.3 M-27.3 M), and ~50 M (average: 50.7 M; range: 42.8 M-53.7 M). All reads were 34 base pairs in length.
Read alignment
Reads were aligned to the rat genome as summarised in Figure 2. Low quality reads were discarded using the Illumina quality filter, leaving an average 11.9 M (range: 10.7 M- 13.0 M), 19.2 M (17.7 M-20.4 M) and 36.7 M (32.4 M-38.5 M) million reads/sample. Reads were aligned to the reference genome UCSC Rattus norvegicus Rn5 (March 2012) using Bowtie [65]. Up to one mismatch was allowed between the reads and the reference genome. Ambiguously mapping reads (i.e. reads that could be mapped to more than one position in the genome) were discarded. One mismatch was chosen because allowing either 0 or 2 or more mismatches reduced the average percentage of uniquely mapping reads per sample.
Gene expression quantification
Bowtie output files were imported into R using RSamtools [66]. Reads were classified as exonic if they mapped to an annotated exon, intronic if they mapped within the 5' and 3' boundaries of a given gene, but outside annotated exons, or intergenic if they aligned outside known 5' and 3' boundaries of annotated genes (Figure 2). Gene expression was estimated using the GenomicFeatures package. Gene expression was quantified in one of two ways: considering exonic reads only, or considering intronic and exonic reads (i.e. all reads mapping within the 5' and 3' ends of a gene). For genes whose transcripts had alternative start/stop sites, the combination of 5' and 3' coordinates that gave maximal coverage, i.e. included all exons of the gene, was selected.
Comparing relative frequencies of read counts between naive and SNT samples
In order to compare the numbers of reads mapping to the exonic, intronic and intergenic regions, the overdispersed logistic regression model of Williams (1982) was used [67], due to within-group variability being too high to satisfy the assumptions of a simple binomial test.
Normalisation and differential gene expression in RNA-seq
DESeq [19] was used for normalization of the RNA-seq counts and calculation of differential gene expression. Count data was normalized by estimating effective library size for each sample. As with the microarray analysis, we estimated FDR using the method of Benjamini and Hochberg. An FDR threshold of 0.1 was used to control for false discoveries. Full results for the differential expression analysis for RNA-seq data, including fold changes, p-values and FDR can be found in Additional file 9. RNA-seq alignments (BAM files) can be found in GEO (accession number: GSE53762). Differential expression data is also available from PainNetworks [64].
Comparison of gene-level expression between platforms
In order to compare microarray gene expression levels to expression measured by RNA-seq, Ensembl (release 69, Rn4) gene annotation was obtained for each microarray transcript-cluster, thus an expression value was obtained for each Ensembl gene probeable using the Affymetrix array. This was plotted against the RNA-seq Reads Per Kilobase per Million mapped reads (RPKM) value for the same Ensembl gene (Ensembl release 74, Rn5). Because the RNA-seq reads were mapped to Rn5, and the microarray annotation was for Rn4, only genes found in both genome builds were plotted. The RPKM is obtained by counting the number of sequenced reads mapping to the exons of a given gene and normalising by the total length of all exons for that gene and the library size [44]. The use of an FDR of 0.1 is somewhat arbitrary (although commonly used). Therefore, in order to justify the use of and FDR of 0.1, we have repeated the comparison of DE genes detected using various FDR thresholds. Additional file 7 shows the overlap in DE genes found by the different platforms at FDRs of 0.05, 0.1, 0.15 and 0.2. We see a similar pattern for all three FDR values – there is a large overlap between platforms, with comparatively few extra genes found by microarrays only, and a larger number of genes found by RNA-seq only.
Comparison of exon-level expression between platforms
When comparing exon expression between platforms, the normalised probe intensity for each microarray probeset that mapped to an Ensembl exon was compared to the number of reads mapping to that exon, normalised using the RPKM procedure described in [44]. In the case of more than one probeset mapping to the same Ensembl gene, the probeset exhibiting the largest variance in expression across all samples was used for the comparison, as used in [68]. In order to compare expression at the exon level directly between technologies the RNA-seq alignments considered for this particular analysis were made using the Rn4 version of the genome.
Changes in non-exonic expression following SNT
In order to identify genes for which non-exonic expression changed significantly following SNT, gene expression calculated using exonic expression was compared to gene expression calculated using exonic and intronic expression as described above. Nested genes were not used for this process – any gene that overlapped with any other gene (on either strand) was excluded. In order to look for genes showing a significant increase or decrease in the proportion of reads aligning to intronic gene regions, we used the DEXSeq package [45]. We considered each gene to consist of two units: exons and introns. The package is then employed to look for genes that show a difference in the relative ratios of exonically and intronically aligned reads between SNT and naive samples. Genes were normalised and dispersion estimated using the standard parameters employed by DEXseq. A count based filter was applied before analysis: any gene with less than 200 reads aligning to its intronic regions for more than 3 samples was excluded from the analysis.
Functional analysis
For functional enrichment analysis the exon array and the RNA-seq (read depth 50 M) datasets were considered separately. Lists of dysregulated genes (FDR p < 0.1) were subjected to gene ontology analysis. Analysis by "Protein Class" was performed with "PANTHER classification systems" (http://www.pantherdb.org/) [69]. Functional analysis was performed with Ingenuity Pathway Analysis (IPA, QIAGEN). Lists of dysregulated genes were subjected to "core analysis" using IPA default settings, and top biological functions/ "diseases and disorders" as well as "canonical pathways"; p-values were adjusted using the Benjamini-Hochberg multiple testing correction.
Abbreviations
DABG:

Detection above background
DE:

Differentially expressed
FC:

Fold change
DRG:

Dorsal root ganglia
FDR:

False discovery rate
RNA-seq:

RNA-Sequencing
RPKM:

Reads per kilobase per million mapped reads
SNT:

L5 spinal nerve transection.
Declarations
Acknowledgments
The authors would like to acknowledge Simone Sharma and Priya Banerjee (UCL Genomics) for microarray sample processing and hybridization (as part of collaborative work). The research leading to these results is part of the Europain Collaboration, which has received support from the Innovative Medicines Initiative Joint Undertaking (http://www.imi.europa.eu), under grant agreement no 115007, resources of which are composed of financial contribution from the European Union's Seventh Framework Programme (FP7/2007‒2013) and EFPIA companies' in kind contribution. JRP, CO, DLHB and SBM are part of the Wellcome Trust-funded London Pain Consortium. DLHB is a senior Wellcome Clinical Scientist.
Authors' Affiliations
(1)
Department of Structural and Molecular Biology, University College London, London, UK
(2)
Laboratorio de Investigacion, Fundacion IMABIS, Malaga, Spain
(3)
The Wolfson Centre for Age-Related Diseases, London, UK
(4)
Boehringer Ingelheim Pharma GmbH & Co. KG, Target Discovery Research Germany, Biberach an der Riß, Germany
(5)
Department of Medical and Life Sciences, Furtwangen University, VS-Schwenningen, Germany
(6)
Nuffield Department of Clinical Neurosciences, Level 6, West Wing, John Radcliffe Hospital, Oxford, England
Copyright
© Perkins et al.; licensee BioMed Central Ltd. 2014
This article is published under license to BioMed Central Ltd. This is an Open Access article distributed under the terms of the Creative Commons Attribution License (http://creativecommons.org/licenses/by/2.0), which permits unrestricted use, distribution, and reproduction in any medium, provided the original work is properly credited.