Expression of gastrin-releasing peptide by excitatory interneurons in the mouse superficial dorsal horn
Maria Gutierrez-Mecinas

1,

Masahiko Watanabe

2 and

Andrew J Todd

1

Email author
Received: 16 October 2014
Accepted: 2 December 2014
Published: 11 December 2014
Abstract
Background
Gastrin-releasing peptide (GRP) and its receptor have been shown to play an important role in the sensation of itch. However, although GRP immunoreactivity has been detected in the spinal dorsal horn, there is debate about whether this originates from primary afferents or local excitatory interneurons. We therefore examined the relation of GRP immunoreactivity to that seen with antibodies that label primary afferent or excitatory interneuron terminals. We tested the specificity of the GRP antibody by preincubating with peptides with which it could potentially cross-react. We also examined tissue from a mouse line in which enhanced green fluorescent protein (EGFP) is expressed under control of the GRP promoter.
Results
GRP immunoreactivity was seen in both primary afferent and non-primary glutamatergic axon terminals in the superficial dorsal horn. However, immunostaining was blocked by pre-incubation of the antibody with substance P, which is present at high levels in many nociceptive primary afferents. EGFP+ cells in the GRP-EGFP mouse did not express Pax2, and their axons contained the vesicular glutamate transporter 2 (VGLUT2), indicating that they are excitatory interneurons. In most cases, their axons were also GRP-immunoreactive. Multiple-labelling immunocytochemical studies indicated that these cells did not express either of the preprotachykinin peptides, and that they generally lacked protein kinase Cγ, which is expressed by a subset of the excitatory interneurons in this region.
Conclusions
These results show that GRP is expressed by a distinct population of excitatory interneurons in laminae I-II that are likely to be involved in the itch pathway. They also suggest that the GRP immunoreactivity seen in primary afferents in previous studies may have resulted from cross-reaction of the GRP antibody with substance P or the closely related peptide neurokinin A.
Keywords
Dorsal Root Ganglion
Dorsal Horn
Enhance Green Fluorescent Protein
Primary Afferents
Superficial Dorsal Horn
Background
Itch is an aversive sensation, distinct from pain, which is associated with the desire to scratch. Chronic itch is a common and distressing condition associated with many diseases and certain drug treatments [1], and often occurs in the absence of obvious disease [2]. Since it is difficult to treat, chronic itch represents a major unmet clinical need, and there has therefore been considerable interest in the peripheral and central mechanisms that underlie the perception of itch [3, 4].
A major advance in our understanding came with the finding that gastrin-releasing peptide (GRP, a member of the bombesin family) and its receptor, gastrin-releasing peptide receptor (GRPR) play an important role in itch [5, 6]. Specifically, it was shown that itch (but not pain) behaviour was dramatically reduced in mice lacking GRPR [5], and also in mice in which GRPR-expressing neurons in the spinal cord had been ablated by intrathecal injection of bombesin conjugated to saporin [6]. It was also reported that GRP was present in a subset of dorsal root ganglion (DRG) cells, identified by the presence of calcitonin gene-related peptide (CGRP) [5], which is thought to be expressed by all peptidergic primary afferents [7]. However, while it is generally accepted that GRP is an important mediator if itch [3], there has been debate about whether it is expressed by primary afferents. For example, several papers have reported that the level of GRP mRNA is very low in the DRG [8–10], and it has been suggested that the staining seen with GRP antibodies in primary afferents represented cross-reaction with one of two other peptides that are present in these afferents: neuromedin B (NMB) or substance P [8, 9].
There is also disagreement over whether dorsal horn neurons express GRP. Although Sun and Chen [5] found no GRP mRNA in the superficial dorsal horn of adult mice, other published studies [8, 10–15] and the Allen Brain atlas [16] have reported numerous GRP mRNA-positive cells in laminae I-II. These were found to be absent in mice lacking the transcription factors Lmx1b, Tlx3 or Gsx1/2 [11, 12, 15], which are required for normal development of the glutamatergic phenotype, suggesting that they were excitatory interneurons [17–19]. In addition, many cells containing enhanced green fluorescent protein (EGFP) are seen in this region in a BAC transgenic mouse line from the GENSAT project, Tg(GRP-EGFP), in which expression of EGFP is under control of the GRP promoter [10]. However, Liu et al. [20] have recently questioned whether the GRP mRNA in superficial dorsal horn neurons is translated into GRP.
Most (if not all) peptide-expressing primary afferents contain CGRP [7], which is restricted to primary afferents in the dorsal horn, and peptidergic primary afferent terminals can therefore be identified by the presence of CGRP [21, 22]. The axons of glutamatergic interneurons can be detected with antibodies against the vesicular glutamate transporter 2 (VGLUT2), which is thought to be expressed by all excitatory interneurons in this region [23, 24]. Despite the controversy over the source of GRP-immunoreactive axons in the superficial laminae, there have apparently been no studies to date in which co-expression of GRP with either of these markers has been investigated within the dorsal horn.
The main aim of this study was to determine whether GRP-immunoreactivity could be detected in peptidergic (CGRP+) afferent terminals and/or in VGLUT2+/CGRP− boutons, which are likely to originate from local excitatory interneurons. Because many of the latter express somatostatin [23–25] we looked for co-localisation of GRP and somatostatin in VGLUT2-containing profiles. We also tested the specificity of the GRP antibody by pre-absorption with NMB and substance P. Finally, we examined tissue from the GRP-EGFP mouse line, to look for evidence that GRP was present in EGFP expressing cells, and to provide an initial characterisation of these cells.
Methods
All animal experiments were approved by the Ethical Review Process Applications Panel of the University of Glasgow and were performed in accordance with the European Community directive 86/609/EC and the UK Animals (Scientific Procedures) Act 1986.
Results
Immunostaining with GRP antibody in the dorsal horn
GRP-EGFP cells
As described by Mishra and Hoon [
10
], numerous EGFP
+
cells were present in the dorsal horn of the GRP-EGFP mice, and these were concentrated in laminae I-II, with scattered cells present in the deeper laminae (Figures
6
and
7
). The laminar distribution could be seen best in the transverse sections that had been reacted for PKCγ (Figure
6
), as the plexus of PKCγ-immunoreactive dendrites can be used to define the inner half of lamina II [
60
]. As reported previously [
10
], we did not see EGFP-positive cells in the dorsal root ganglia of these mice (data not shown).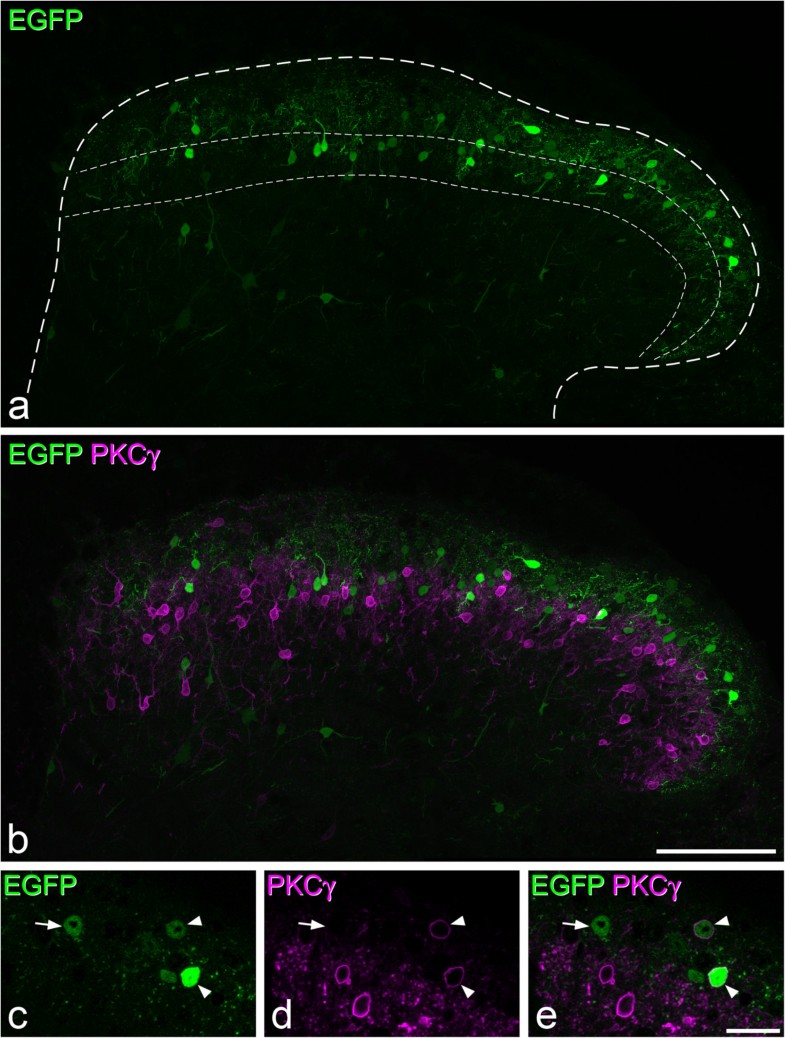 Altogether, 180 EGFP cells were identified in the superficial dorsal horn in sections reacted for Pax2 and NeuN (125 and 55 cells in the 2 mice), and none of these was Pax2-immunoreactive (Figure
8
), indicating that they are unlikely to be inhibitory interneurons. Interestingly, the staining for NeuN in the GRP-EGFP cells was consistently weak, compared to that seen in many EGFP-negative neurons. The consistently low level of NeuN probably reflects the fact that the GRP cells originate form a distinct developmental population, and has also been observed for γ-motoneurons in the ventral horn [
61
].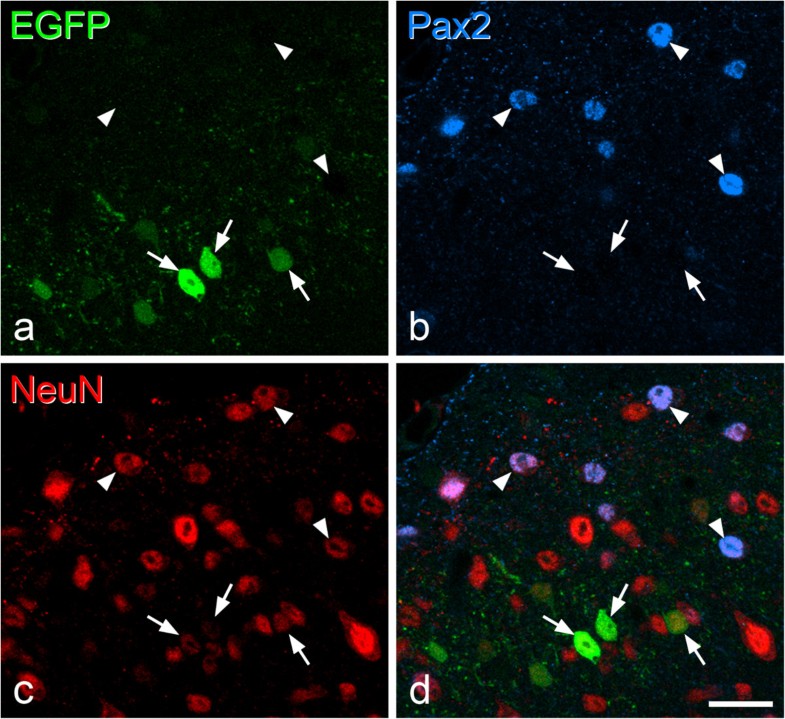 In the sections reacted to reveal EGFP, GRP, VGLUT2 and VGAT, numerous boutons with VGLUT2 or VGAT were present, and these formed non-overlapping populations. As described above, we found that GRP and VGLUT2 were frequently co-localised in boutons, whereas co-localisation of GRP and VGAT was extremely rare (only 6 examples of GRP
+
/VGAT
+
profiles were seen throughout the full depth of the 6 z-stacks analysed in this part of the study, and we estimate that this corresponds to around 0.1% of the GRP boutons). This supports the suggestion that GRP expression by superficial dorsal horn neurons is largely restricted to those that are excitatory [
11
]. EGFP was never co-localised with VGAT in these sections, providing further evidence that the EGFP cells were not inhibitory interneurons. In contrast, EGFP and VGLUT2 were frequently colocalised (Figures
9
and
10
). GRP-immunoreactivity was detected in 72.3% (69.3% and 75.3% in the two mice) of the profiles that contained both EGFP and VGLUT2. Conversely, EGFP was seen in 41.7% (46%, 37.3%) of profiles that were immunoreactive for both VGLUT2 and GRP. The mean z-axis lengths of EGFP
+
/GRP
+
, EGFP
+
/GRP
−
and EGFP
−
/GRP
+
boutons in this sample were 1.88 μm ± 0.51 μm, 1.83 μm ± 0.44 μm and 1.94 μm ± 0.47 μm. These did not differ significantly (one-way ANOVA, p = 0.49), indicating that our results were not likely to have been affected by a sampling bias due to size differences between the different populations.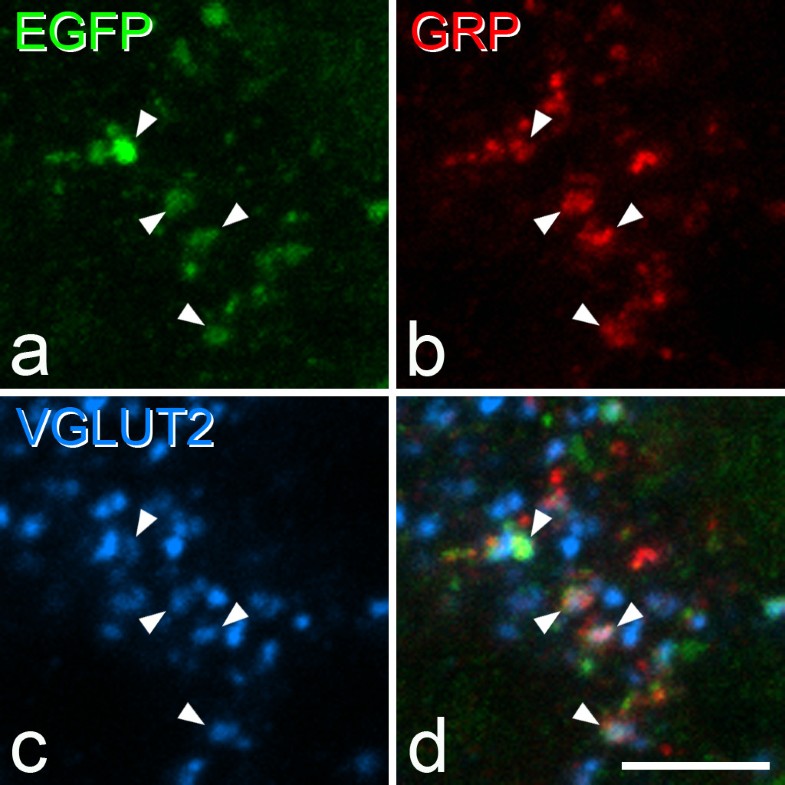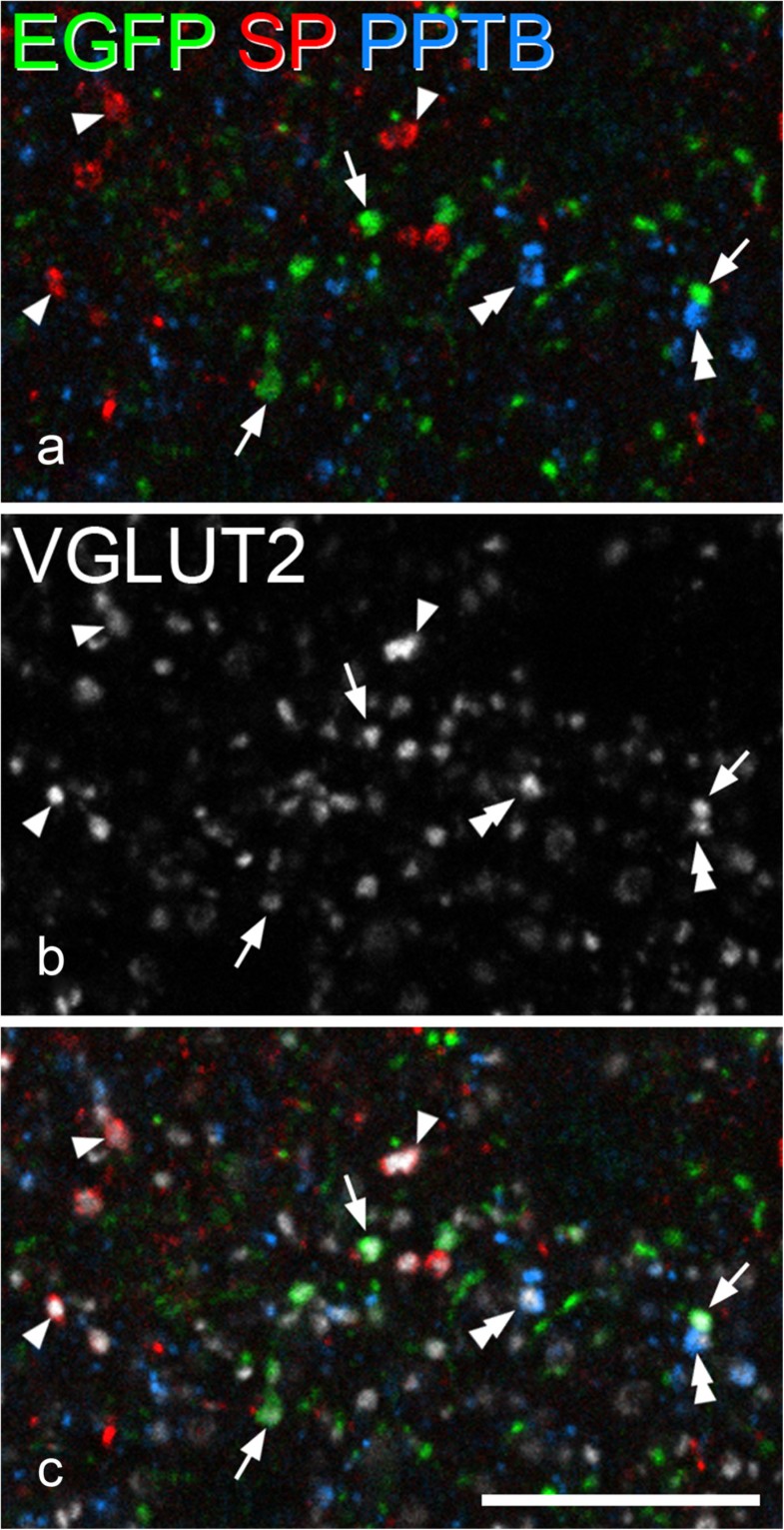 In sections reacted to reveal EGFP, VGLUT2, substance P and PPTB, we found virtually no expression of either substance P or PPTB among the EGFP+/VGLUT2+ boutons (Figure 10). Only 1 of the 200 selected boutons was also immunoreactive for PPTB, and none for substance P. Although many VGLUT2 boutons showed either substance P or PPTB immunoreactivity, we found very few that were stained for both peptides (as reported previously for the rat [35, 38]). Since NKA is apparently restricted to neurons that also express substance P [62], the lack of either SP or PPTB immunoreactivity in the boutons of the GRP-EGFP cells indicates that the GRP immunoreactivity that we observed in them is not due to cross-reactivity with a tachykinin peptide, and is therefore likely to be genuine.
In the sections reacted for PKCγ, there was some overlap in the distribution of EGFP+ and PKCγ+ cells in lamina IIi, although many EGFP+ cells were located dorsal to the main band of PKCγ+ cells (Figure 6). In these sections, 112 EGFP cells were selected in one animal and 73 in the other. The great majority of the EGFP cells were not PKCγ-immunoreactive, although a few (15.2% and 9.6%, respectively) showed weak PKCγ immunoreactivity (Figure 6c-e).Numerous EGFP-labelled cells were seen in the sagittal sections, and these varied considerably in the strength of staining (Figure 7). For strongly labelled cells it was possible to follow dendritic trees for some distance, and dendritic spines could easily be identified. The EGFP-labelled cells were morphologically heterogeneous, and in most cases dendrites were orientated along the rostrocaudal axis or travelled obliquely in both rostrocaudal and dorsoventral axes. A small number of EGFP-labelled neurons resembled vertical cells, and an example is shown in Figure 7 (inset).
Discussion
The main findings of this study are: (1) that immunostaining with a GRP antibody is present in both primary afferents and non-primary glutamatergic axons in the superficial dorsal horn, (2) that immunostaining is partially blocked by pre-incubation with substance P, but not with NMB, (3) that EGFP-labelled cells in the GRP-EGFP mouse line are Pax2-negative, with most lacking PKCγ, and (4) that many of the axons derived from EGFP-labelled cells in this line express detectable levels of GRP-immunoreactivity, but are not immunoreactive with antibodies against substance P or PPTB.
Sources of GRP-immunoreactive axons in the superficial dorsal horn
Our finding that GRP immunoreactivity could be detected in the majority of CGRP+ axons in laminae I-IIo is consistent with several previous reports that other antibodies raised against GRP or the related peptide bombesin stain cell bodies of peptidergic primary afferents in the dorsal root ganglion [5, 57, 63–66], and that there is significant depletion of immunostaining in the dorsal horn following dorsal rhizotomy [8, 57]. However, although GRP mRNA has been identified in dorsal root ganglion cells with in situ hybridisation and the polymerase chain reaction by the Chen laboratory [5, 20], studies from two other groups have failed to detect significant levels of the mRNA in dorsal root ganglia using either these methods or quantitative RNA sequencing [8–10]. The question of whether GRP is actually expressed in primary afferents therefore remains controversial. Fleming et al. [8], noting the high level of expression of NMB in dorsal root ganglia and the close sequence similarity between NMB and GRP, suggested that much of the GRP immunoreactivity identified in primary afferents could result from cross-reaction of the GRP antibodies with NMB. However, we found that relatively high concentrations of NMB (10−5 M) were unable to block immunostaining with our anti-GRP antibody, even though this was completely blocked by GRP at 100 times this dilution (10−7 M). It is therefore unlikely that the primary afferent staining that we saw with anti-GRP represents a cross-reaction with NMB. Goswami et al. [9] suggested that GRP antibodies might cross-react with tachykinin peptides, such as substance P, which are highly expressed in primary afferents, and which show some similarity in their C-terminal amino acid sequence to GRP (−GLM in tachykinin peptides, compared to -GHLM in GRP and -GHFM in NMB). In addition, we had found in preliminary studies that including anti-substance P in the primary antibody mixture reduced the staining for GRP in these sections (MGM and AJT, unpublished data). We therefore tested the effects of pre-incubating with substance P on the staining seen with the GRP antibody, and found that this was suppressed. Although we cannot be certain that the GRP antibodies would bind to substance P in fixed tissue, this observation raises the possibility that the GRP-like immunoreactivity seen in peptidergic primary afferents in this study may represent a cross-reaction with substance P or the closely related peptide NKA. It is also possible that previous reports of primary afferent labelling with different GRP antibodies [5, 57, 63–66] may have resulted, at least in part, from cross-reaction with tachykinin peptides. This could be tested in future studies by analysis of tissue from mice in which the gene for PPTA has been knocked out [67].
GRP-immunoreactivity was also detected in boutons that were VGLUT2+ but lacked CGRP, and most of these are likely to originate from local excitatory interneurons [23, 24]. Consistent with this suggestion, we found that somatostatin, which is expressed by many excitatory interneurons in the superficial dorsal horn [25], was frequently co-localised with GRP in VGLUT2+ axons. It is likely that at least some of this represents genuine GRP, as it was sometimes co-localised with EGFP in axonal boutons in the GRP-EGFP mouse, and these cells did not express either of the two preprotachykinins.
Since only ~40% of the GRP+/VGLUT2+ boutons in this mouse line were immunoreactive for EGFP, it is possible that the staining in other non-primary (i.e. VGLUT2+/EGFP−) axonal boutons resulted from cross-reaction of the GRP antibody with tachykinin peptides, which are expressed by many excitatory neurons in this region [35–37]. However, the failure to detect EGFP in these boutons may alternatively have resulted from weak expression (or lack of expression) of EGFP in some GRP-containing cells in this BAC transgenic line.
GRP-expression by excitatory interneurons
Several studies have reported that large numbers of cells with GRP mRNA are present in the superficial dorsal horn [8, 10–15]. It has also been shown that these are likely to be excitatory neurons, since their survival is dependent on expression of transcription factors that are involved in determining a glutamatergic phenotype [11, 12, 15]. In addition, it has been reported that most of the GRP-expressing cells are lost in mice lacking the testicular orphan nuclear receptor (TR4), in which there is preferential depletion of excitatory interneurons [14]. However, Liu et al. [20] recently claimed that cells with GRP mRNA were restricted to lamina I and state that "to date, little evidence exists to support that Grp mRNA in lamina I of the spinal cord is in fact translated into GRP protein". This statement was apparently based on the failure of immunocytochemical studies to demonstrate GRP-immunoreactivity within cell bodies in the superficial dorsal horn. However, although some of the neuropeptides expressed by neurons in this region can be identified in their cell bodies with immunocytochemistry [25, 68–70], others, such as substance P, NKB, dynorphin or the enkephalins are either not detected, or else are seen in very few cells. The failure to detect somatic staining for these peptides results from rapid transport of the peptide out of the cell body, and for this reason colchicine was administered in several early studies to prevent axoplasmic transport, therefore elevating the levels of neuropeptides in cell bodies [71, 72].
Our finding that ~70% of the axon terminals that contained EGFP in the GRP-EGFP mouse were GRP-immunoreactive (and that they lacked tachykinins, with which the GRP antibody can cross-react) strongly suggests that these cells are indeed translating the mRNA into GRP. The lack of immunoreactivity in the other ~30% of EGFP+/VGLUT2+ boutons may reflect variable levels of GRP expression, with some axons containing amounts below the detection threshold of the GRP antibody. Alternatively it could result from ectopic expression of EGFP in this line. However, even if there is ectopic EGFP expression, it is evidently not random, as it seems to be restricted to excitatory (Pax2−) cells.
Excitatory interneurons account for ~70% of the neurons in the superficial dorsal horn [73], and are thought to include several distinct subpopulations that are likely to have differing roles in the processing of sensory information [14, 59, 74–76]. Several attempts have been made to define these functional populations, using morphological, electrophysiological, neurochemical and/or developmental approaches [12, 24, 34, 44–47, 77–79]. Although the neurons in this region are morphologically diverse, certain distinctive classes have been identified among the excitatory cells in lamina II. These include vertical cells, which have dendrites that project ventrally from the soma and an axon that often enters lamina I where it may be presynaptic to projection neurons, and radial cells, which are small and have short radiating dendrites [24, 34, 44–47, 80]. A third morphological group (central cells), has also been described [34, 44–46]. These have relatively short dendritic trees orientated along the rostrocaudal axis. However, central cells are a more diverse set that includes both excitatory and inhibitory interneurons [24]. A limitation of this scheme is that all morphological studies have found a significant fraction of lamina II interneurons (typically ~25%) that cannot be be assigned to any of these morphological classes [24, 34, 44–46]. Based on the appearance of GRP-EGFP cells in sagittal sections, most did not appear to be vertical or radial cells, and so they are likely to belong to central or unclassified populations.
A neurochemical approach has proved useful in defining functional subsets among the inhibitory interneurons in the superficial dorsal horn. For example, we have identified four largely non-overlapping populations, those that express neuropeptide Y (NPY), galanin, neuronal nitric oxide synthase (nNOS) and parvalbumin, and found that these differ in their responses to noxious stimulation [27]. Many of the cells that contained NPY or galanin were activated by noxious heat, as well as by subcutaneous injection of formalin or capsaicin. In contrast, the nNOS-containing cells responded to noxious heat and formalin injection, but seldom to capsaicin, while the parvalbumin cells were not activated by any of these stimuli. In addition, it has been shown that the parvalbumin-expressing cells give rise to axoaxonic synapses on myelinated low-threshold mechanoreceptive afferents [81], while the nNOS and/or galanin populations have been implicated in the suppression of itch by counterstimuli [33].
Several neurochemical markers are expressed by subsets of excitatory neurons, and it would be of value if we could also define non-overlapping populations among these cells. It had already been shown that there is little co-localisation of PPTB and substance P in axons in laminae I-II [35, 38], and taken together with the results of this study, it therefore appears that different sets of excitatory neurons express PPTA, PPTB and GRP. Neurotensin is also present in some excitatory neurons in laminae IIi-III [23, 82]. These are known to be different from those that express PPTB [35], and we have found little or no co-localisation of neurotensin and substance P (MGM and AJT, unpublished data). Since most of the neurotensin-containing cells also express PKCγ [41], it is likely that they are largely separate from the cells with GRP, as the EGFP+ cells seen in this study were generally PKCγ-negative. This suggests that there may be four distinct neuropeptide-expressing populations among the excitatory neurons in laminae I-III: those with PPTA, PPTB, GRP and neurotensin. Since the axonal boutons of these cells can be recognised by co-localisation of the corresponding peptide with VGLUT2, it should be possible to use immunocytochemistry to investigate the postsynaptic targets for each population. Nothing is apparently known yet about the responses of the GRP-expressing interneurons to peripheral stimuli, but as GRP and the GRPR have been implicated in itch [5, 6], it will be important to determine whether the GRP-expressing neurons in laminae I-II are activated by pruritic stimuli.
Conclusions
The results of the present study indicate that GRP is expressed by at least some of the neurons that contain EGFP in the GENSAT mouse line Tg(GRP-EGFP). They also show that these cells are excitatory interneurons, and are largely different from those that express PPTA, PPTB or PKCγ. In addition, they raise the possibility that some of the GRP immunoreactivity seen in this and previous studies may have resulted from a cross-reaction with substance P and/or NKA.
Abbreviations
BSA:

Bovine serum albumin
CGRP:

Calcitonin gene-related peptide
DRG:

Dorsal root ganglion
EGFP:

Enhanced green fluorescent protein
GRP:

Gastrin-releasing peptide
GRPR:

Gastrin-releasing peptide receptor
NKA:

Neurokinin A
NKB:

Neurokinin B
NMB:

Neuromedin B
nNOS:

Neuronal nitric oxide synthase
NPY:

Neuropeptide Y
PKCγ:

Protein kinase Cγ
PPTA:

Preprotachykinin A
PPTB:

Preprotachykinin B
VGAT:

Vesicular GABA transporter
VGLUT2:

Vesicular glutamate transporter 2.
Declarations
Acknowledgements
We are grateful to Mr R Kerr and Ms C Watt for excellent technical assistance, to Dr P Ciofi for the generous gift of antibodies, to Dr M Hoon for help in setting up the colony of GRP-EGFP mice, and to Dr E Polgár for help in some experiments. The mouse strain Tg(GRP-EGFP) was originally obtained from the Mutant Mouse Regional Resource Center (MMRRC), a National Center for Research Resources- and NIH-funded strain repository, and was donated to the MMRRC by the NINDS-funded GENSAT BAC transgenic project. The work was supported by the Wellcome Trust (Grant Number 102645).
Authors' Affiliations
(1)
Institute of Neuroscience and Psychology, College of Medical, Veterinary and Life Sciences, University of Glasgow, Glasgow, UK
(2)
Department of Anatomy, Hokkaido University School of Medicine, Sapporo, Japan
Copyright
© Gutierrez-Mecinas et al.; licensee BioMed Central. 2014
This article is published under license to BioMed Central Ltd. This is an Open Access article distributed under the terms of the Creative Commons Attribution License (http://creativecommons.org/licenses/by/4.0), which permits unrestricted use, distribution, and reproduction in any medium, provided the original work is properly credited. The Creative Commons Public Domain Dedication waiver (http://creativecommons.org/publicdomain/zero/1.0/) applies to the data made available in this article, unless otherwise stated.